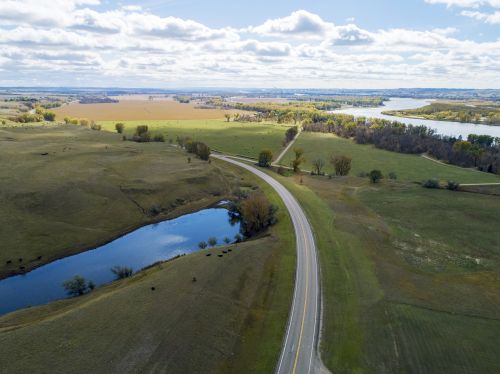 by Gabrielle Hersch
gabbyhersch@gmail.com
Within the ever-evolving art and practice of photography, one piece of technology has been making waves: the drone. Drones, or flying cameras, are becoming a highly utilized tool for photo-taking, especially in landscape photography. Appreciating all of the opportunity that drones offer, NDSU's art department implemented a new drone photography course in the fall of 2017. Now one year later, student projects from the drone photography course are currently on display in an exhibition in NDSU's Memorial Union Gallery.
The Drone Photography Exhibition opened on December 13th and runs through January 24th. Admission is free, and viewers can come to see the photos from Professor Meghan Kirkwood's students at any time during gallery hours in the Memorial Union Gallery, located on the second floor of NDSU's Memorial Union. Whether you're a local to the vast grasslands of North Dakota, an out of towner looking to better understand the landscapes of the state, or interested in drone photography and visual landscape art, the exhibit will surely offer any viewer some much-needed perspective of land and art, and the convergence of the two.
Meghan Kirkwood, Assistant Professor of Art and the instructor of the drone photography course, was kind enough to sit down with me and expand on the exhibition, drone photography, and the impact of landscapes in visual art.
All of the work that's in the show is from one project in which students visited a series of sites along the Missouri River in the area south, north, and east of Bismarck, ND. The sites were a mix of Native American villages and settlements, to the Lewis and Clark expedition, to state parks. "The students went on a series of field trips to go and visit these sites and then flew [drones] there.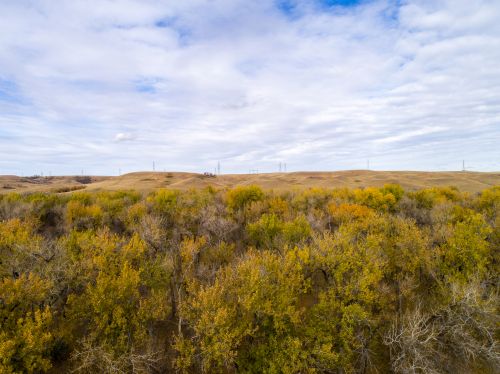 Drone photography is, of course, different from the photos that result from more traditional methods, and as such, can offer a new or different perspective. "It kind of depends on from what height you take things. We think about drone photography as being the stuff where you're super high up and looking straight down – things look very abstracted. But drone photography is also 30 feet off the ground – where you can really just get a different perspective than you can at ground level," Kirkwood explained.
The class, a course in drone photography that's based in the art department, was first taught last year as part of an honor's section. "This year, it's a mix of honors students and visual art students. The students have a wide background – some are from engineering, some are from visual arts, some from landscape architecture, so they're kind of from all over," Kirkwood explained.
The diversity of backgrounds in this course complements the convergence of environmental science, landscape architecture, and visual representation that occurs in the practice of drone photography. Kirkwood, who has an extensive academic and artistic background in landscape photography, is interested in the ways that visual representations of land impact and maintain values and attitudes toward the natural environment.
"If you think about the history of landscape art – what do we have in our museums? We have paintings of mountains and lakes and like these really specific, topographically diverse landscapes. But then when you have landscapes like the prairie, or the plains, or wetlands, the things that make them beautiful or aesthetic aren't part of a formal or visual arts conversation," Kirkwood said. "People don't always know how to represent them. Thinking about, 'what great art has done about the prairie?' We can think of a couple examples, sure, -- but-but it's not a subject people gravitate toward. One of the effects of that, I think, is that people think that those landscapes don't do anything, or they don't have value, or they're not worth preserving."
Most of us North Dakota locals are no strangers to the fact that the landscapes of the prairie aren't typically what we'd think of an aesthetic. As Kirkwood asserts, there is a correlation between art and the placement of value – the more beautiful and meaningful visual representations of a landscape there are, perhaps the more importance and value we assign to it as a culture.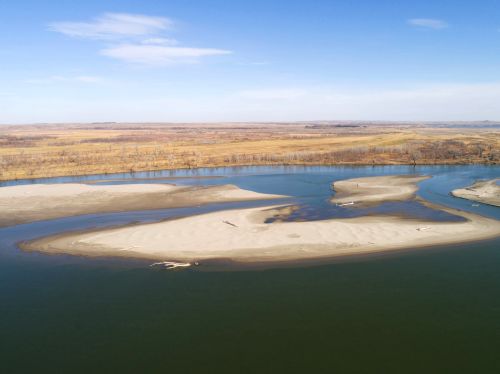 Images of waterfalls, mountains, oceans, and rivers are vast, numerous, and diverse, and the importance and beauty of these landforms are not lost on most people. However, when we fail to capture visual representations of meaningful landscapes, the meaning we assign them declines. The grasslands of North Dakota are just as equally important as aesthetically pleasing mountains, but due to a lack of perceived aesthetic value, they might not receive the same appreciation or defense as more aesthetically pleased areas.
"Grasslands in particular – the things that make grasslands beautiful are the things you can't see. What do they do to bring nutrients back to the soil? What do they do to feed animals, to sustain an economy? Those aren't really things that fit into how we talk about art – or what's beautiful, so I think that's a challenge for people that want to do stuff about land. How do you work against an aesthetic that people have that says 'Oh hey, this is valuable because this is beautiful.' Well, what's the language for talking about the plains? Do we need to think of it in different conversation? It's a problem, I think, in some ways."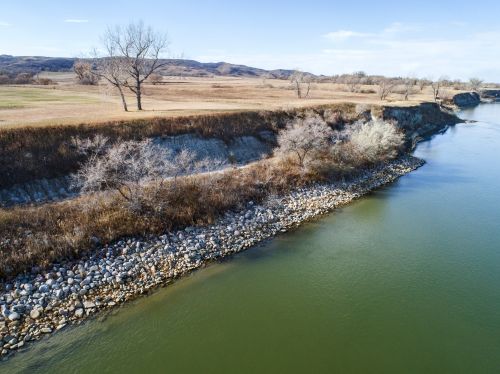 However, while most people might not think of the prairie in the same way they think about capturing images of mountains or other more visually stimulating landscapes, this doesn't mean that beautifully visual representations cannot be achieved. "I think we just don't try, a lot of the time," Kirkwood said. "There are some pretty places here. This is a unique landscape, but we don't really know how to talk about it."
Kirkwood explains that our failure to assign meaning to our natural landscapes can also affect our decisions regarding the use of land. "How do we make land use decisions about Fargo? Well, if we don't think it's 'beautiful,' no one's gonna fight for it. We might say, 'sure, put your pipeline through this landscape – we don't care." When a community shares an appreciation of their landscapes, they are more likely to fight for the preservation of their land.
Everyone could use a deeper appreciation of our North Dakota landscapes, and the perfect way to start thinking about these principles and see beautiful photographs of North Dakota would be to check out the Drone Photography Exhibition at the Memorial Union Gallery, running December 13-January 24, with a reception January 16 from 5-7 p.m.
"I think it's gonna be a great show; I think it's gonna be fun for people to see. Maybe you don't have a ton of knowledge about what drones can do with an area that many people might know, but I think the audience will bring a personal connection. This is part of a program that we're hoping to grow and develop in visual arts for the university. Drone photography -- working with aerial imaging is something that's only going to grow. Whether you're going into engineering, geography, or agriculture, being able to think about what it means to make a photograph using a drone and how to do that in an effective way -- that's gonna be a skill set that people need in the future. In the department, we really hope that drone photography will become a bigger thing we do as part of the university's research agenda," Kirkwood said.
Kirkwood also wanted to give a special thanks to Anthony Faris and the MU Gallery. "You always want to be able to thank the people who let you do things," she said.