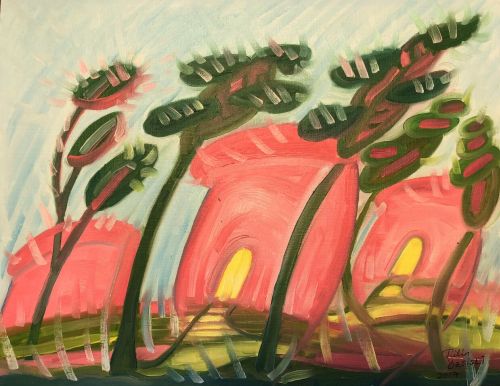 Originally from Turkey, Tülin ÖZSİSLİ is a visiting scientist at NDSU. She has created art inspired by science with bright and active acrylics, oils and watercolors.
"Painting is essential in my life for expressing my feelings," ÖZSİSLİ said. "My painting style is similar to my scientific research.
"The act of painting has always been on my mind, so I started painting. I continued painting in my spare time when I began working as an assistant professor in the Plant Protection Department - Entomology. I decided to participate in group exhibitions organized by my university. The similar aspects of scientific and artistic work are a pleasure for me. In both studies, the unknown is revealed. Both require labor and focus but the difference for me with painting is the excitement of an undefined creation. Nature, especially trees, are what inspire me most. Everything that happens in everyday life can evoke paintings in our minds, causing us to experience different emotions. These paintings manifest themselves when I have the opportunity to contribute time and effort to create."
As an artist, creating artwork for ÖZSİSL adds meaning to her life and contributes a portion of meaning to the audience as well. ÖZSİSL's passion has taken her to a deeper level of painting, "My painting style has changed a lot. In the beginning trees and houses were the subjects. Upon searching the relationships and communication between each form in my paintings, I realized the originality of use with my brush strokes became my theme."
ÖZSİSL's artwork consisted of acrylics, oils and watercolors. She explained the main reason for choosing these mediums is the difference in application techniques. "The harmony between the type of paint and paper or canvas is important for obtaining a good painting. Though the materials do not identify with each other, the resulting work will contribute to the development of the artist's technique," ÖZSİSL said.
"The key element in my work is the new experiences that are created by every piece. For example, color interaction in a finished piece can be used as a base to build upon in my next piece. Particularly, the quick brush strokes in my work are a prominent part of my style. This can be seen in the painting 'Between the obstacle' which was selected for the poster of the exhibition. My method and use of brush strokes add movement and action to the painting."
You Should Know:
Tülin ÖZSİSLİ Fargo Days Art Reception
April 26, Thursday, 7:00 pm – 10:00 pm
The Spirit Room
111 Broadway N, Fargo, North Dakota