​Art Boom Town
Arts | October 2nd, 2014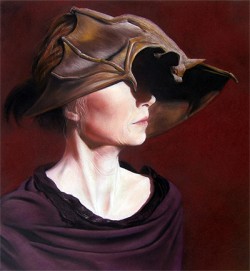 The Plains Art Museum presents "Art Boom: The Tri-College Art Faculty Show"
It doesn't take a rocket scientist to notice that the Fargo-Moorhead art scene is booming. Thanks to not only the "Downtown Renaissance," which involved the revitalization of its structures as well as its cultural points, but also the Tri-College community, which has fostered three incredible art departments. The Plains Art Museum will be host to Fargo-Moorhead's first ever Tri-College faculty exhibition.
Twenty-four full-time studio art instructors will be spotlighted, including Concordia instructors David Boggs, Heidi Goldberg, Ross Hilgers, Michael Marth, and Mark Sorgaard; MSUM instructors Brad Bachmeier, Donald Clark, Meghan Duda, Zhimin Guan, Loral Iverson-Hannaher, Carl Oltvedt, Jim Park, Sherry Short, Kelli Sinner, Patrick Vincent and Chris Walla; and NDSU instructors Nate Booth, Kimble Bromley, Kent Kapplinger, Meghan Kirkwood, Su Legatt, Daniel Siverson, David Swenson and Michael Strand.
"The idea for this show has been in the works since before I started at the Museum, and I'm pretty sure it was Colleen's (CEO of Plains Art Museum)," says Becky Dunham, Plains Art curator. "But no actual 'work' had been done on it until I started; it was just an idea on the books. So this is one of the first shows at PAM that was entirely curated by me. I did studio visits with each artist and selected the works that will go on display in addition to designing the gallery and didactic materials."
When the initial concept was revealed, Art Boom participants were excited to be a part of the action. Dunham added, "First, I met with the department chairs of the three schools to explain the idea of the exhibition and my curatorial process. After that, I began meeting with the artists individually. I think they are most excited about seeing their peers' work from other schools side-by-side with their work. They are used to seeing their work paired with peers from within their department, but not from the other schools."
"I think we have been conditioned to see other colleges as competition," says Su Legatt, NDSU instructor. "This is not a big metropolitan, especially for with three universities, two community colleges, and several technical schools. However, I think each school has a unique visual art program and the students that attend those programs do so for very personal reasons. This exhibition is an opportunity for us, as faculty, to celebrate our abilities and diversity; to show the amazing talent that is available in our local collegiate system."
With the idea of a tri-college faculty exhibition, this may lead to more tri-college collaborations among students. According to Concordia Instructor Heidi Goldberg, "There have been many tri-college art collaborations in the past and I foresee many more. Printmaking between the schools has always had a strong connection thanks in great part to Kent Kapplinger who has done a tremendous amount of organizational work to arrange exchanges, exhibitions as well as hosting the MAPC print conference in 2008."
In fact there has been a biannual student/faculty print portfolio exchange that has included not only tri-college students and staff but students and staff from across the state of North Dakota.
As far as the growth of the F-M arts community is concerned, NDSU instructor Kent Kapplinger added, "The stars are aligning, several factors have made the F-M arts thrive. Wealthy patrons caring and investing in the arts and downtown renovation due in part to the downtown Renaissance program and many forward thinking community and arts organization leaders. A current trend in cooperative ventures encouraged by a young arts-minded generation. And also the poor economy forces people to think deeply, not only how to survive but what is of importance in my life … and realizing wealth isn't the end-all here."
Viewers can anticipate a wide array of media in the Art Boom exhibition including ceramic vessels, mixed media assemblages, paintings, drawings, sculpture, photographs and prints.
Related Events: On Nov. 4 at 6 p.m., Plains Art Museum hosts "Art School 3.0" with Colleen Sheehy and three leaders of the art departments at NDSU, MSUM and Concordia College—Michael Strand, Kelli Sinner, and Peter Schultz. The panel will discuss the exhibit and share insights on the state of college art departments and future trends. The event is free and open to the public.
Faculty Showcase Gallery Talks will be offered in December. The free talks start at 1 p.m. and last a half-hour. Dates and topics are Dec. 2, Paintings; Dec. 4, Photography; Dec. 9, Ceramics and Sculpture; and Dec. 11, Prints and Drawings.
IF YOU GO:
Art Boom
Reception: Thurs, Oct. 9, from 5-7- p.m.
On display through Jan. 4, 2015.
Plains Art Museum, 704 1st Ave N, Fargo
plainsart.org