​Art for concerned strangers
Arts | May 29th, 2014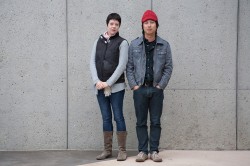 Red Hat Project addresses and undresses human concern
Would you reveal your biggest life concern to a complete stranger on the street?
What if she were holding a camera, wearing a blazing red knit hat and asking you to exchange clothes?
A number of locals said "yes" to Fargo artist Heather Zinger, creator of this 365-day people-connecting endeavor called Red Hat Project. Its finalized exhibit will open this Thursday, June 5 at the Spirit Room.
Zinger's peculiar, yet stimulating project developed out of a Plains Art Museum workshop lead by Minneapolis photographer Wing Young Huie. Before sending his class on a mission to shoot photos, Huie presented a series of work by noteworthy photojournalists, including Nikki S. Lee, who's known for integrating herself into different cultures, assuming their mannerisms and documenting this work through photography.
"She always looks like she belongs, always," Zinger said. "It's riveting."
Zinger, who moved to Fargo from Portland, Ore. a few years ago, wanted to do something kind of similar, but would naturally produce different discoveries. Because, for one, she is white and Lee is Korean.
So initially, Red Hat Project was fueled by this idea of how Americans, whites in particular, tend to think everyone wants to be (or should be) apart of "the dominant culture."
"I started going up to people and being like, 'here, will you just put on my clothes? And I'll put on your clothes," Zinger said.
It was her tongue-in-cheek way of saying, "That's how whiteness operates: Just be like me, look like me. Of course you want this."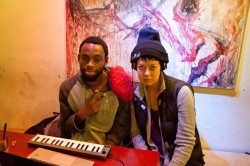 To her surprise, every person she asked agreed to do it in those first few days. People's responses were so strong and mostly positive that it encouraged Zinger to turn this small experiment into a yearlong project.
But she eventually had to stick with just the hat and stop exchanging clothes with her subjects because it produced the wrong response.
"People thought it was hysterical," Zinger said.
Certainly, humor is a good thing, but it's not necessarily what she was going for.
She realized her project was about connecting with people, and one great way to connect with people is to give them an opportunity to voice their concerns.
Here are some of our local concerns she documented:
"Denial of the negative impact on the environment."
"The high price of getting a college education."
"Getting stiffed. I'm really sick with cancer and I'm trying to get help for disability but I'm getting stonewalled."
Zinger's main job is working at the Roger Maris Cancer Center as an artist-in-residence. So empathizing and working with people is something she does regularly.
Zinger said she had no intentions of telling people what to do about their concerns. Her interest was in finding patterns in human nature among differing groups of people.
She found people were more likely to participate on certain days and certain locations.
She found there's something about Midwestern culture that makes people enjoy being of service to others.
She found people were concerned about a number of similar things -- and a number very surprising things.
She found interacting with strangers had an effect on her well being.
"It didn't matter how bad my mood was, as soon as I talked to somebody, even if it was only for five minutes, it changed everything. I felt so much better," Zinger said.
Indeed, an article, "Hello, Stranger," published last month in New York Times cited how social interaction with strangers can do wonders for our mental health. Zinger posted this article written by Elizabeth W. Dunn and Michael Norton to Red Hat Project's Facebook page.
"By avoiding contact (with strangers), we're all following a collective assumption that turns out to be false. When the middle-aged woman starts playing Candy Crush Saga after she sits down next to the hipster scrolling through his iTunes library, they both miss out on an opportunity for connection," the article stated.
Not everyone she took pictures with was a stranger, though a good majority of them were.
"I tried to not really go out of my way to get them. I tried to just be in my normal life and feel called to ask somebody," Zinger said.
If she was too exhausted on a certain day, she'd put a red hat on an object, like a teddy bear, pillow or kale leaf. It gave her an opportunity to voice some of her own concerns as well as incorporate comic relief because her subjects' concerns tended to be very heavy.
Zinger is also aware of similar Facebook pages, like Humans of New York and, more recently, Humans of Fargo. Though Zinger said she started this project before she heard of either. And unlike the "Humans" pages, Zinger and her red hat are in all of the photos as a unifying element.
"For me it was kind of about solidarity – whatever your concern is, I'll stand with you in this moment in time and be with you in your concern," Zinger said, "even if it's something that I don't necessarily prescribe to."
IF YOU GO:
Red Hat Project
111 Broadway, FargoReception: Thurs, June 5, 7-9 p.m.On display: May 26 to June 25
facebook.com/TheRedHatProject