​Art in the Buffalo City
Arts | July 29th, 2015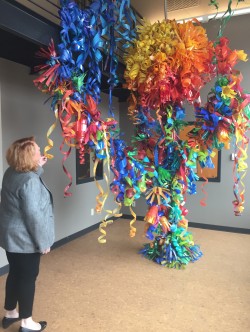 A chat with Cindi Wish from the Jamestown Art Center
Cindi Wish is a relatively new addition to North Dakota. Originally from Cape Cod, Mass., she admits that prior to her interview for the executive director position at The Arts Center in Jamestown, N.D., she had never set foot in N.D. In fact North Dakota and Alaska were the only two of the 50 states that she had not been to — but she's glad she did.
Wish has served as executive director at The Arts Center for the past seven months. She has a background in printmaking and administration. She picked up her master's in Sydney, Australia, and upon her return she visited the Museum of Modern Art in New York. Dismayed by the $25 price of admission Wish had an epiphany: "At that moment I realized I wanted to work with art in a non-elitist way."
One observation that Wish has made is the level of modesty in North Dakota artists. "People will make these creations, but they won't admit they are artists," she said.
The Arts Center is constantly on the lookout for ways to engage the community, whether one of their many artists in residence work hands-on with students or whether they are hosting a workshop in the visual, theater or musical arts.
Upon walking into the facility, guests are greeted by a giant collaborative sculpture made of plastic bottles created by the fifth graders of Jamestown. The inspiration came from an American Art History lesson about glass artist Dale Chihuly with artist-in-residence Bonnie Tressler. Students collected 3,000 plastic bottles for the creation.
The most recent buzz surrounding The Arts Center are plans for the Art Park, which would be situated across the street from The Arts Center. Not only would it provide a much-needed green space for downtown Jamestown, but it would also provide an outdoor performance/event space as well as seating, mosaic benches created by artists from the region, sculptures and data ports, to name a few things. A projector will also be placed on top of the Hanson Art Studio to project ambient light and live feeds onto the adjoining wall to the Art Park, which could also mean projections of local art and film events.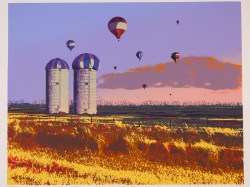 Out of 1,300 applicants and 90 finalists, The Arts Center is the only ArtPlace America Recipient in North Dakota. It received the grant to aid in the funding of the Art Park and has so far received countless proposals from architecture and design firms from around the world.
This year also marks the 51st annual JFAA (Jamestown Fine Arts Association) Art Show. Jurors Armando Ramos and Karri Dieken are both art instructors at Valley City State University.
"It has been exciting to see all the great events happening at the Jamestown Arts Center!" Ramos said. "This exhibition has been growing every year -- Karri and I are privileged to be part of the tradition."
The juried show is an open call for entries in a wide variety of media. Artist backgrounds range from student work to artists in various points of their career and hobbyists. Fees and registration for the exhibition are due Aug. 1, art drop off is Aug. 23, and the public reception will be Aug. 29. Interested in participating? Gallery manager Sally Jeppson will be making a trip to both Fargo and Bismarck for art pickups and drop offs. Contact The Arts Center for more information. Transportation of art will also be available to FMVA members. Contact Jon Offutt for more information.
IF YOU GO:
Jamestown Arts Center -- call for entries
Aug. 1 Registration forms due
Aug. 23 Art due to arrive at The Arts Center
Aug. 29 Public opening 1-3 p.m.
115 2nd St SW, Jamestown, N.D.