​Art on the Red Showcases Prairie Talent
Arts | May 29th, 2019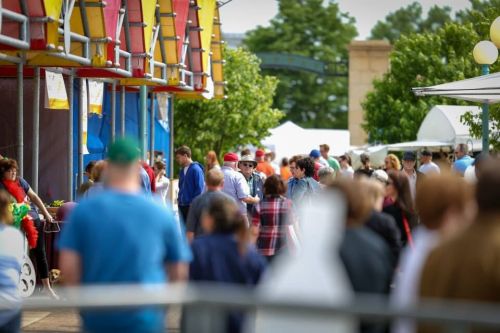 With all the coverage of artists in the Fargo-Moorhead area in the High Plains Reader, it can unfortunately be easy to forget that the rest of the state hosts their own fair share of artistic talent. Take, for example, Fargo's neighbor to the North, Grand Forks. Since 2001, Grand Forks has hosted an annual event originally named "ArtFest", which was organized and operated by the North Valley Arts Council (NOVAC).
Unfortunately, in December of 2016 NOVAC dissolved, but Grand Forks's desire to display and celebrate the work of artists both in and outside of North Dakota would not be swayed. Under the direction of the Public Arts Commission (PAC), a non-profit organization based in Grand Forks, ND, ArtFest was reborn as "Art on the Red".
Ra'Chel Alexander, the executive director of PAC, explained Art on the Red as such. "…Hosting artists and artisans, food vendors and entertainers, Art of the Red caters to art lovers and festival-goers from around the region with two full days of art, food, kids' activities and art projects, live entertainment, and more." The Grand Forks Convention & Visitor's Bureau (CVB) contributes a generous grant to the event every year to help the Public Arts Commission host the event, along with a number of local sponsors. The premier sponsor for 2019's event is Chevy Heartland|Rydell Cars. Alexander said, "We've also received sponsorships from GF Park District, Icon Architecture Group, HB Sound & Light, Alerus Financial, Vaaler Insurance, and Xcel Energy."
The majority of artists who showcase their work at Art on the Red are from North Dakota, but Art on the REd is open to artists from all over the country. "We have several that attend from surrounding states and even some that come from as far as Texas to be a part of this event," said Alexander. The event always has a large assortment of artists and crafters selling hand-made products. Accompanying that are a number of performances by local musicians and organizations. Of course, there is plenty of food and lots of activities. There's even something for the kids, like inflatables, a splash pad, and a Kids Korner with art activities put on by ArtWise and Muddy Waters Clay Center.
In the past, Art on the Red has typically taken place in downtown Grand Forks on the banks of the Red River. However, this year marks a change in proceedings due to the construction taking place downtown. 2019's iteration of Art on the Red is located at University Park. "I think it'll be a great change and is already a beautiful venue," said Alexander.
Since the event is located outdoors, one hopes that the weather will be clear and sunny on the weekend of Art on the Red. Alexander said, "As with any outdoor event, there is always a concern for weather, but I'm proud to say that the past Art on the Red has drawn a great crowd rain or shine. I hope for the same this year as well."
If You Go:
Art on the Red
June 8th and 9th
Downtown Grand Forks