​Art on the run: 'Accessible' Art Marathon returns for another go-around
Arts | April 22nd, 2015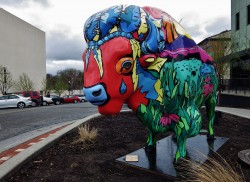 Finally, a marathon you don't have to train for.
In its third year, the Art Marathon comes back again for another artful, 26-stop scavenger hunt across Fargo-Moorhead. The family-friendly event puts together participants and artists of all kinds in a quest that sees everything from visual to culinary art to comedy and theater.
Justin Atwell, Art Marathon maestro, said the range of arts varies greatly and so do the stops themselves.
"We have things that are static that are in place throughout the whole time," he said. "And then we have what's called 'the chase' – different things that pop up and then people try to get them."
By downloading the Art Marathon app from the Android store, participants can snap QR codes at the separate stops and events along the way. A Facebook page keeps everyone updated, and people can exchange hints and some polite smack talk.
The Art Marathon runs for 10 days until May 2. A closing event at 20 Below Coffee Co. will divvy up prizes for the winners.
But don't expect the Art Marathon to be overly easy. Last year, three people finished out of 100 participants, and in 2013, six people got to the end.
"It's not the easiest thing in the world," Atwell said, "but it can be done."
"This year we tried to make it a little bit easier," co-founder Andrew Mara said.
No worries, though. Art Marathon is not about finishing; it's about the journey, a quest that takes participants from the Rourke Art Museum to West Acres Shopping Center to the North Dakota State campus.
"Most of the events are really family-friendly, family-oriented stuff, but it is something I think would be interesting to anyone who loves art in any form," Atwell said.
Teaming up with The Arts Partnership, the Art Marathon takes its participants to locations and events throughout the region. Student exhibitions and music are plotted, as well as local food, comedy, a musical and Sunny, the restored Herd About the Prairie bison on Broadway.
For Atwell and Mara, the Art Marathon is a grand way to "push the boundaries" of art and join together audiences and emerging artists in the area.
"It's very accessible. It's kind of our goal here," Atwell said of the event.
"This is sort of an experimental version of (the F-M Studio Crawl)," Mara said. "It invites different perspectives … this is like, 'Am I the spectator? Am I the participant?' It's great."
IF YOU GO
Art Marathon
April 23-May 2
Kickoff event 6 p.m. Thurs, April 23 at Moorhead's Rourke Art Museum
Find the Art Marathon on Facebook and the Android store