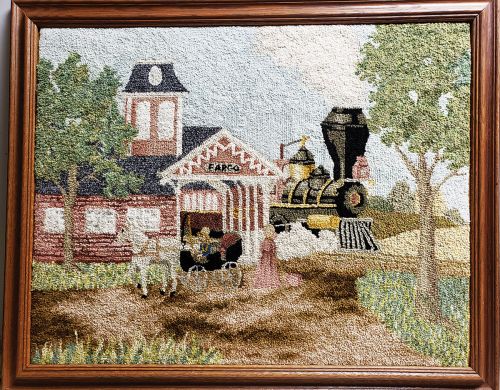 by Kris Gruber
perriex1@gmail.com
Arts Access For All is an organization that was formed to provide services that can better connect people with disabilities to all forms of art. I spoke with founder Sherry Shirek about her thoughts and experiences related to the upcoming "Artist First" multimedia exhibition at the Hjemkomst Center in Moorhead, on February 8th, featuring local artists who identify as having a disability.
AAFA works with arts, cultural and historical organizations in North Dakota and Minnesota so they have the tools to accommodate people with disabilities. Since 2014, beginning with an access grant from VSA of Minnesota, Sherry, functioning as Accessibility Consultant and grant writer, has led a team who together have initiated many services and programs. They have worked with staff at the Hjemkomst Center to provide audio touch tours and educating staff about best practices regarding ASL, and basic etiquette. Through Minnesota legacy funds, they provided training on describing art, exhibits and live performances to the blind. With funding through the North Dakota Council on the Arts and Minnesota State Arts Board, Sherry mentored high school students for three years and conducted surveys to determine the strengths and needed improvements between arts organizations and people with disabilities.
Additional projects have included a year-long educational series, each month given a different disability focus and professional training, two workshops with Minnesota Access Alliance, presentations for VSA of Minnesota, and providing online services encouraging discussion on arts and disability access.
Sherry spoke freely and easily about her passion for her work and educating people on a topic that has perhaps been forgotten, or as she put it, "marginalized." She shared with me during our phone call that she is blind herself, and her husband is a low vision artist. This is her first time organizing Artist First (with help from the Plains Art Museum and Arts Partnership).
When I asked how preparing for an exhibition such as Artist First is different, or important, she commented that it was a good question. Accessibility guidelines (color scheme, hanging height) need to be followed. She talked about the mindset for preparing an event like this, always keeping "accessibility first." This will be a large exhibit, allowing for freedom of movement, and it will have large print and braille. She said that ideally, art would be accessible all the time.
This led us to discussing potential public reaction to an event such as this. Sherry told me that people often want to "coddle" artists with disabilities, and do not want to critique their work. Many people can feel intimidated. People don't always ask for these services, or they simply don't know how (to ask).
She said, "People will come if the services are there."
I asked Sherry about the award program that will be part of the Artist First event. The exhibition will take place in the 4th floor gallery. There will be a live performance reading, refreshments, and 1st, 2nd, and 3rd prizes given.
When discussing what she would want the public to know about this event, Sherry said, "Accessibility is not as hard as people may think." She added that she wants people to understand that people with disabilities are part of the general public. She wants people to "start thinking about accessibility."
IF YOU GO:
Opening Reception
Artist First
Saturday, February 8
1:00PM - 4:00PM
Hjemkomst Center
Free Admission