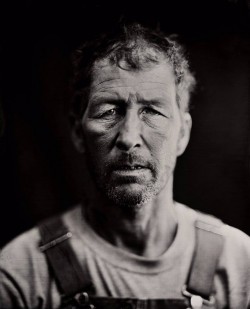 Shane Balkowitsch is a photographer based out of Bismarck, N.D., though he is no ordinary photographer. He is a wet plate artist meaning his photo process dates back to the mid-1800s. In fact he is the only wet plate artist in the state. His work has appeared in numerous publications, and he does demonstrations statewide, thanks to a portable darkroom.
HPR: You are a self-taught ambrotypist. What sparked the passion? Was there one image that started it all?
Shane Balkowitsch: I never had an interest in photography and never owned a camera. My first camera was my 5x7 wet plate camera. I saw an image online and I was fascinated by the look of it, I was immediately drawn to what I was seeing. I asked the photographer,what is that? He said it was a wet plate tintype from the 1848 process. I told him I would love to do that, and he asked if I was a photographer. I told him I did not even own a camera. He told me he had been a photographer for 30 years and he struggles with this process; essentially there is no way a non-photographer could figure this out. Within 45 days I had made my first wet plate.
HPR: Were there any other notable ambrotypists in the Dakota Territory that you are aware of?
SB: Orlando Scott Goff was a wet plate artist that I look up to that worked right here in Bismarck. He had his studio on the second floor of the Block Building on Main Street. He is given credit for capturing the first wet plate of Sitting Bull in 1883.
HPR: Can you describe your process?
SB: Wet plate collodion is one of the earliest forms of photography. Frederick Scott Archer has been credited with inventing this historic process back in 1848. The process became popular worldwide, then quickly died off in the 1880s when a more convenient way of taking photographs was invented. In recent years there has been a small revival of the process when a number of contemporary photographers decided to go back to the roots of photography and embrace the old. Making a wet plate can be difficult, time-consuming, costly, unpredictable and requires a high degree of commitment. The images can be captured on glass (ambrotype) or on metal (tin type). The word ambrotype is translated in Ancient Greek as "immortal impression." Digital photography today relies on technology; wet plate photography relies on 160-year-old chemistry and a bit of magic and some luck. A wet plate photographer makes a film base on a piece of glass or metal using collodion, submerges it in a silver nitrate solution to make it light sensitive, and then exposes the photograph usually in an old-style wood bellows camera box and usually a brass lens. The process is called wet plate because during the entire process the chemicals on the plates must remain wet and cannot be allowed to dry. The end result is a one-of-a-kind, archival object of art that will last many lifetimes. There are wet plates of Abraham Lincoln that look just as good today as they did a century and a half ago. It is thought that fewer than 1000 people worldwide carry on the tradition of wet plate today. Many of those individuals are professional photographers at the height of their careers.
HPR: How long did it take for you to perfect -- or rather refine -- your process to the point of exhibiting?
SB: I am still refining my technique and my aesthetic. It is rather amazing looking back that I was able to get a wet plate to appear on my first attempt, a portrait of my brother on Oct. 4, 2012. I take a wet plate of him every year on that day to celebrate.
HPR: You do demonstrations at art institutions throughout the state. Do you have some kind of a portable darkroom setup?
SB: What is very difficult and challenging about this process is that the photographer must take his darkroom with him wherever he goes. You cannot take pictures and develop hours or days later, as with modern film; you must do it on-site as the plate remains wet. I use a germination tent on a table to stick my head into (with a dark shroud over my back to block out all the light), and I work with red lights in this confined space when I go off-site.
HPR: I saw that you were featured in View Camera Magazine twice, once when you shot Evander Holyfield and another time when you recreated an image of Gen. Custer, which was originally created by Civil War-era photographer Matthew Brady. What was that like?
SB: It is a huge honor to have made the front cover of View Camera Magazine not once but twice with my images. It is a very respected magazine for anyone who shoots large format photography. The Custer shoot was early on and was a great learning experience. Spending a rushed hour with Evander Holyfield was truly amazing. He was wonderful to work with and he talked intimately about his career, which was really interesting. When I first started with my camera and my one little light fixture in my back warehouse, I had no idea someday that I would be capturing the heavyweight champion of the world.
HPR: Your work is also in the permanent collection at the North Dakota State Historical society -- how does that feel?
SB: It is absolutely amazing that my great-great-great grandchildren will be able to go to the Heritage Center in the future and request to see my work; I can think of no greater honor, and I am doing everything I can to continue to make plates that are worthy of their care. I just made a wet plate yesterday of Monsignor James Shea from the University of Mary, and they want to have that plate for their archive.
HPR: Can you tell us a bit about the camera you use?
SB: Yes, my first-ever camera I had made was my 5x7 camera. In the process of wet plating, cameras are damaged by the silver nitrate as plates are made. I find it very romantic that the tool of a wet plate artist, his or her camera, is destroyed with every image, but it is true. My first 5x7 camera went about 700 plates until one day at Fort Lincoln it developed a light leak and I had to have it repaired with new wood. My present camera is an 8x10, made in Italy, Alessandro Gibellini camera, handmade for me. It is a large format view camera and can accept 5x7, 7x7, 8x10 and 4" round glass plates. I use Carl Zeiss Tessar lenses, 300mm and 360mm, exclusively for all of my studio work.
YOU SHOULD KNOW: