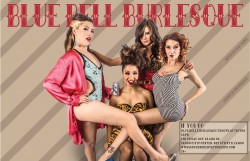 Fargo's first-ever Roughrider Tattoo Expo will be held at the Civic Center Oct.24 and 25. Featured as the Sailor Jerry's hula girls, along with international headliner Ophelia Flame, will be Fargo's own all-female Blue Belle's Burlesque troupe.
With constant hard work and many days and nights spent rehearsing, these femme-fatales are here to entertain. The main goal they all share is to bring this burgeoning theatrical art entertainment in its best form to a community that has never seen it. When asked to describe how they view their troop, they all agreed on "bawdy, colorful, whimsical."
Each member has her own take on performing:
Oopsie Daisy (Best Mistake In Burlesque): "I want to bring laughter and comedy into my burlesque routine. When I perform it is more thrilling to get laughter out of the audience than the 'ooos' and 'ahhs.' Don't get me wrong -- those are great too but laughter is best. A fat man can tell a joke and it can be funny, but being a highly sexual, beautiful woman and hearing the surprise in the audience is what I am looking for."
Anytime Jones (Call Me Anytime, Anytime Jones): "As a performer, I like to challenge myself and to bring a visually compelling performance and by really ratcheting up my costumes. It is not always important to execute a perfect spin but rather how my mind and body finds personal musicality. My character is quirky, charismatic and classic, with glamour and affable fierceness."
Sin Sear (The North Dakota Streetheart): "I strive to grow as a performer and in my community; I am new to burlesque, but ultimately I want to make people laugh one day, be elegant the next, and then eat fire! I am willing to learn anything, and I want to be a one woman circus."
Ketel Wonder (Burlesque Intoxicated): "I want to bring aerial silks to my performance but I am focusing on pole right now. I have been training at Total Woman in Fargo and will be debuting my pole routine at the Roughriders Tattoo Expo. My goal is to put on a good show that is entertaining and having people enjoy what I have to offer."
Although these amazing ladies come up with their routines and costume ideas they do work with amazing local women and companies such as Artography by Bethany, which shoots their photos, and Powders & Pandemonium, which aids them in the beautification process.
Blue Belle's logo, created by Mara Morken, depicts exactly how Blue Belle wants to be portrayed.
"The gal in our logo, Belle, represents femininity that women want to reach but can't or don't," Oopsie Daisy said. "We are completely different women in aspect, except what we want to accomplish as a group: we want to build each other up as women."
Anytime Jones added, "Mara, who is a local LGBT luminary, took into consideration all of the aspects that their logo would represent. So I am conscientious that this logo included me, 0.8% of the population in Cass County is black, and black women are in burlesque too, even though peoples' default vision of what a burlesque dancer is is typically white."
"We are thankful that Mara designed it," Ketel Wonder agreed.
Oopsie Daisy approached Anytime Jones as she was just getting off tour with another group, and was not sure she would be sticking around Fargo, as there is not a lot of opportunity here as compared to a bigger city. By copious amounts of booze and sweet coercion on Oopsie Daisy's part, they got together and began brainstorming this new and exciting project.
"We all wanted to perform, and we built a relationship together as a group and support one another as individuals and within the group," Oopsie Daisy said. "Our number one rule is to not be a dick to one another and that comes from a place of love."
Every member made it abundantly clear that the burlesque community is welcoming and loving, everyone wants the other to succeed in this business and is more than happy to lend a helping hand no matter where they reside in the country.
As mentioned prior, a special guest will be headlining the Roughriders Tattoo Expo: Ophelia Flame. She is one of the top 50 burlesque performers in the world under the guise of "The Burning Sensation."
"We take all the proceeds we make from our shows and pool them to bring amazing acts to Fargo for our community and for us," Oopsie Daisy said.
Anytime Jones reiterated, "We are fortunate enough to set the bar in Fargo-Moorhead. People deserve to see Ophelia, for us and our audience."
The women in this group are strong and hardworking individuals with an abundance of humor. The way they communicate with one another is like that of sisters. Oopsie Daisy cried, "We just want to out-weird one another." And they do a great job of that.
IF YOU GO:
Blue Belle Burlesque Troupe at Tattoo Expo
Fri to Sat, Oct. 25 and 26
Fargo Civic Center, 207 4th St N, Fargo
www.roughridertattooexpo.com
18+