Climbing to a more colorful future
by HPR Contributor | .(JavaScript must be enabled to view this email address) | Arts | October 22nd, 2015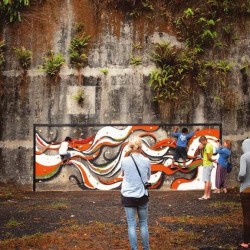 By John Showalter
Living in one of the more prosperous nations in the world, it can be easy to take things for granted. Whether it's food, clean water, shelter, education, proper medical care or even something that might be passed off as unnecessary by the more cynical of us, like art or a place to play. There are millions if not billions of people on this planet that would be ecstatic to have even one of those things. In the case of the last two, Ann Mladnick and her husband Mat St. Martin are hoping to improve the lots of others in quite a novel fashion: artistic climbing walls.
Speaking of things being taken for granted, I was lucky enough to get an interview with the couple despite the twelve-hour time difference between here and Phnom Penh, Cambodia, where they're currently staying and, more importantly, where rolling blackouts have been regularly occurring.
After graduating from MSU in 2013 with an art major, Ann wanted to find a way to be a teacher, despite not having a degree in education. The opportunity to do so presented itself in the form of teaching English abroad with her husband, whom she met in Fargo as he was hitchhiking across the United States and who had studied rock climbing in New Zealand. "It was kind of a whim, kind of a 'why not?'" Ann said.
The couple has a great devotion to public art. Before their excursion to southeast Asia, Mat and Ann started a volunteer community project at Heartland Special Needs here in Fargo. In the course of two weeks, working from sunrise to sunset, they were able to bring color and uplifting art to the otherwise sterile hallways of the place, bringing great joy to people who are too often marginalized by the rest of society.
"The people who need it the most have it the least," said Ann, pointing out how art, which she staunchly believes should be enjoyed by everybody, is all too often something only enjoyed by the wealthy, gracing private galleries or standing in the lobbies of buildings of multi-billion dollar corporations. And although she may enjoy particular works of art in museums, she hates the sterility encouraged in them, which almost seems to steal the soul out of the artwork.
It only makes sense, then, that in the near future when Mat and Ann travel to Bangkok, Thailand, as well as several rural communities, they would want to bring art to the impoverished and underprivileged. Combining their passion for art with Mat's interest in climbing, they plan to make ten-foot walls that function both as mural art and as a means for play and exercise for the youth and adults of Thailand, a form of art that can not only be viewed, but touched and interacted with.
They will be placed in areas where less fortunate people live, perhaps even under bridges and in alleyways. Zoning doesn't seem to be an issue. "We've never been told no," said Ann.
Living in a country with an overabundance of video games, twenty-four-hour gyms, bars and video-on-demand, it might be easy to forget how lucky we are to have this plethora of entertainment options. Ann related an anecdote about how during their stay in Cambodia, major flooding was occurring. The children, many of whom didn't even have a basic education, much less a place to play, waded out into the raging floodwaters rushing across the highway and swam until traffic scared them away. That is the everyday life for many people in that area of the world.
If their project is successful, Ann and Mat plan to bring their interactive artwork to the less fortunate parts of our own country. Unfortunately, donations have all but dried up in the last couple weeks. Their Indiegogo fundraiser, which was started at the end of August with a target of $1,000, has come to a standstill at just over $750. "It may not seem like a lot of money until it's not coming in," Mat said. If they manage to meet their goal, those funds will allow them to build at least three of these mural climbing walls throughout Thailand.
So if you happen to have any extra funds at all, something is better than nothing, and hopefully we can all bring some enjoyment to the harsh reality of Thailand's poor.