​'Conventional' gets a new platform
Arts | June 6th, 2013
Jessica Wachter at the Plains Art Museum
Arguably the most buzzed about young artist in town, North Dakota State University art and interior design graduate Jessica Wachter doesn't necessarily create the most outwardly accessible artwork.
But that may be another arguable statement. Yes, her work is abstract, simply meaning any viewer could interpret the image differently. "I am not painting an apple for you to only see an apple," says Wachter, who is originally from Bismarck.
Though most of her work is also amiable and remarkably attractive to the eye.
"I am wanting to give you something – and show you my way of seeing it … I come to the canvas and with actions, an emotional reaction to something, with anything," Wachter says.
Imagine erratic twisting, shifting and turning strokes of color mixed with numerous elegant, nuanced abstractions, then mixed with seemingly illogical shapes. Imagine something immense and illuminated. This is Wachter's style. And what makes her "own" her style is her ability to effectively direct colors and shapes, her ability to "think big" and her ability to translate her inner emotions into outer beauty.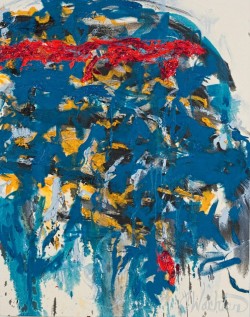 Aside from being an active artist, Wachter is also active in the art community. She's been featured at the North Dakota Museum of Art (Grand Forks), Hjemkomst Center (Moorhead), West Acres Shopping Center (Fargo), Plains Art Museum (Fargo) and more. She is also an NDSU Bison Arts Board member and a CHARISM Faces Project after school art teacher and Ecce Art Gallery's assistant curator and events coordinator.
Mark Weiler, Ecce's owner and creative director, began working with Wachter after seeing her exhibit at NDSU's Memorial Union Gallery in 2009, while she was still in her younger 20s. He says he saw (at the exhibit) "glimpses of talent," atypical to the area and for someone her age, and that her work needed to be supported and developed.
"With the style that she is doing, that type of oil painting, I think that it take decades to develop that nuance," Weiler says. "And sometimes to view it as a lifelong process of being able to really develop this voice of nuance within abstraction is what she's trying to achieve and we are trying to instill in her collections.
"Jess' career is exceptional because she is one of the youngest that we've taken on at that time and just through the past four years ... Jess is also exceptional in that she's one of the youngest artist regionally to have a show at the Plains (Art Museum)."
Next Thursday, June 13, the artist will have a closing reception for her Plains Art Museum exhibition, "Beyond Convention," which features a number of her large-scale abstract works, as well as dozens of small, floating screen prints.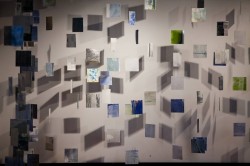 Her screen-print installation was inspired by her desire to do something less traditional. She wanted to create a landscape that could be manipulated depending on a viewer's position.
"You're the artist of this interactive space that you enter into," Wachter says of the installation. "So no matter what, it's your view form of what you see and how you see it as you move it and you turn it -- and what you are creating, in that way, is the art."
She also plans to incorporate social media into the reception. Attendees are encouraged to post a photo of their favorite square screen print and then tag it as "Jessica Wachter Art" to create an online archive. At the end of the reception, she will gather the names of all who participated and then draw three winners who will receive one square screen print similar to the one they photographed.
"I am presenting this platform that – you may not know a lot about art," Wachter says, "but we are all creative and we are all artists and you can support in another way."
IF YOU GO:
Jessica Wachter's "Beyond Convention" closing reception
Plains Art Museum, 704 1st Ave N, Fargo
Thurs, June 13, 7-9 p.m. (Artist talk at 8 p.m.)
Cash bar; http://tiny.cc/x0z5xw