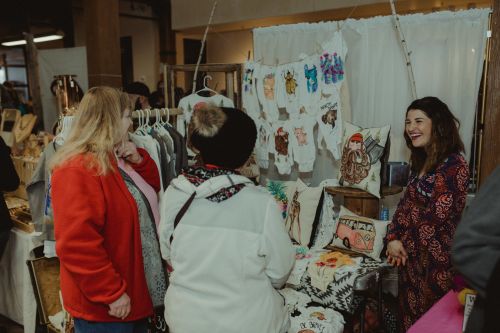 By Gabrielle Hersch
gabbyhersch@gmail.com
Eight years ago, Ashley Morken, now owner and operator of Unglued: Market, watched her friends' modern types of crafts sell poorly at traditional craft shows in town. She saw pockets of makers, creators, and artists feeling frustrated; their inability to succeed at local craft fairs had them wondering if they would be able to succeed in Fargo at all. In noticing Fargo's need for a venue for modern crafting, Morken's own passion for creativity, crafting, artists, and organizing events all came together, and soon, the Unglued Craft Fest was born.
"I thought, well let's try a modern-feeling craft fest, and give people an opportunity to have this different kind of platform to share their work. The response from the community was incredible," she said.
That first craft fest was a huge success, combining the vendors with a "whole creative-inspirational weekend" of free workshops and opportunities for people to participate in.
"It just works," Morken said. The same makers who had been having trouble selling well at any other craft fairs in town ended up selling most, if not all, of their work at Unglued's modern take on the craft fest.
"One of our makers suggested that it should be a store, and that's how it rolled into a pop-up shop, and now this store that we have today," Morken said.
Six and a half years later, Unglued is thriving in downtown Fargo as a local and regional market, selling handmade crafts of all types, including art, jewelry, and even cupcakes. Unglued is host to a variety of creative classes and workshops for kids and adults, and their 9th annual Unglued Craft Fest is almost underway.
This year, Unglued will continue their tradition of hosting their craft fest at the Plains Art Museum, where more than 70 handmade artists, crafters, and makers will connect with guests, as well as showcase and sell their work. Along with swag bags, scavenger hunts, and a Craft Beer Garden, the FREE event also features creative workshops like printmaking, embroidery hoop art, succulent potting, and more.
With their market and craft fest, Unglued continues to cement themselves as a catalyst for creative activity and artistic inspiration. Not only do they provide an outlet for modern crafters to showcase their work, but they also foster creative growth in the artists that they feature.
"We have a jury that goes through the work to make sure any returning makers are showing newness, progress, and growth in their work. So, no matter what, when you come to the fest every year, it's going to maybe be some of the same makers, but they're showing that they're changing and growing in their work," Morken said.
This year, there will be 27 booths that are new to the craft fest. Crafters from all over North Dakota, Minnesota, South Dakota, and Wisconsin will have displays. The annual event is not only a place to shop for art or attend workshops, but also an important opportunity for artists and customers to connect with one another.
In a world of mass-produced products, clothes, and furniture, many of us are being more intentional about buying art, décor, and other goods that have some meaning behind them. We want to feel connected to the art we purchase in a wholesome way, and buying locally and regionally is one way that we can do so. In addition to locality, knowing that each piece was handmade by the artist adds an incredibly personal touch, as does being able to meet and have a conversation with the artist.
Unglued carefully curates their market – and their craft fest – with the intent of housing goods that are different, fresh, unique, personal, and modern. The way that these nuanced, indie-modern versions of crafting differ from more traditional conceptions of crafts is hard to define, but one trip to their shop makes it clear that they've captured it. And the way that modern crafters used to struggle at traditional craft fairs reveals that these differences do exist.
Morken says that the differences between modern and traditional crafting were easier to pinpoint with the first craft fest, in 2011. But with the rise of sites like Etsy and Amazon Handmade, the increased opportunities for makers with a modern vibe has created a nice blend between different craft styles. But what do Morken and her Unglued team search for when curating their craft fest and market?
"Someone's personal take on a traditional craft is a huge part of it. They've learned that traditional technique, and then they've turned it into something that's their own flair, and it has this modern vibe – whether it fits in with current trends or fits in with what people are looking for what's new and different. And it usually has a flair of whimsy with it to some degree – and that's that piece that's usually the hardest to describe," Morken said, and guides craft fest jury with this principle: "You'll know it when you see it."
In the same way that one spots whimsy and modern vibes, you know passion when you see it. And Morken's passion for connecting people and artists is impossible to miss.
"I love seeing a maker connect with somebody who wouldn't typically be in their normal audience, and seeing someone you would never expect to be shopping for a certain type of art print, or a leather fanny-pack. I love to see people get so excited to discover the type of maker at the fest that they just never would've connected with in any other way… That is by far my favorite thing," she said.
Morken's ability to connect people and her own love for art has helped shape Unglued's mission. Unglued has been an influential business when it comes to giving local and regional crafters a platform, connecting artists and customers, and hosting workshops and classes to get people the opportunity to learn and create.
Before Unglued, Morken had a career as a nurse. But getting together with friends for crafting quickly made her realize a different path that she wanted her life to take. "When we were getting together to craft, it just made my life feel more full to get creative and make things," she said.
Morken says that Unglued's vision has stemmed from the ways that she has seen creativity enrich people lives.
"That feeling you get when you make something – especially if you didn't think you could make it – is incredibly fulfilling," she said. "I think in the types of lives we have these days, where everything is so tech-based and online, and we're always staring at our phone, finding ways to disconnect has enriched my life so much. It's incredibly rewarding to see that happen to other people."
This weekend, the Unglued Craft Fest at the Plains Art Museum is your perfect chance to disconnect from your phone and enrich your life with art, crafting, handmade goods, music, craft beer, and much, much more. The all-ages event has something to offer for everyone, from children to teens, to adults, and it's sure to provide some of that pre-spring inspiration we're all longing for.
Event information:
The 9th Annual Unglued Craft Fest
Craft Preview Party
Friday, February 22nd, 5-9 p.m.
Plains Art Museum
Tickets: $20/advance, $25/day of/door
The Main Event
Saturday, February 23rd, 9 a.m. – 4 p.m.
Plains Art Museum
Free admission
View more information and the full schedule at: www.ungluedcraftfest.com.