​Dakota Fine Art Featured Artist: Meet Mitchel Hoffart
Arts | March 27th, 2019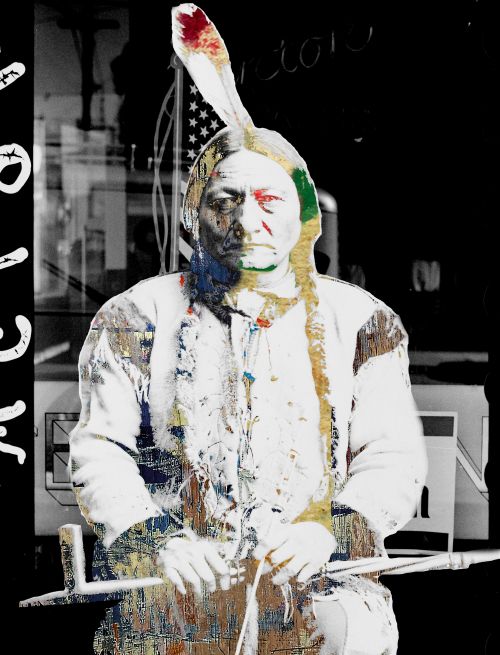 This month at Dakota Fine Art gallery be sure to check out guest artist Mitchel Hoffart's exhibition, "Flora, Fauna, and the Abstract World." Hoffart, who lives in Moorhead, is a mixed media artist with an extensive and diverse body of work and a long and growing list of exhibitions and awards.
While Hoffart says it's impossible to pin down his art into a specific category, he does work with some recurring themes. After being commissioned to create a multitude of 12x12 elk paintings for a friend in 2016, recent years have seen Hoffart exploring the horizon line.
"I can't really say where I get my ideas from," Hoffart said, "but I have a dear sister that had been perusing some of my work and said that she had noticed a predominant feature in there, which is that's there's almost always a horizon line.
"How can I not put in horizon lines?"Hoffart mused. "Especially living around here. And of course, I grew up in North Dakota. You have that horizon line burned into you. When we were kids traveling to grandma and grandpa's, we'd be crammed in the backseat. Looking out the window you just see this horizon line going by for two hours straight. It forms in your head as a youngster, you know?"
2017 and 2018, then, saw Hoffart creating many different works based on exploring this horizon line. "I bet I started around 30 paintings," he said. "It was liberating, but I wasn't real satisfied with a lot of the work."
In talking to Hoffart about his work, it became clear that he sees it on a constant path of progression, movement, and change. In his studio now, several pieces – that once had been declared finished and signed – hang on the walls, ready to be reworked.
"These two paintings were finished paintings," Hoffart said as he showed me some of his current projects, "and I didn't like them, so I just redid them."
Just as layering and editing are constant processes in each new piece, Hoffart is never afraid to pick up a finished piece again, layering the new with the old. If he's not satisfied, he goes back and spends countless hours to turn each piece into something he's pleased with. Any artist out there knows how difficult it can be to not through their unsatisfactory work in the trash, so Hoffart's dedication to his work incredibly admirable.
Prior to this liberating frenzy of horizon line exploration, Hoffart says he'd never really done abstractions before.
"It was kind of a learning experience for me too, because I was teaching myself a new technique," he said.
Hoffart considers himself more of a mixed media artist than purely a painter and his art often features toner transfers, layering, and photography. Recently he's been experimenting with haikus, cleverly hiding them within his pieces.
In addition to the horizon line, forms of birds, bison, and elk are at home in Hoffart's art, as our political sentiments. Usually coming across in his titles, Hoffart relates his work to contemporary issues in politics, evident in "Circus Tent White House," and science, as seen in "We, Can't See Gravity and Many Other Things."
Currently viewing at Dakota Fine Art, among other pieces, are some of Hoffart's brilliantly aesthetic abstractions. These pieces stand out among his other work with their playful yet somber colors, thoughtful lines, and geometric yet surprising forms.
While Hoffart's exhibit will run through June 1st at Dakota Fine Art Gallery, you can meet him yourself at the opening reception this Thursday, March 28th. At the reception (which will run from 5-7 p.m.), guests will even have a chance to win one of Hoffart's pieces. Hoffart donated the incredible "Sitting Bull with Stars," an archival pigment print, as a token of his appreciation for supporting his exhibition. You can find more of Mitchel Hoffart's work in his online gallery
YOU SHOULD KNOW:
Mitchel Hoffart reception
Thursday, March 28, 5-7 p.m.
Dakota Fine Art, 11 8th St. S, Fargo