Dan Mihuta: The Art Maker
Arts | June 27th, 2018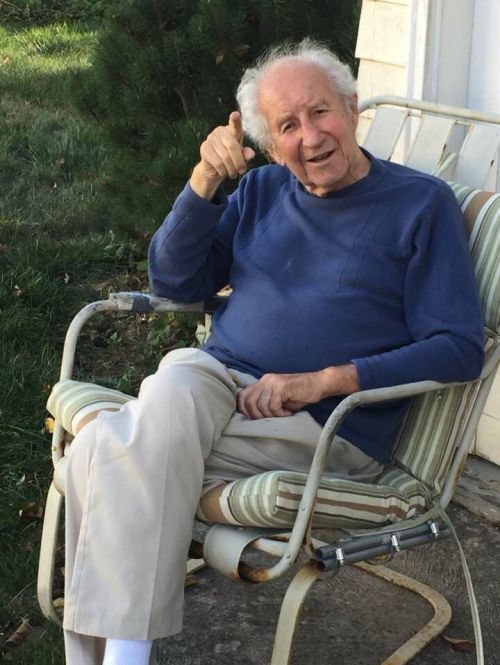 By Rod Hadland
rodanthonyhadland@gmail.com
The name Mr. Mihuta may not be familiar, but for most of my life, I've known that name. There was a television show where Mr. Mihuta taught art projects, in various mediums, that I remember fondly. Back in 2008, I wondered what became of Mr. Mihuta, so I tried to find him. I eventually found a Dan Mihuta, now 95 years old, and contacted him after nearly ten years of searching. Mihuta, or Dan to me, was kind enough to speak to me recently from his home in Cleveland, Ohio about his life and career.
Daniel T. Mihuta was born in Lorain, Ohio in 1923. In the early 1930s, Mihuta's mother contracted tuberculosis, and was away for three years while him and his brother Bob were under the care of their father. Growing up during the Great Depression: "I never knew that there was a Depression going on. It seemed like everybody, when my mother was gone, everybody seemed to take care of us as children. Fed us and clothed us, and the teachers took care of us pretty well. So it was a happy childhood." Mihuta's father worked in the steel mill, even giving his extra shifts to other workers in need "to share the Depression." His mother returned to the family after being cured, and the years passed.
Mihuta was later drafted into the United States Army after high school, along with his brother, who ended up in Germany. Dan was sent to Guadalcanal as part of the 492nd Port Battalion, Company B. He earned the rank of sergeant, overseeing men to load and unload cargo ships that came into Guadalcanal.
He recalled one experience: "We were loading supplies from the Guadalcanal area to send further up the line. The war had already begun now, according to the island, Guadalcanal was declared safe. Prior to this time we had no lights on the island, at sunset. But now we were declared safe and so we were starting to use lights. And it was about a few months after that we were loading a ship with aerial depth charges which go off on contact. And I had worked that ship until about 4 o'clock that afternoon, and closed that ship and came (aboard) shore. And then they found some more bombs, so a second crew of my men went out to finish up the loading and we had 52 from my company plus the people on the ship, which were sailors and Merchant Marine, a total of 250 men. The ship blew up, we never knew whether a bomb went off, or whether the Japanese torpedoed it. Japan claimed they torpedoed it, but we say we never knew."
That ship was the USS Serpens, where over 250 men were lost on March 10th, 1943. It was not just the close brush with death that impacted Mihuta, but also what he saw when he was sent to The Philippines after being on Guadalcanal. "When you'd go to your meal in the Philippine Islands, all of sudden the people were coming down from the mountains, the children. Some would find some sort of container, a tin can or something. And as you went to your meal, there'd be a line of a hundred kids outside waiting for your garbage. We'd pour our extra food into their cans so they could eat. That really got to me, and I decided that when I got back to college I was going to study Psychology or Sociology, I wanted to work with people somehow, see if I can't make the situation better somehow."
Upon returning home, Mihuta soon joined his brother at Baldwin-Wallace College studying on the GI Bill. Dan initially studied Psychology, but art was never far behind. "It was a very natural thing for me to be an artist, and (in elementary school) the teacher had given me the chalkboard at the end of the room and said "Here's the chalk, and here's your board. That board's yours forever. Anytime you want to draw a new picture on there, or do something, that's your board." He was a sign painter while in the Army, and continued art while at college. After graduating in 1949, Dan was looking for a teaching job. "I was using art as kind of a hobby, but I was doing a lot of art for the college." One of his old professors was now superintendent of Medina county schools, and he quickly hired Dan as an art teacher. "I've never been sorry about that. Because that's really where I belong."
He found himself teaching kindergarten through high school art classes, a broad range for anyone. "Schools were all too small individually to have an art teacher, so I went to about five different schools during the week." During this time, he went back to Baldwin-Wallace to study art, and also at Ohio State, Case Western Reserve, and Cleveland Institute of Art to name a few more.
While at Parma in 1964, one of the first closed-circuit educational television systems started up. Dan eventually found himself in front of the camera giving televised art lessons. "Purdue University came out and put a tower on our property, which allowed our signal once we broadcast (to go) as far west as Sandusky, Ohio almost to the Pennsylvania border. And so when I did my programs, there was a vast number of people receiving my programs other than just my own school system."
Years passed, and eventually Parma school's television station bought (then) new color video cameras. But since the station had no color programming, they purchased some through Donna Matson, president of Western Instructional Television. Western Instructional Television was one of the first companies to offer educational videocassette availability, as early as 1972. In 1978, Mihuta met Matson at a television conference party in Washington, D.C., that he admits he crashed.
He expressed interest in making art programs that catered to younger children. Mihuta explained: "I knew that North Dakota, South Dakota, there were so many, Mississippi, Georgia, you know down in the south. Many, many people were not getting art. I said "If I can get on TV and teach kids that don't have an art teacher art, that's what I want to do." So I went back that following summer, and made three sample shows. She says, "You're a hired man."
Mihuta's first Matson-produced series, The Art Chest, debuted in 1980. Over the next six years, two more series would follow: The Art Maker, and Return of The Art Maker. The later series gave more intermediate lessons, even one some believed Dan never did, where he taught silk-screen painting. During the series' run, Matson would sell the show, with Dan in tow, at conventions, and workshops where he could meet teachers, and especially the children. Mihuta said: "Oh golly! I must have (done) over 200 maybe, programs all around the country. Actually I loved doing the Indian reservations, Dennehotso in Arizona, Beach Springs (TN). (And) there's an Indian reservation in New York state."
Mihuta was in his late fifties when the first series began, and the last series was completed in 1986. "When I made the programs in 1980, as The Art Chest, if I visited a class in 1995, fifteen years later, would the kids still be around? I would show up and the kids would show a surprise on their face because they remembered a much younger Dan Mihuta. After they got over the initial fright (laughs) or disappointment, whatever it might be, that didn't bother me. I was meeting them face-to-face and we're gonna be friends." Mihuta travelled the world with Matson, he recalls trips to China, Bali, New Zealand, and Australia. He even made it to Fargo, North Dakota, and wherever he went, the appreciation never waned.
Into the late 1990s, the shows were still being leased and aired by PBS stations and schools across the country. Despite being a product of the 1980s, the content remains very strong. "The content was there, and I made so sure that as I made them that I didn't date any programs by date. Flowers will always be flowers, clouds will always be clouds" Around 2004, re-orders of the programs dwindled, and Matson decided to close down soon after. Mihuta however, remained, teaching, and meeting the new generation of art makers.
Matson passed away a few years ago, and the future of the series is still unknown. Dan wishes to digitize the series, and place the episodes into the National Archive. He is still hopeful that may eventually happen, "Those programs are just too good for fifteen little minutes for kids to view it and say, "Hey! I want to do that." Those who may argue the shows might be too old to be relevant now; that's never stopped The Joy of Painting.
Inheriting the love of music from his mother, Mihuta was singing from the age of three, and sang bass in a barbershop quartet in his spare time. He joined his first barbershop quartet in 1950, and was a member of six total; two of which won championships in 1957 and 1962 respectably. He has been a member of the Barbershop Harmony Society a total of 68 years. His most recent quartet, which he has been a member of for 44 years, only just recently disbanded. He has since 1966, also worked closely with the Kiwanis of Middleburg Heights, Ohio. Despite all the activities and busy schedules, Dan still managed to spend quality time with his wife Barbara, and their two children Laura and David. Traveling was constant, and he took his wife along as much as he could.
But with age, his eyesight has been failing for several years. Even with that obstacle, he is full of life.
"You know, 95 years, it's been full, and wonderful, and I loved every moment of it," Mihuta said.
Mihuta and his wife will also celebrate 63 years of marriage this year. He remains happy with his children, and his grandchildren.
Throughout the hour or so that we spoke, I eventually asked him my last question: "What do you want to say to all the people: the parents and the children who grew up watching your programs, and to those that hopefully will discover them someday?" Mihuta responded, "Keep trying. Don't give up on yourself, keep trying. Don't consider a failure, a failure. A failure's only a step to success. You just find out what doesn't work, and take the next step, and the next one's going to be a success. Be sincere, be honest, and be nice to each other. Be kind each other." I knew he wasn't just talking about the show.