​Emerging artists cause a BIG sensation
Arts | January 9th, 2014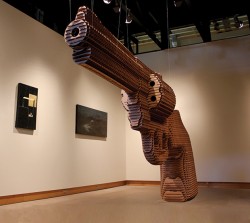 "I'm not trying to cause a big s-s-sensation / I'm just talkin' bout my g-g-eneration!" quoth Pete Townsend in The Who's 1965 hit song "My Generation."
"My Generation" is also the namesake of the Plains Art Museum's exciting new exhibition featuring some of Fargo-Moorhead's best up-and-coming artists, including Kelly Cantrell, Judith Feist, Torey Garletz, Kaylyn Gerenz, Steven Hammer, Jerica Olson, Ben Rheault and Ashley Strazzinski.
Other than questioning the establishment and challenging preconceived art notions, this generation of artists faces a whole new animal involving communication and maintaining interpersonal relationships in a digital age. The works featured in My Generation centralize on how we relate to technology as well as to each other "while attempting to make sense, or underscore the nonsense, of the increasing noise of modern culture."
Interim curator and printmaker Christian Gion said this exhibition was inspired by his desire to give our art community's younger generation an exceptional chance to shine among such a burgeoning scene.
"Being an artist in addition to my work in curation, I feel that my perspective is unique on the challenges that emerging artists face," Gion said. "This is what led me to propose the concept of a show that focused on recognizing young talent ..."
"It is also an exciting time to be an artist in Fargo-Moorhead right now. More and more area young artists are tackling complex issues and the public, for the most part, is hungering to encounter work that is edgier and exciting."
Gion said each of the artists were selected because of their ability to go beyond traditional thought, therefore, create wildly original and thought-provoking art.
"These are all artists who have a strong affinity for complex concepts in philosophy and cultural theory," Gion said. "While their work is extremely diverse, each artist is deeply concerned with narrating the obstacles we face when relating to one another in this hyper-globalized world of ours."
We do live in an exciting age of constant obsolescence that we have no control over whether we like it or not. Gion said there are pros and cons to this.
"We tend to accept new technologies without much regard to the implications they have on the meaning of our lives," he said. "While these inventions have had many positive benefits for the sharing of knowledge, art, music, scientific discovery, everyday experiences, grandma's fudge recipe, they destabilize the individual as one becomes increasingly spread out across the digital landscape. We present the world with fragments of ourselves and immediately lose control over those elements when we do so."
"Artists of this younger generation are quick to respond to this reality of our wonderfully tragic modern lives. To stay alive is to constantly have presence, to constantly be 'on.' This is totally unprecedented, even in the slow build toward this state that began in the '80s until a few short years ago when digital technologies reached critical mass and became an unquestioned part of our lives. And everyone, established or just coming on the scene, has to come up with new strategies to cope with this explosion in possibilities. The only real difference between the old guard and the new is that the young feel it is their right to have access to these new technologies, and who's to say what a new generation in 20 years will have at their disposal."
As an artist working in a traditional medium Ben Rheault, who joined forces with Kaylyn Gerenz to create a mixed media piece for the show, expressed his concern:
"I'm a painter, so the challenge for me is to create work in this old medium that can still express modern concerns in a fresh way. Much of the 'new' painting out there has already been done earlier and with better results."
Steve Hammer contributed a multi-media piece to the exhibition. "I work with anything that can (and should) be hacked, misused, and/or reused," he said.
"My piece is especially concerned with emerging technologies and the way we (our generation, other generations) interact with them and think about them. Because of the rapid proliferation of new entertainment and communicative technologies, most of us don't pause to critique the ways that these 'new and improved' technologies hide the way they operate, the ways that they shape our experiences and perspectives."
"I think that 'my' generation is aware of these aspects of technology to some extent, but my work seeks to dig beyond interfaces, beyond functionality, into the noise beneath. Further, 'my' generation kind of grew up with glitches -- something my work is always concerned with -- from dusty Nintendo cartridges to dying batteries in toys. We know what glitches look like and in many ways, they're nostalgic."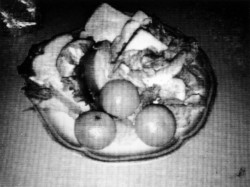 As a photographer, Ashley Strazzinski shows a unique perspective on social media and its impact on her craft. Her piece Social Objectification explores how the Internet's accessibility of digital images affects our view of modern photography.
"With apps like Instagram and Snapchat our lives are inundated with the photographic image. I like to think of it as photography's second coming," Strazzinski said. "George Eastman put the handheld camera in every household and now smartphones have put a camera in every hand. One must not forget the Internet and how it affects photography in that it serves as an infinite archive of easy-to-produce-and-edit images that in many cases are accessible by anyone with an Internet connection."
What is even more fascinating is thinking about how these advancements will affect future generations. Judith Feist addresses this concern with her piece.
"The primary inspiration for this installation is my relationship with my nephew," Feist said. "It's been fascinating watch Kevalin (and other children his age) grow up with access to higher forms of technology than what myself and my siblings grew up with and how we were satisfied with going outside and reading and keeping ourselves busy without relying on technology to keep us occupied."
The exhibition runs from Jan. 9 through April 6. A reception will be held on its opening night starting at 6 p.m. with hors d'oeuvres and a cash bar. Then from 8 to 10 p.m. local bands Supercruiser and The Alleles will perform.
**Also opening on Jan. 9: "Happy Birthday, James Rosenquist!" featuring work by the following artists who submitted works in the spirit of the Pop Art master: Rick Abbott, Nathaniel Booth, Kimble Bromley, Kim Fink, Christian Gion, Sabrina Hornung, Kent Kapplinger, Steve Knutson, Chelsea Lee, Jessica Mongeon, Martin Nelson, Mitchell Cory Nelson and Ellie Nyquist. Be sure to check out both shows -- it's going to be a great opening night!
IF YOU GO:
WHAT: My Generation: Let's Take it Over! art opening
WHERE: Plains Art Museum, 704 1st Ave. N, Fargo
WHEN: Thurs., Jan. 9, 6-8 p.m. (reception); 8-10 p.m. (after party w/ Supercruiser and The Alleles)
INFO: plainsart.org