Episode VIII: The Return of Peel + Stick
Arts | June 6th, 2018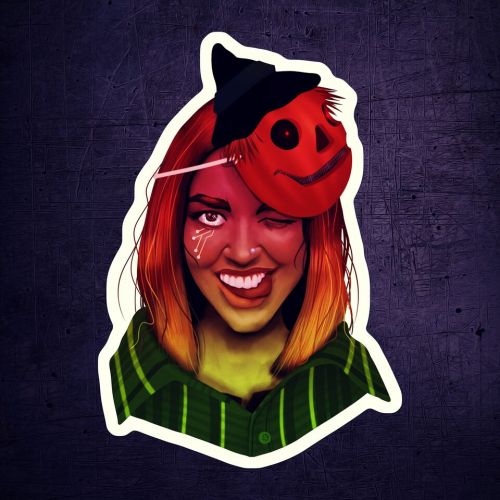 By Tayler Klimek
tklimek@cord.edu
It's back! After another two successful, thriving years, Albino Buffalo has announced that it is having its second Peel + Stick show promoting works produced by local and regional artists through the way it does best: stickers!
Don't be shy about it. You know you want a sticker.
Albino Buffalo is a company that features the art of selected artists on stickers, which are then sold at repurposed vending machines. Jeff Knight, founder of both Albino Buffalo and Cereal – an emerging graphic design company – announces that this will be the eighth series for the company, featuring six new artists who have each produced five stickers of their respective work. Throughout its four years, Albino Buffalo has featured over 48 artists, producing over 10,000 stickers with locations including Unglued and Drekker Brewing Co. of Fargo, and Rhythm Records, a record store in Bismarck.
Originating from an idea to try something new and fun, Knight started out by handpicking certain local artists. "It was kind of like a 'Hey friends, let's do this thing together and see where it goes' sort of deal," said Knight. "A couple series in, I started to put a more public emphasis on it for people to submit their work and, loosely-termed, 'apply' to be featured." Knight was offered a grant from the Arts Partnership in 2014 after proposing his idea to start an art sticker business, and it all took off from there.
The point behind Knight's vision for Albino Buffalo revolves around the accessibility of art. He explained that some people won't always buy that thousand-dollar painting, but can easily afford a 50-cent sticker. Through these stickers, Knight hopes to allow for people to continue supporting artists and strives for the public to start recognizing art they otherwise would have never known. "It all started with that intimidation factor that exists with galleries," said Knight, smiling. "People don't always enter them unless they're involved in the art scene somehow, so it's kind of a way for art to be more accessible and that's why the machines are at places like Unglued, Drekker Brewing Co., even a record store. I want to be able to reach out to a more general public that wouldn't necessarily go into an art gallery."
Featured works on the stickers have ranged from emerging artists to veteran artists who have been doing there thing for quite a while. "There's a good mix of experience – men and women of all ages. I try to keep it random and mixed as much as I can," said Knight. "So far it's been a 'regional,' tri-state thing with artists branching from Minnesota and the Dakotas." Albino Buffalo hopes to place new art sticker vending machines in Moorhead, MN and somewhere in South Dakota in the future.
Over the years, Albino Buffalo began to expand on the idea of what a sticker can be, opening the possibilities for a variety of artists to contribute their mediums. "I like challenging myself and the idea of what can be considered an 'artist sticker,'" said Knight. "Most people—if they don't do a traditional graphic medium—they don't really know what to do. I feel like if you're a sculptor, writer, even a musician, etc., we can somehow translate your art into a sticker. I always encourage people to submit their work to Albino Buffalo and we will make it happen."
Make sure to fill your pockets with all those quarters your husband has been collecting over the years when you come to Albino Buffalo's second Peel + Stick event, with stickers featuring artists from the latest four series. The show runs from June 18 – July 21 at the Make Room, and the public reception will be held Wednesday, June 20, unveiling Series 8 with a sticker machine stocked with several new stickers available for purchase. And for you artists out there – ranging anywhere from painters and poets to musicians and beyond – submit your work to albinobuffalo701@gmail.com for a chance to be featured in their future series.
IF YOU GO
Peel + Stick II
June 18 – July 21 @ The Make Room Public Reception
Wednesday, June 20, 6 – 8 p.m.