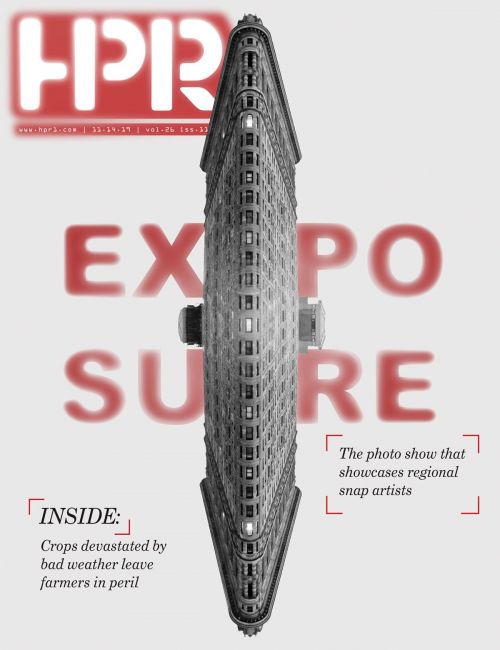 By Jill Finkelson
jsfinkelson99@gmail.com
For the fourth year now, "Exposure" will showcase the work of area photographers. The yearly celebration of photography runs through the month of November. Put together by our own J. Earl Miller, photographer, and enthusiast, he opens the show to all, young, old, professional, and amateur.
There are over 30 photographers showing work at The Toasted Frog, Bernbaum's, the HoDo, Blackbird Woodfire and Fargo Photoworks. Though the group party is tonight at the HoDo, stop anywhere all month long to admire and inquire about the work. The show started four years ago in the little space that is now Twist and they knew that night they are going to need to take up more space. The place was packed. So it moved to the HoDo restaurant and lounge. Since then, the festival has grown every year, with more photographers and locations. With some photographers showing every year and new ones each year, the show fills downtown with photos- from portraits to beet fields. The show started with the premise of what if- what if we gave the opportunity to young, aspiring artists to show their work in a gallery and really show their creative side? The open call and format allows photographers to showcase their work in a gallery, an opportunity that does not often come around for many of them. All the photographs are for sale so it really puts the work out there for the community and enthusiasts looking to add to a collection.
The only part of the show that's one night only is the Leo Kim show in the HoDo restaurant. A celebration of a life's work, there will be photos, journals, and more on display. The local artist graduated from NDSU and published several books. The HoDo collection will temporarily come down its home and be supplemented by materials from the NDSU collection and his family.
Kevin Taylor and Jonathan Miller are the recent founders of Fargo Photoworks and also have work showing. They are passionate about all things photography and their business is a product of that. They are showing their work alongside that of Dan Francis at Fargo Photoworks. Bernbaum's is hosting two artists: Meg Spielman Peldo and Jason Siebels. Meg has been recognized for her book, "No Lumps, Thank You: A Bra Anthologie" which spotlights breast cancer awareness. The Toasted Frog is featuring images of Italy thanks to NDSU student, Eric Wehrs. Mike Nelson is showing at the HoDo and his personal show at Blackbird: Woodfire. The walls at the HoDo are full of the work of 32 different photographers ranging from Shane Balkowitsch to newcomer Burleigh Holder.
This all comes together Sunday, November 24th for a Gallery Crawl downtown. Start at one end and stroll through downtown to take a look at everything. The artists will be present so say hi, ask about their work, and/or buy a piece for your own display. All the art is for sale. There will be food and drink and fellow lovers of photography. It is a celebration of photography as art and a chance to see what the community has to offer.