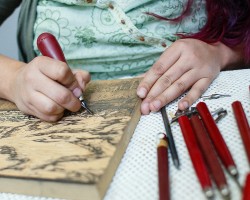 Since 2004, the Fargo-Moorhead Visual Artists have been opening studios and encouraging the public to get a more intimate glimpse into the creative process as part of Studio Crawl.
Encompassing Fargo, Moorhead, Harwood and Felton, the Studio Crawl includes a total of 75 artists opening their studio doors to the public for one weekend. This gives the public a chance to glimpse into the working spaces and minds of a variety of artists. From potters to painters, glassblowers to printmakers, even tattoo artists, the Studio Crawl gives a taste of the variety of art makers in the area.
High Plains Reader sat down and talked to the director of the Studio Crawl, member of FMVA and participating artist Jon Offutt, about what the Studio Crawl does for the community, how it impacts artists and where he hopes the event will grow into the future.
High Plains Reader: What does the Studio Crawl mean for the Fargo-Moorhead area? For the arts in F-M?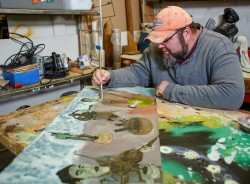 Jon Offutt: Fargo likes to think of itself as an arts community. And it's the one time of year that the visual artists allow the public to come inside their studios. They get a deeper understanding of what it means to be a working artist in the community. What it means to rent space, acquire materials and rub your special magic on materials to make art.
HPR: As not only the manager of, but also an artist in the Studio Crawl, how does the Studio Crawl affect you as an artist?
JO: As director, my greatest contribution to the arts community is getting everybody who participates to clean their studios. I've been cleaning for the last couple of weeks. I think that's my greatest contribution to the artists of the area.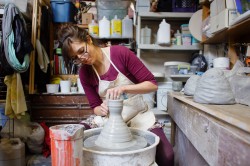 HPR: The Crawl involves artists from not only the F-M area proper, but also Harwood and Felton. Why do you think it's important to include these areas in the Crawl?
JO: They're part of our area. They're part of our arts community. We're not limited by the city boundaries, by the quad cities. We're a little bigger than that. We reach out into the outlying areas. There are artists in the country who are looking to do their thing.
HPR: What's the most challenging part about managing an event this large?
JO: Making it interesting for the public. Getting all of those artists together to work as a team, to be ready on that one weekend. Every artist's place is pretty – but it is 40 locations and over 75 artists. It's a lot of people to try and get them all pointing in the same direction.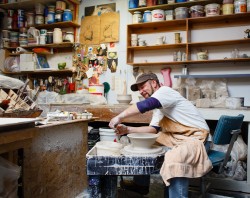 HPR: What's the best part?
JO: Getting to know all of the artists in the community. Getting to see their images and know who they are. I do a studio visit to most places that are new participants to the Crawl. Participants come and go each year. There are couple that go, a couple that stay. There's always something new to do.
HPR: When did Studio Crawl start? How did it start?
JO: The first studio crawl was 2004ç this is the 14th annual Studio Crawl. The FMVA has always put it on. It's kind of the reason that the FMVA exists, is to put on this event. And the FMVA has grown as an organization and this has certainly grown as an event.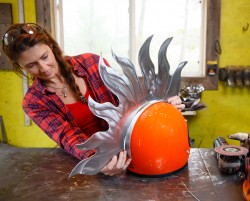 HPR: Where do you hope the Studio Crawl grows in the coming years?
JO: I hope it becomes more of a destination event. It already has become that. People already do that. They travel long distances for the Crawl weekend. It's become its own thing to come to. Other events are planned because they are going to be on Crawl weekend. Plains is holding one of their receptions this year. They've done it in the past, on the Crawl weekend. I hope more people will become aware of it. I hope locals will start to utilize it, other than just the arts community from the greater area.
HPR: How do artists become involved in the Studio Crawl?
JO: We put out a prospectus for participants each spring. The juror looks at not only their work but where they're making it. That's our biggest factor, is do they have a studio? Is there some place they can leave their mess? It's not your kitchen counter that you have to clean off. It's not your garage where you have to park your car. It's your studio. It's your own making-space, your designated space.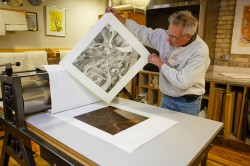 HPR: Why do you think it's important to have many different types of art in the Studio Crawl?
JO: So that the public can get an awareness of all the different ways there are for making. How many different outlets there are. You may be a painter, but are you a watercolor painter, an oil painter, an acrylic painter? You may be a printer, but are you a screen printer or an intaglio printer? There's lots of different ways of working.
HPR: What's the most exciting part of the Studio Crawl, in your opinion?
JO: The richness of the experience. There are so many different things to see and do that weekend. You might not know anything about printmaking, but you can go see a couple of printmakers. That was one thing for the tattoo parlors. Not a lot of people had ever been into a tattoo shop. It's a chance to step outside your comfort zone.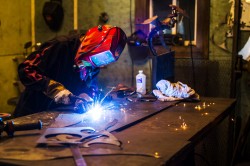 Outside of the Studio Crawl, other art-related events happening in the area include Fritz Fest at the Plains Art Museum and Rourke Art Museum, a three-day celebration of the works of Fritz Scholder.
There's also the Studio Crawl Preview Exhibition, currently on display at the Plains Art Museum through Oct. 21, and the St. John's Bible exhibition at the History and Cultural Society of Clay County, which opens Oct. 1 and ends Dec. 31.