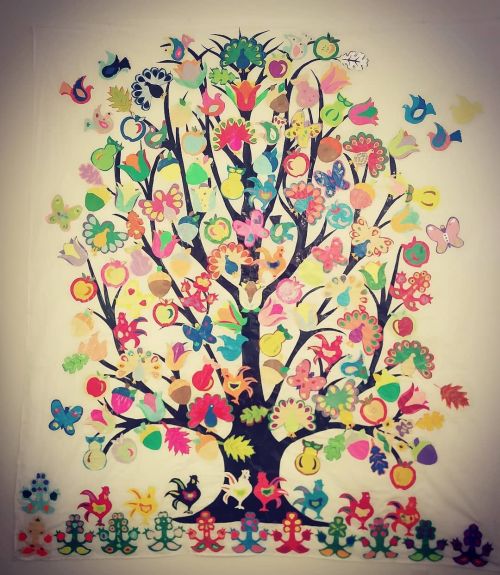 By Lonna Whiting
lonna@lonna.co
Not long ago at a North Dakota nursing home located in Nelson County, a storyteller from The North Dakota Council on the Arts helped an elderly woman express in writing an important milestone from her long life as part of the Art For Life program.
In the story, the elderly woman described details about leaving the family farm to her adult son.
A few days later, the son came for a visit just when the facility's activities coordinator planned to read the resident's story back to her.
"I'll come back," the coordinator said.
"No, I want you to read the story while my son is here," the elder responded.
The old mother and her son held hands while the coordinator read the story about the farm and why she'd chosen her son to carry on the family legacy.
When the story was finished, the old woman looked to her son and said, "I love you."
"Those were the last words she spoke," said Troyd Geist, state folklorist at the North Dakota Council on the Arts. "She died the next day."
Capturing stories through writing, painting and other art forms create lasting family connections for elder care facility residents and their families, thanks to the council's Art For Life program.
"For this woman, she was able to say something really powerful," said Troyd Geist, state folklorist at the North Dakota Council on the Arts. "She was able to write this for her son."
About Art For Life
Creating stronger family connections when they matter most is, in some ways, a deeply positive residual benefit to Art For Life. At its core, the program employs the research-based science of creative aging with meaningful art activities for elders.
The program, which launched in the early 2000s, focuses on improving emotional and physical wellness through intensive art and artist interaction. Art For Life activities largely focus on the folk and contemporary arts, which include interactive activities such as painting, dancing, drawing, paper-cutting, song and storytelling.
Current projects
Geist said the council has many types of activities that bring in area artists to facilities to engage in art activities. Two of the biggest ones currently are the Warli narrative geometry project and the Tree of Life.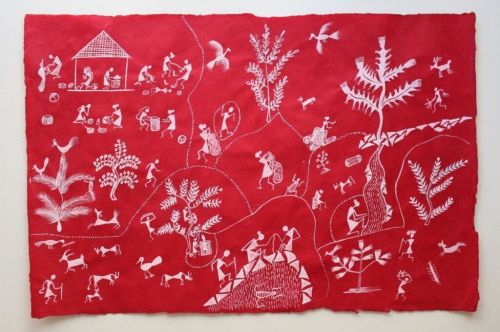 Warli
Warli, an artform that originated in India centuries ago, brings children and elders together to paint designs focused on simplistic characteristics of people, places and animals using white paint on a red canvas.
View the project at: www.bit.ly/narrative-geometry
Tree of Life
The Tree of Life project is a Polish tradition that involves papercutting and constructing a large, colorful paper tree from the objects cut out. It's intended to be a tool for reminiscing and discussing the various stages of life.
View the project at: www.bit.ly/ND-tree-of-life
Building immunity
"Art can have a positive influence on how a person feels in their mind, and that sparks a chance in the brain and central nervous system that increases and builds up the immune system," Geist said.
Geist added that art activities can ignite cell regeneration and combat cancer-causing cells due to the body's positive physiological response when engaging in an art activity.
A study from the Grantmakers in the Arts also points out that creative aging can help people with neurodegeneration, too.
"For older people with cognitive disorders such as Alzheimer's Disease, participation in poetry, music, and visual arts, including arts appreciation and storytelling, relieved stress and increased communication, improving (the) quality of life for both patient and caregiver," the study reported.
Crushing loneliness
Art For Life programs are also designed to curtail loneliness, an often overlooked emotional concern that actually works against one's longevity.
A March 2019 Time Magazine article stated, "Studies have long connected loneliness to a range of health issues that could threaten longevity and well-being, including higher risks of heart attacks, strokes, depression, anxiety and early death."
Geist added, "Some sociologists say people who are lonely have a 26 percent greater likelihood of earlier mortality. It's astounding."
Igniting the senses
Art For Life activities try to employ as many senses as possible, including smell, which works to spur the sharing of memories. Geist said facilities may provide food that coincides with the artists' activities to help spark an idea or thought from the elders.
"When you think of one of your favorite foods, what happens? Immediately, your taste buds begin to salivate. That's the power of your mind and your culture, which can cause a physical reaction in your body."
Through the ages
Art For Life projects also partner with local arts agencies and area schools to bring in an intergenerational component to the activities, which helps both the elders and the kids, too.
"When elders interact with kids, the elders' gait speed improves. Their balance gets better," Geist said. "There are studies that show if kids interact with elders, their reading scores improve, too."
Tools of the trade
With support from the Bush Foundation of Minnesota, ND Art for Life leaders and coordinators developed an Art for life Toolkit.
In collaboration with artists, doctors, nurses, speech pathologists and others, the council provides an Art for Life toolkit that's been distributed to elder care facilities and some arts agencies across North Dakota, South Dakota and Minnesota. In addition, one is sent to every state agency in the country.
The toolkit provides agencies with resources and activity plans they can use to develop their own creative aging activities.
Get the toolkit at: http://sundogs.wixsite.com/artforlifetoolkit.
Finding meaning
To Geist, artists who volunteer, and facility staff and residents, both the Warli project and Tree of Life bring meaning to daily activities. And it doesn't just benefit the elders.
Geist said he and the artists, facility employees and elders' families also gain a greater sense of belonging, suggesting that what's good for the elderly might just be good for everybody.
"It's one thing to do an art thing to pass the time. It's another thing to address some of these social, emotional and physical kinds of issues," Geist said. "It changes it."
For more information about the North Dakota Council on the Arts, visit http://www.nd.gov/arts/.
[Editor's note: Lonna Whiting is a writer and owner of lonna.co, a content experience studio located in Fargo, ND]