Getting creative at Make Room
by Marie Monson | .(JavaScript must be enabled to view this email address) | Arts | October 30th, 2015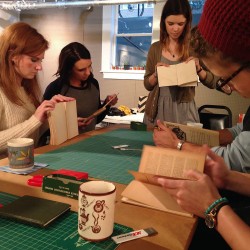 Although located subterraneously, local artist Chelsea Thorson's recently opened business, Make Room, is lit up with creativity by people of all different levels of experience.
"We are all inherently creative," Thorson said. "Whether you make a living in the arts or you haven't touched a paintbrush since elementary school, we all share the creative gene. If you are alive, your ancestors used creativity to sustain themselves through difficult circumstances. We can all access this creativity!"
On top of her other part-time job, Thorson spends about 40 hours every week at her business, which celebrated its grand opening Sept. 10. Since then, she has sprinkled many events throughout those hours, including an Oktoberfest celebration, at which attendees could drink beer and shop for handmade crafts.
There was also a figure-drawing group that met up for free, a minimalist brass jewelry workshop for $25, a microgreens 101 workshop, a class on printing patterns on fabric and, most recently, an underground yard sale, where participants were encouraged to bring their bartering skills.
In addition to the scheduled workshops, Make Room now has open hours on Friday afternoons from 1 p.m. to 5 p.m., during which passersby can check out the current gallery exhibit, sign up for workshops or just say hello to the creator.
Thorson gives some credit to her family members, all of whom are artistically inclined.
"I come from generations and generations of badass creatives. My parents are probably at home casting pewter and hacking up old tin cans into jewelry, and both of my sisters are creative professionals as well."
Now Thorson is using her art to connect with community members as well as other businesses in Fargo.
Make Room recently joined The Arts Partnership, which according to its Facebook profile, is a "hip, fun organization that promotes, educates and celebrates the arts and art lovers alike." The partnership also helps with networking and exposure, something Thorson said has been one of her concerns starting out, as the intimate setting of her space is visited mostly by those who leave their homes with the intention of going there.
"Business has been good," Thorson said. "The biggest struggle has been exposure. The cozy basement space lends itself to a 'V.I.P' feel, with the drawback of being more difficult to find."
Once people are through the doors, however, the art takes over, and regardless of age or knowledge of art, Thorson encourages everyone to try his or her hand at creating something beautiful.
As far as exciting events, Thorson has a wide range of activities in mind.
"I hope to encourage a diverse use of the space," she said. "Art installations, book clubs, yoga classes, dinner parties, music lessons, etc. are all on the books."
All of these efforts on top of the authenticity of the space make for a bright future -- the stage is set for growth.
IF YOU GO:
Make Room: gallery, classroom, and event space
806½ Main Avenue, Fargo
Schedule: http://www.makeroomfargo.com/schedule/