​Getting spooky with Shelby Tagestad
Arts | June 26th, 2019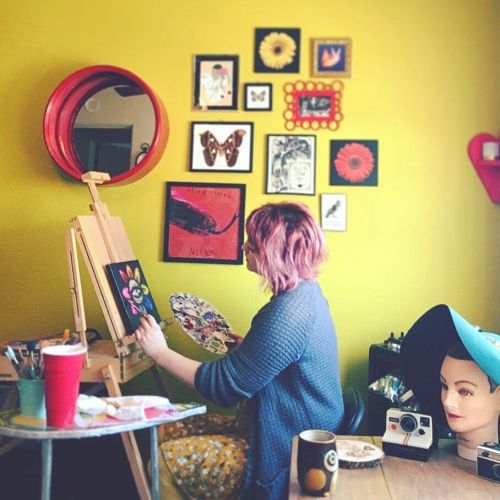 High Plains Reader: Your watercolor work is currently on view at the Red Raven Espresso Parlor, common themes within your pieces are elements of horror imagery, mini monsters, clowns etc. Eyes and lips are another common theme. What draws you to this imagery? Some of your pieces remind me of the Nickelodeon show "Aaaaah! Real Monsters… Did you ever watch that as a kid?
Shelby Tagestad: Growing up, my favorite book series was "Scary Stories to Tell in the Dark." That's truly where my love for horror started. I was enchanted by the illustrations. I would stare at them and be transferred to this dark, surreal world. For some reason I loved it there. I was not like other children in that aspect (haha). The illustrator of the books, Stephen Gammell, is still one of my favorite artists. And yes, you guessed it, I sure did watch "Aaahh! Real Monsters," along with the claymation show "Bump in the Night," and "Ren & Stimpy" (probably the most terrifying of all haha). Tim Burton was also a HUGE influence on me. His movies gave me the same feeling as the Scary Stories series. They all left quite an impression on my brain as a child, but I didn't realize it until later.
HPR: You also use a very vibrant palette. Even looking through the photos that you post online, color seems to be very much a part of you. Would you care to tell us a bit about your color choices?
Shelby Tagestad:Hmm, good question. I honestly have never thought about that. Once again, I think it has a lot to do with the cartoons and movies I watched growing up. Most of them had a gothic feel, but incorporated these bright pops of color that gave them an element of childlike fun. When I started middle school, my favorite band was The Used. Their album art introduced me to the artist Alex Pardee. His use of color leans towards psychedelic. He became another favorite of mine. Overall the movies, cartoons, and music I listened to heavily influenced my art style.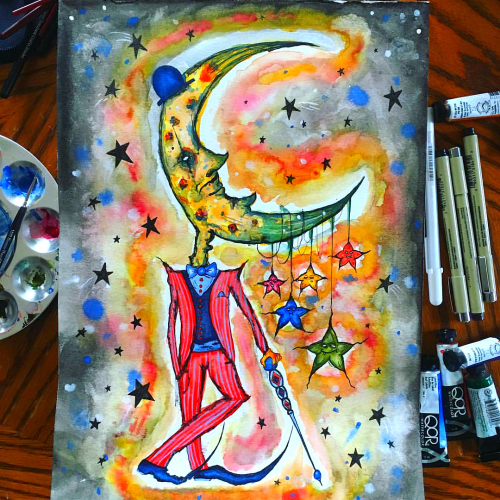 HPR: You work at Winks & Ink Studio (at Salon 3/5), are you a tattoo artist--or do you have plans to learn to tattoo?
Shelby Tagestad: I actually am the owner of Winks & Ink Studio! Makeup is another one of my creative passions. I'm what's called a semi-permanent makeup artist. I tattoo on eyeliner, eyebrows, and lips with a needle tattoo pen driven by a machine. It's not the same as regular tattooing, though. It doesn't penetrate as deep into the skin, which is good when working with the thin, sensitive facial skin (there's also numbing haha). It's not permanent like a body tattoo, but still lasts 3-6 years! Waking up and not having to fuss with filling in your brows, liner, or lips is fantastic. Since starting my cosmetic tattooing business, I've been seriously considering becoming a body art tattooist. We'll see what happens…
HPR: You're a woman of many hats, along with painter, you make jewelry, dolls, and you're involved in crafting circles. Have you always been crafty?
Shelby Tagestad: I'd say so. I enjoyed working with clay when I was young, and as I got older, I couldn't stop trying new mediums. I tried knitting, embroidery, collaging, beading, the works! I know this is considered a "fine art," but I also fell in love with photography. My favorite type of photo shoot is fantasy, where you can incorporate fun makeup, costuming, props, etc. I debated making it my main job, but now I do it on the side (Shelby T Photography). Ultimately, I came back to "fine art," but I really fell in love with doll-making. My paintings are of characters that spawn from the weirdest part of my brain, and with doll-making I can bring them life.
HPR: I saw that you were involved in the Albino Buffalo project. Where else have we seen you and your work?
Shelby Tagestad: You can actually find my dolls & earrings at Unglued in downtown Fargo! I'm currently working on adding prints of my paintings to the shop. I was also a part of the last Unglued Craftfest with my sister Erika(owner of Erika with a K Designs- she does absolutely beautiful faux floral work). We used to have a studio at APT: A Creative Incubator. It was a work space for artists run by The Arts Partnership. We held these "APT Markets" where the artists would open their studio spaces and people could walk through and admire/buy our creations. It was a great experience that pushed me to create more. They are now opening studios in West Acres and I may be a part of the new space.
HPR: What's next for Shelby?
Shelby Tagestad: I want to work on utilizing my social media art accounts and expanding the reach of my art. I'll admit, it's hard to find my audience here in Fargo with the type of art I create. Even so, I'm still going to work on entering shows and utilizing Fargo's great art community. Otherwise, like I said, I may transition into body tattooing. We'll see where the universe takes me next!
YOU SHOULD KNOW:
Facebook: Shelby T Artistry
IG: @shelbytartistry