Halloween party for artists
by Sabrina Hornung | .(JavaScript must be enabled to view this email address) | Arts | October 22nd, 2014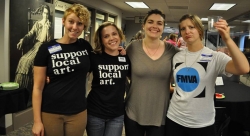 The FMVA and the Rourke Light up the Night
Tricks and treats will run rampant this Halloween and one of the crown jewels of the celebratory "Hallo-week" will be a tastefully spooky costume party held at The Rourke Art Museum. The FMVA is teaming up with the Rourke for a Halloween bash like no other.
Guests are encouraged to costume up for this family friendly event for a chance to win an FMVA and Rourke membership under the eyes of celebrity judges John Lamb of the Fargo Forum and the ever fabulous drag queen Jarica Jordan.
Entertainment will be a feast for the senses as the HPR's own Raul Gomez engages the audience with a special interactive light installation and projection. Eden Parker will grace the stage with one of his final performances as a Fargoan. Let us bid our dear friend bon voyage before he hits the road to Austin, Texas. The Fargo Brewing Company and Stumbeano's Coffee will also provide refreshments.
If you are an artist or if you are "art-curious" this is the perfect time to look into an FMVA membership. Learn about regional art opportunities as well as opportunities to participate in group shows and critiques. You can also find out how you can reap the benefits of the FMVA discount with certain retailers in the area.
While at the Rourke be sure to check out the Andy Scholz exhibition of video and photographs of the Bakken titled: "Oil in the Fields" which will be on display from October 17-January 18 in the main gallery.
IF YOU GO:
FMVA/Rourke Halloween Party and Costume Contest
Rourke Art Gallery, 521 Main Ave., Moorhead
Tues, Oct. 28, 6 to 8:30 p.m.
fmva.org