​Ide and Seek
Arts | August 19th, 2015

508 Oak is a commercial property owned by Scott Nelson. One of the properties houses a Crossfit gym and the other houses the Crossfit Ice House. But the most compelling part of the property is a 110-foot weathered fence exhibiting an original spray paint mural by Fargo artist Paul Ide.
Nelson wanted to draw attention to his commercial properties and after looking at Ide's sketchbook he let him have at it. Four weeks later the fence contained a beautifully twisted dynamic mural.
"For the most part it's nonsense and super random," Ide said. "Most of the drawings were done in 20-second spurts over a few years while I was on the phone at work."
The imagery was taken straight out of his sketchbook and for the most part painted freehand on the fence with the help of a few stencils and masking tape for small details.
The truly amazing part of the mural is the exceptional amount of detail Ide achieves with spray paint.
"It's just practice, as with anything," he said. "It's how much time you want to put into it."
He says his mobile office consists of a vehicle full of spray paint. Though there are a myriad of spray paint tips available, he only chooses two. Tips are like brushes to artists that work with spray paint. Each tip controls the width and flow of a line.
Ide encountered a few challenges during the creation of the mural including rain and an unruly canvas. The weathered cedar had a tendency to absorb the spray paint like a sponge. A quick solution would have been to use primer, but Ide wanted to maintain the rusticity of the fence and embrace the imperfections.
He encountered a similar yet wholly different challenge while painting the wheat field mural located behind 300 Broadway. Here he embraced the imperfections in the concrete, still creating something beautiful and reminding the viewer of their surroundings.
Though it is hard to pinpoint a highlight in the mural at 508 Oak, what draws me in is the "Corporate Anteater" who sits back sipping his coffee while surrounded by chaos.
"I found myself in a soul-swallowing job," Ide said. "And called this one a self portrait of myself as a Corporate Anteater."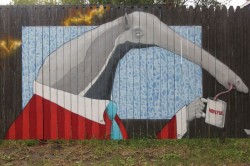 The whole piece is obviously a fine example of street art but the dynamic colors and characters have a cartoon-ish or comic quality to them.
During one period in his sketches, Ide started to sketch off the wall animals that he didn't see as often, such as koalas, anteaters and sheep … needless to say the sheep and anteater made it to the wall.
Future endeavors for Ide include a mural in Dickinson, N.D., and he has hopes of illustrating a children's book in the near future.