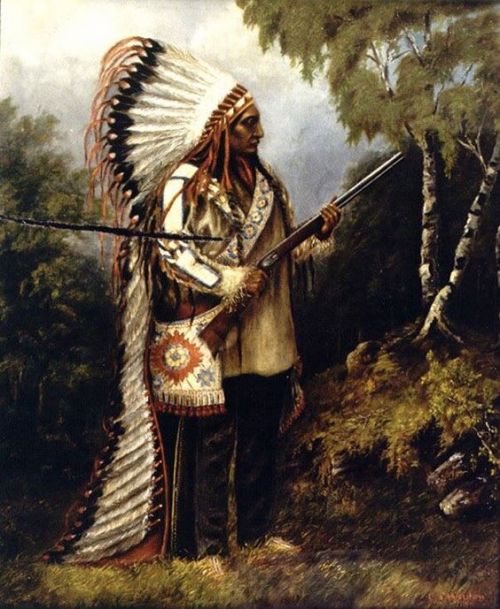 By Kim Jondahl
Sometimes the curious, behind-the-scenes stories of museum artifacts are as intriguing as the actual pieces. In the little-known story of a painting of Hunkpapa Lakota leader Sitting Bull hanging in the State Museum, the art, the subject, and the artist all share remarkable roles.
I've walked past this 1890 oil painting of Sitting Bull, or Tatanka Iyotanke, hundreds of times during my museum career. I've squinted behind the glass case at the amateur painting and the scrawled signature of "C. S. Weldon" with no recognition. It wasn't until artist Caroline Weldon (December 4, 1844–March 15, 1921) became the celebrated protagonist of the 2018 motion picture "Woman Walks Ahead" that I—and many of our museum visitors—learned the fascinating story of this unusual woman's courage and determination.
"Woman Walks Ahead" is loosely based on Weldon's life from 1889 to 1891, when she traveled twice from her East Coast home to Standing Rock Indian Reservation as an activist to help Sitting Bull and additional tribes resist US government proposals to break treaties. Her lifelong fascination with Native American culture had begun in her teen years, and her passion for Indigenous justice led her to later join the National Indian Defense Association. As a single woman in her forties, she traveled to meet Sitting Bull at Standing Rock Indian Reservation, which crossed the borders of North Dakota and South Dakota.
When she arrived, Weldon served in unofficial capacities as Sitting Bull's translator and lobbyist, and even lived in his household for a time. An amateur artist, she also painted up to four portraits of Sitting Bull. Her life choices were rare both in terms of 19th-century activism and for a single woman in the Victorian era, and the tribe gave her the name "Woman Walking Ahead."
Not everyone appreciated Weldon's efforts. Her unconventional Indigenous rights campaign as a single, white, outspoken woman of the late 1800s created a national stir. Criticized by many, Weldon was unjustly vilified in headlines nationwide.
Weldon left the reservation just weeks before Sitting Bull's death and became a footnote in history. Her painting was hanging in Sitting Bull's cabin on Dec. 15, 1890. On that morning a gunfight broke out when Indian agency police came to arrest him, and Sitting Bull and others were killed. Shortly afterward, a police officer whose brother had just been killed smashed the painting with his rifle, tearing the canvas. US Cavalry officer Matthew F. Steele stopped further destruction, took the painting, and later purchased it from Sitting Bull's widows for two dollars. 1
Steele's purchase apparently went unnoticed. In a few scattered mentions about Weldon's painting over the following decades, historians muse about this painting and her others as being missing. A 1964 article in The West refers to Weldon's painting as "a picture, now lost, bearing the artist's sketched initials in the bottom left corner." 2
I can only guess that State Historical Society staff must have been unaware of the handful of historians still speculating about the painting's whereabouts, because Weldon's canvas, with a crudely repaired tear and a replaced frame, had been gifted to the State Historical Society by the Matthew F. Steele estate in November 1953. In a North Dakota History article of 1984, a staff member wrote about the Steele donation: "The location of the only one of Weldon's Sitting Bull portraits is now known." 3
Our Caroline Weldon painting can be viewed on exhibit at the State Museum, and a second Weldon painting of Sitting Bull is housed at The Historic Arkansas Museum in Little Rock.
Woman Walks Ahead mentions our State Museum as the location of a Weldon painting, which created a flurry of national interest in her work. We've enjoyed welcoming visitors from across the country who have come to view it since the film's release.
It's fitting that this misunderstood woman, lost in history, is finally having her day in the sun. Caroline Weldon is worth remembering as a courageous activist who sought to build cross-cultural friendships and implement positive national changes while knowing her actions would rankle some and infuriate others. I'm enjoying seeing the increased visitor traffic to respectfully view Weldon's special painting and learn more about a controversial time in our nation's history. And I've gained a deeper appreciation, not only of a piece of art, but of the remarkable artist behind the story.
1 "Catherine Weldon, Sitting Bull," North Dakota History 72, nos. 3 & 4 (2005): 12.
2 "Was Mrs. Weldon Sitting Bull's White Squaw?," The West, October 1964, 67.
3 Robert C. Hollow, "Portrait of Sitting Bull by Caroline Weldon," North Dakota