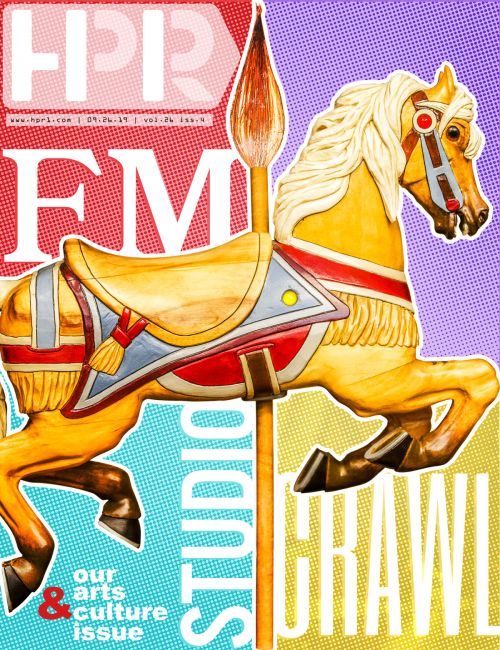 By Kristin Gruber
perriex1@gmail.com
"Art is a nation's most precious heritage. For it is in our works of art that we reveal to ourselves and to others the inner vision which guides us as a nation." - Lyndon Johnson
It's only a matter of time before Fargo-Moorhead lands on the "Best Cities for Arts and Culture" lists, and the annual Studio Crawl, now in its 16th year, is part of the reason.
Growing every year, the Studio Crawl reaches north, to Hillsboro, and south to Christine. It exists in home studios, farmsteads, businesses, galleries and campuses. The artists themselves are full-time teachers, authors, graphic designers, sculptures, woodcarvers, printmakers, painters photographers and business owners. It melds creator and enthusiast. Appreciation goes both ways, as participants are welcomed (sometimes with refreshments) into the sacred spaces where art goes from conception to completion.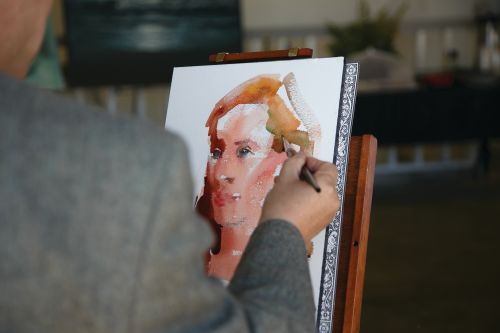 This free event is hosted by the Fargo-Moorhead Visual Artists. Freelance glassblower Jon Offutt, also on the Studio Crawl at 4824 12th St. S Fargo, has been director for the last 14 years. There is pride in Jon's voice while he talks about the talented artists and the event itself. He told High Plains Reader that every year there are some new artists, and some on sabbatical. "Once you are in, you are in, until you choose to take a year off." He discussed how the number of artists has gone from 28 to 41 (and some galleries), and the brochure, from 24 pages to 32. He said they try to keep within a 30-mile radius of the F-M area, to keep the focus local. He stated that the artists here contribute significantly to the economic health of the area. Jon says, "My great claim to fame is that I get three dozen artists to clean their studios every year."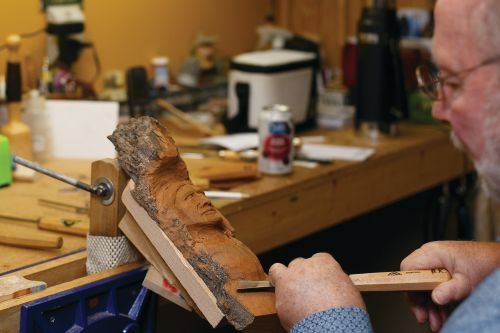 The High Plains Reader also spoke to award-winning, self-taught, mixed-media artist and teacher Emily Williams-Wheeler about her work, and involvement with the Studio Crawl.
HPR:When did your involvement begin with the Studio Crawl? How have you seen it evolve over the years?
Emily Williams-Wheeler: Hmmm, I cannot remember when I first started. This might be my 7th or 8th year. The crawl hasn't evolved as much as I have. I started out hosting the crawl in my home studio where hundreds of people would tour the first floor of my home as a gallery and then down to the basement for my studio tour and demonstrations. My home is 109 years old and it is an interesting place to visit, so it was a good draw. Now I have a studio outside the home which is much larger and better for showing work and handling the foot traffic.
HPR: How do you describe your work to people?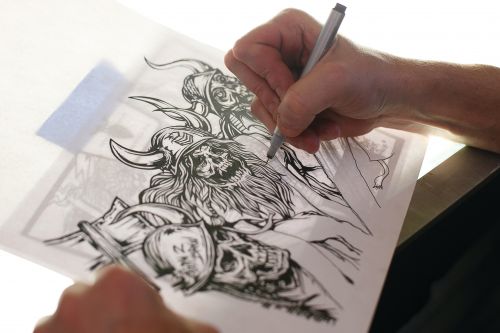 EWW: People often describe my art as whimsical. I used to think the word whimsey was somewhat embarrassing and would be used to describe art with baby deer and fairies. Over the years, I have embraced it because it really does describe my work. I love bold colors, motion, texture, linework, and humor. No baby deer or fairies, just fun.
HPR: Your "Artist Statement" on your website mentions that you use "mark making" in the development of your pieces. Can you talk about that?
EWW: Mark making is a current term describing the use of lines created by various media such as graphite, colored pencils, markers, paints, charcoal, etc. I especially like using it because I think it reflects some of my thought process while creating the work of art. I want the viewer to know about the development and the journey as much as possible.
HPR: You use many mediums in your work. Do you have a favorite? Why?
EWW: My "go-to" media is always acrylic and graphite. I always enjoy working with that combination. It's so natural and easy for me to do so since I have been working with them the longest. My newest medium is clay. I am sensing that I have been a 3-D artist all along. I have been doing wire and paper sculptures for a few years and am taking those ideas to clay now.
HPR: You recently completed a tour with a traveling exhibit. Can you explain a little about what goes into that?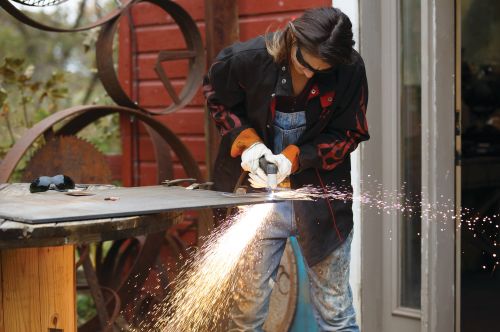 EWW: The traveling exhibit I recently completed was for the North Dakota Art Gallery Association. It was for the whole year of 2018. It took me almost a year prior to that to create nearly 50 works of art, while making art for other exhibits and shows. My show was called, Lint in My Pocket," and was an abstract expressionism show using encaustic- a 2,500-3,000-year-old process of using pigmented molten beeswax and natural resin and a torch to create paintings that can endure moisture, mold, mildew, and insects (unlike traditional methods). It doesn't fade or flake as traditional paints can and it can be sculpted, layered, and carved. The best thing about the tour is that it educated people not only on the style of the artwork, but also on the method and materials used. While my art is modern, the method is historic and ancient.
HPR: What is your favorite part of being featured on the Studio Crawl?
EWW: My favorite part of the Crawl is being able to meet my patrons and to demonstrate while talking with them. They come to see how I create my work and to meet me. Once I explain what is going on in a painting, how it's made, or tell them the titles (they are humorous), that usually leads to a sale. This year will be very different as I will be selling ceramic objects and ornaments. Get them while they're hot!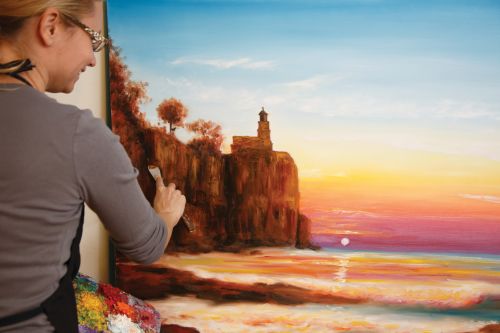 Emily can be found on the Studio Crawl at 215 10th St North, Moorhead.
A full, easy-to-use, interactive map is available online at ArtMoi -- artmoi.com/fmva.
IF YOU GO:
FMVA Studio Crawl
October 5-6
Sat. 12noon - Sun. 6 p.m.
Free and Open to Public