​Just a dino girl in an apocalyptic world
Arts | April 6th, 2016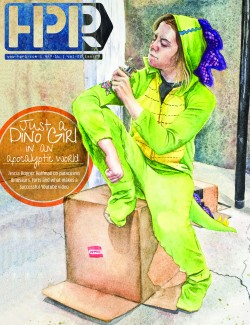 According to Webster's dictionary, a paracosm is "a prolonged fantasy world invented by children; can have a definite geography and language and history" With green dinosaur costume in hand artist and art educator Jescia Hoffman Hopper has created her own paracosm and it will be on exhibit at the Spirit Room in downtown Fargo. Working primarily in watercolor, Jescia's work not only depicts the chaotic world of a dino girl, but it explores playful concepts of escapism and unites the space between childhood and adulthood, all while maintaining childhood wonderment.
Hoffman Hopper is an art educator at Dilworth-Glyndon-Felton Middle School. She received her undergrad at MSUM in Moorhead and then received her Master's degree and thesis at Maryland Institute College of Art.
She was recently awarded an "Outstanding Master's Thesis Award" at the National Art Education Association convention in Chicago regarding her thesis on the utility of instructional videos in the classroom.
HPR had the exclusive opportunity to sit down with Jescia Hoffman Hopper at her home studio in Fargo and visit about the origins of Paracosms, her creative process and what makes a successful Youtube video.
HPR: Can you explain your creative process?
Jescia Hoffman Hopper: I seem to come up with titles before I come up with anything -- which I think is backwards for a lot of people. I usually think of a witty title and then come up with the imagery around that and then I do a lot of photoshop composites. I take a lot of reference photos of myself doing whatever needs to be done. Most of my images take place in an apocalyptic-fantasy landscape. I usually stitch together multiple photos so it becomes a composite of different ideas, colors and perspectives.
When I do watercolor, once I get everything drawn out, I start out really loose. I just throw paint on, especially in the fire. As I start to build up values and details then it really starts to tighten up more. Usually I just start with big washes of color and then hone in on certain details and keep some areas looser.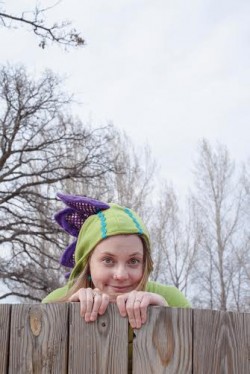 HPR: Paracosms has been six years in the making. How did it start and what was the inspiration behind it?
JHH: It started in about 2009 when I graduated from MSUM with my BFA. I had just gotten engaged and graduated from college. I was really overwhelmed with the idea of adulthood and having to pay taxes and do all of the things that grown ups do. I started thinking about all of the things that made me really happy as a little kid, like I used to have a really epic tree fort and I would build forts out of cardboard boxes all of the time. My dad's a plumber and he would always bring me big boxes to play in -- like from hot water heaters.
I started looking at some old photos at my parent's house and I saw a picture of me on Halloween and I was dressed as a dragon and I looked so happy… I was maybe two.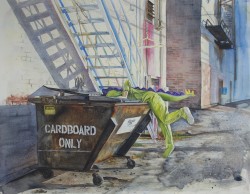 I thought, man, if only I could go back to not having to worry about anything anymore. Just build forts all day and have fun. That's where the dinosaur costume came into play.
So I went and bought a toddler's onesie pattern and slightly enlarged it. Apparently I'm an extra large toddler. I had to add a couple inches around it -- which is kind of sad (laughs). Then I added some spikes, a tail and sequins.
Once I made the costume, I started wearing it out to public spaces. I thought of it as a performance thing, and wanted to observe people's reactions in different settings. [She points to a painting of herself as a dinosaur sitting among patrons in what looked like the Downtown VFW.] These old guys didn't even pay any attention to the costume. One guy sitting behind me was leaning back and looking at me like -- what kind of a camera you got there? I was thinking, "Really man? I'm dressed like a dinosaur!" But I told him it was a Nikon and then he said, "Ya, I used to take photos in Korea," and we had a conversation about photography while he was completely ignoring the dinosaur costume.
It all started with me doing adult things in a dinosaur costume. There's one with me in a blanket fort with a flashlight doing taxes and digging in my filing cabinet -- that's how it started. Then it got a lot darker and a lot more apocalyptic.
HPR: How does the apocalypse fit in?
JHH: Every time there was an election season it was just too much vitriol for me and it just seemed like everything was going to hell. It really upset me because I was like OK, well my world is on fire and being destroyed, but I'm sitting here playing with toys, making forts, and sitting in a kiddie pool ignoring everything around me.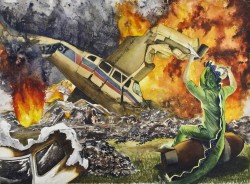 The final piece will be the most vitriolic -- everything's on fire.
You turn on the TV and you're like -- Ooooh man! All of this terrible stuff is happening. What's going to happen to our country or to our world when all of these people are so angry? It just upsets me. I don't know what I can do about that. I'll just paint some pictures I guess.
HPR: So we spoke about the dinosaur costume being the inspiration for the dinosaur imagery. Did the dragon evolve into a dinosaur? Tell us about your costume.
JH: I have two costumes and a head dress. The original is all fleece and it has little footies that are getting a little wear and tear, but it's really hot. The second costume is my summer costume. It's made of breathable cotton for optimal romping. It's complete with pockets for rocks and other trinkets you may find while while frolicking outside. Instead of footies it has big floppy spats that sit over your feet and the tail is a lot longer, which I think is fabulous. I'm all about the tail.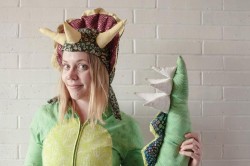 The first piece I did in costume was a painting called "Growing up," where I was trying to fit into my childhood dragon costume. I was doing the Chris Farley, "fat guy in a little coat" type of thing and looking really sad. After I drew that, I felt like I should actually make a costume that fits me because that could be my mental escapism.
When i was little I wanted to be a paleontologist, then I realized that it was digging a lot of holes and not finding anything, so I figured I would draw dinosaurs instead.
When I was doing the series a few years ago before I started teaching, I was doing a career fair for kids. I was talking about being an artist and I was next to the Heritage Center from Bismarck. Their paleontologist was there and he told me that they really needed a scientific illustrator to draw dinosaurs.
I loved the idea but I just signed my contract to teach at DGF. I had the offer which would have been pretty amazing, but I love teaching so I can't say it was a poor choice.
HPR: Can you tell us about the Outstanding Master's Thesis Award that you recently received from the United States Society for Education through Art (USSEA) in Chicago?
JHH: I just finished graduate school at the Maryland Institute College of Art last August. I did my thesis on student learning and tutorial videos in the classroom. So I make a lot of Youtube tutorials on how to draw different things like faces, proportions, anatomy, perspective drawing, ceramics and all kinds of stuff like that.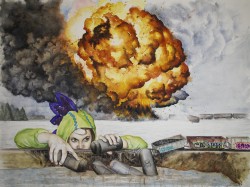 I have students watch them in class so they can control the pace of their instruction. A lot of kids are really embarrassed to ask, "Can you show me that again?" in front of the entire class. When they watch a video they can rewind it. Then I walk around and ask questions. That was the basis of my thesis. It will be published in July in the "Journal of Art Education."
My grad program director nominated me, mildly based off of her literature review, which I think was overly extensive. It was the inaugural award based on pluralism and perspectives in diversity. I presented on reaching the vast majority of students through online media at the National Art Education Association awards in Chicago a couple weeks ago.
I met other astounding educators there that won awards from that association. I felt like the new kid in town, it was intimidating but it was pretty cool nonetheless, because they were very welcoming.
HPR: Was there anything that really surprised you in your research?
JHH: It was interesting that the kids were really thinking about their learning while they were using it. They were comparing different methods and videos to find something that works well for them and to explore different learning methods.
They were thinking deeply about the work they were doing, which surprised me because they're middle schoolers. It was helpful to know that what I was doing was actually helping them and wasn't just a quick fix.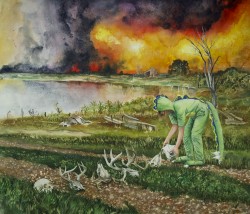 Not all kids like the videos though, you have to work around that and come at it from different angles to make it work. Not everything works for everybody -- which is just the very nature of teaching. You have to work from multiple angles, viewpoints and approaches to get everyone, which is challenging and interesting.
HPR: What makes a successful Youtube video?
JHH: There are a lot of things (laughs). There's viewability and accessibility. You have to actually see what's going on in the video. You need to hear it well -- like have a good voice over. It all seems obvious when you hear it. It gets hard when you DO it.
The person speaking has to be clear and concise, and not ramble or use language people don't understand.
If I'm addressing middle-schoolers, I'm not going to speak like an academic because they'll just stare at me. I lapse into that occasionally when I am teaching and then I see the blank stares and think, OK, I need to switch vernaculars here.
The video also has to teach in multiple modalities, by having visuals, audio, and having written text, so you can come at it from different points of view for people who learn differently. Popularity on the Internet factors in. The more views you have the more credible people think you are.
At first I was kind of depressed about that but the more videos I made the more views I got. I have like a million views now so I'm like moderately Internet famous (laughs).
I was never into Youtube. I only started to make tutorials for my students and it's because of this, it's so much bigger than my classroom. I'm helping people around the world and I think that's so cool!
HPR: Do you do all of the production yourself?
JHH: I do it in here most of the time. I have my handy dandy Gopro on a clamp. I have these PVC pipes that I put over my desk so I clamp it to my PVC pipe so it sits on top of my desk and I just draw... What's really cool is that you can control the Gopro from your phone so I can see it.
I can have my phone setting next to me on my desk so I can see what I am filming.
I also try to be as funny as I can when I make my videos just because it makes them more memorable. One of my favorite comments I got on Youtube was, "I love how she laughs at her own jokes."
IF YOU GO:
Paracosms Opening Reception
Thursday, April 21, 7-9 PM
Spirit Room, 111 N Broadway
YOU SHOULD KNOW: