​Karen Valley: The "artist's artist"
Arts | March 20th, 2019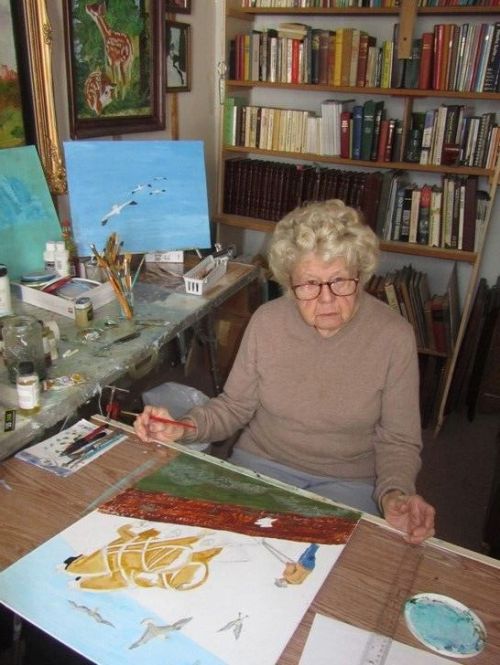 Hidden away in the tiny North Dakota town of Lefor I find Karen Valley, an author and an artist. She is without a doubt the artist's artist. Her soul is art, talent and words. Meeting her is a true experience in finding a soul so full of art. At 85 it will never find a stopping or retiring point in her life. It is, she says, what she needs to do.
Quoting Karen, "It is a gift from God and you must use it and so I do."
Among her authorships she draws coloring books. They have titles from the Bible; 'Foxes have Dens' coloring books, 'Observe these the lilies,' etc.
Tell me how the coloring books got started, I ask her. She tells me her story.
"Originally when I started these coloring books I had an association with the state of Wyoming. Because of the oil at that time the new young people from other states who came in to the schools did not know one animal from the other. I must quote, 'They didn't know the difference between a badger or a milk cow!'
"I took my wildlife 'Foxes Have Dens' coloring book in to the state folks and immediately they wanted to take the coloring book into the teachers at school, and to include them in tourist stops around the state."
She went on to say, "They published the book. A year later, I discovered I was only given ten cents a copy for these coloring books! It cost me eleven dollars to produce each book, and the state only gave me ten cents a book! I also did a coloring book on bears for the state. These books have 58 pages of coloring and sheets between the coloring pages so you can trace your own pictures. When Wyoming printed the 'Foxes Have Dens' books they changed my cover and called it a wildlife coloring book. I want people to see the animals as they really are, natural. I don't do Walt Disney style animals. No! The title is 'Foxes have Dens.'"
Karen now has this coloring book available at Mott's Grapes and Raisins but before she would allow them to be sold she had all the covers returned to the way they should be. They are now the beautiful soft green covers with fox footprints designed into the covers and of course are titled, "Foxes have Dens," as they should be. To this Karen says, "I don't want to be rich or famous, I want the animals to be natural as they should be." Our conversation turns to horses, to which, of course, gets my complete attention, being a devotee of the animal myself.
She goes on, "I draw horses, even in my dreams." Here she shows me a coloring book of horses. I drew my coloring book called Horses in Fantasy. I draw the horses from my own imaginations; some are horses with butterfly wings. I haven't had it published for selling yet, but I am working on it. Horses in every category. I took a trip on a sheep wagon caravan sometime ago and that is when I learned that the leather rigging for each horse had to be in different sizes, you know people, they need different size rigging. It fascinated me so much I had the Wagon Master take pictures of the horses and their rigging's." I see she is working on painting those horses and their rigging's on her work desk right now as we visited.
OK, I say, Karen, let's talk about you, and when you decided your calling was writing, painting and illustrating? She takes a deep breath and tells me, "When I was about four years old. I never figured out why I had to take algebra when I knew I was going to an artist. I knew I was an artist, it is a gift, and when I went to college I took every course they had in art and writing. Asking her if she had to choose between doing her art or her writing which would she choose, she answered both.
"They go together because I illustrate my books. They go hand in hand."
In meeting Karen, I find there is so very much more to her story. I will need to go back for her family story, her experiences in Wyoming and, I repeat, so very, very, much more. She is the true meaning of the words "the artist's, artist."
This stopover and the visit was supposed to be just about her coloring books. Just as a teaser, a mere bit from her life: Karen used to draw the cartoons for the Cheyenne paper. They paid her little, so after a while, she asked why. She was told it was because she did not have a college degree in such work. So, need I say, she went back and got that degree. Taking her degree she returned to the powers that be at the newspaper and asked for her pay raise. This time they told her, now with the degree, they could no longer afford to pay her!