​Kirk Williams and his isle of misfit toys
by Sabrina Hornung | .(JavaScript must be enabled to view this email address) | Arts | May 2nd, 2018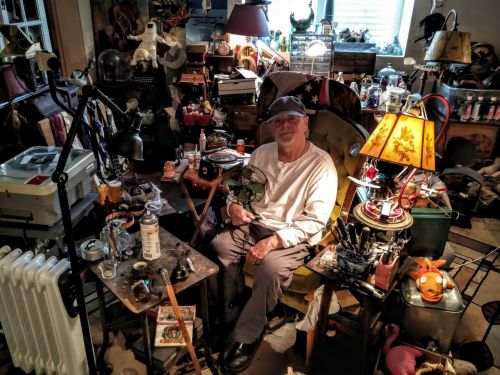 "When all of these are packed up, it's like having dysfunctional adolescents that sting and threaten to self destruct when you decide to attack them," Fergus Falls-based artist Kirk Williams said. "It's awful. It's hard to do but we're getting it done,"
Williams unveiled a table full of fragile, meticulously packed assemblages peeking out from their respective boxes waiting to be dropped off at the Kaddatz Gallery for his upcoming exhibition. As he speaks, I imagine the antique bisque dolls that make up parts of the artwork curiously staring back at me and I can't look away. Williams is a collector. His work consists of treasures he finds at flea markets, auction sales, junk shops or eBay.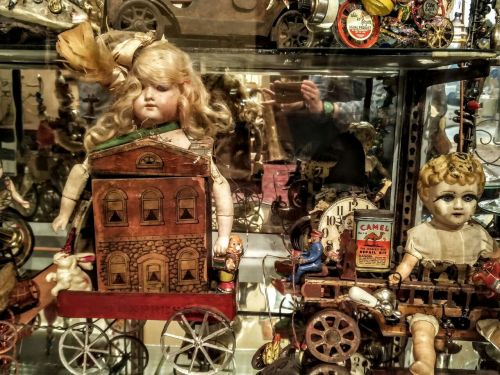 His wife Caryn is in the kitchen patiently tidying up a larger assemblage. She says she washes them all off prior to exhibition, whether it be pastel dust that settled or excess adhesive that may have collected in a creative late night frenzy.
They're gearing up for his exhibition, "Catch of the Day" at the Kaddatz Gallery in Fergus Falls. The exhibition will feature a collection of new work and will serve as a retrospective with both his assemblage and pastel work.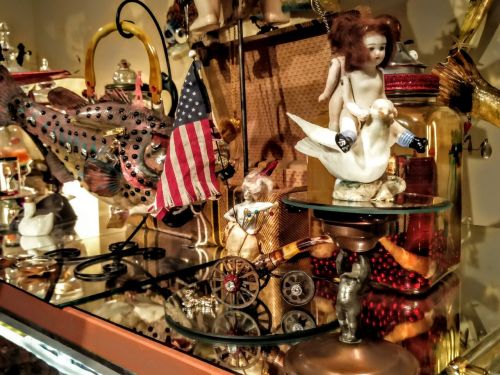 "I love wheels, gears, Cracker Jack stuff," Williams said.
Williams incorporates bits and pieces of vintage jewelry, doll parts, and even "dried fish" such as puffer fish and seahorses as well as fish mounts into his work. The fish are a nod to both his roots in lake country as well as his experiences diving on the west coast.
"I love wheels, I can put wheels on anything and it becomes something else," Williams said.
In 2012, his solo show at The Rourke titled, "Pastels in dreams & Parades, Ta Da!" featured a number of wheeled assemblages ranging from modified antique cast iron toys, bronzed wheeled booties, doll houses, and even embellished fish mounts on wheels with a crew of passengers worthy of a three dimensional nod to Hieronymous Bosch, if "The garden of earthly delights" were to take place on the Isle of Misfit Toys.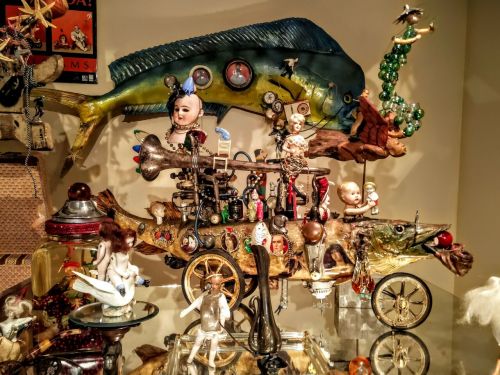 The assemblages are delightfully busy, in fact they're downright compelling. With each piece Williams draws you into his whimsical world. The more you inspect and the closer you look the more details are revealed. They're colorful, lively, and enchanting. Each piece is cleverly titled and holds its own story.
"A lot of it to me, with assemblages, is creative captioning," Williams said. "It actually adds to the piece."
One assemblage titled, "Burglar alarm disguised as a wall clock, what will they think of next?" is an antique baby doll holding a toy gun, the doll's torso consists of a clock and its leg, the pendulum. A piece nearby was titled, "Rasputin on his way to the nightclub."
Another direction Williams takes with the assemblages are his "oil jars." He found that if you suspend a piece in a jar of mineral oil it's magnified by 25%. He said, "You know when you have a marble or a rock and you see the design better when you make it wet? It does that and it keeps it that way. It doesn't dissolve."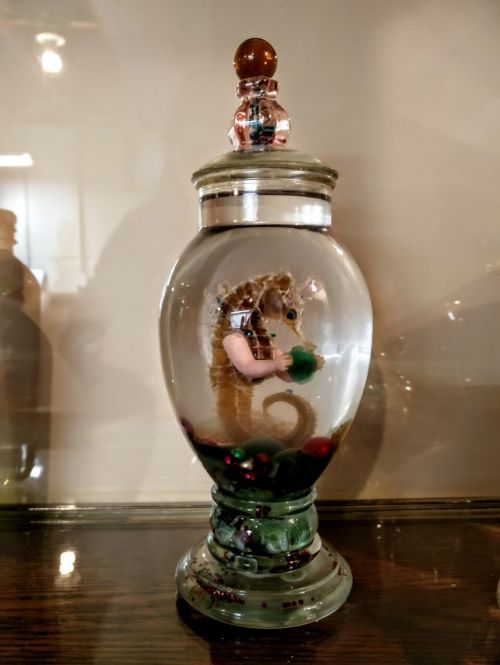 One piece he referred to as his "Third grade teacher" combines an internal assemblage suspended in oil as well as an external assemblage.
One could describe his studio as the bi-product of a mad scientist-cum-toymaker, filled with doll parts, bits and pieces of a butterfly collection among other antiquities and oddities. It's stimulating to the point of over stimulation in the best possible way. Though he has exhibited and sold his work in countless galleries throughout the midwest he says he doesn't get the most satisfaction out of selling, his greatest satisfaction comes from relating and connecting with his audience.
"Basically, when someone says 'Wow,' I get paid," Williams said.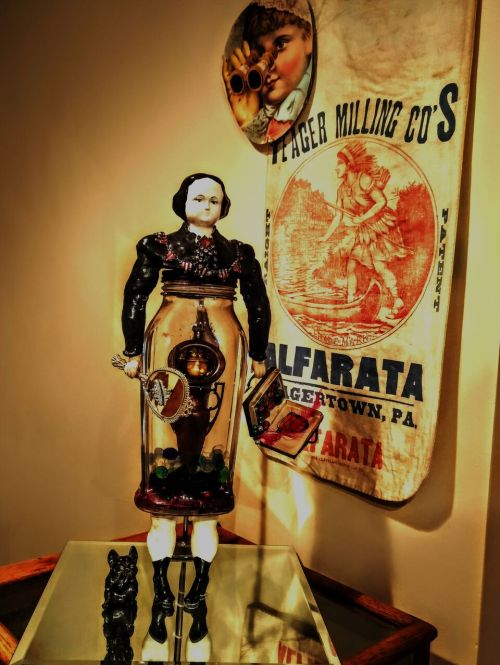 IF YOU GO:
Kirk Williams: Catch of the day artist talk and reception
Thursday, May 10, 5-7 p.m.
Kaddatz Galleries, 111 W Lincoln Ave, Fergus Falls MN
.