​Light after darkness: Local artist offers Art of Hope and Healing in memory of her children
Arts | April 19th, 2017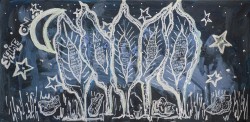 Nikki Anderson's home brims with ephemera that embody her life as an artist, teacher, wife, mother, chef, survivor, and healer. A gold medal glistens in the spring sunlight hanging next to a tattered baseball cap on the coat rack. School photos of her three children adorn the wall by the stairs and the mantel. The smoky jazz of Norah Jones fills the air that was once full with her son playing the piano. Creativity is woven throughout every room, including handmade pottery, mosaics, and Anderson's pastel paintings of landscapes and vibrant, blossoming flowers with bold brush strokes that echo her vivacious personality.
Despite all of this light, she has also known immense darkness with the tragic losses of her daughter Ashley who died of suicide in July 2014 and Lucas, who died of a heroin overdose in March 2016.
Ashley was a star athlete who played hockey at Concordia College. Anderson keeps her hat on the hook, along with the metal that she received from a race that she did in memory of her daughter. Her son also attended Concordia as a music major and his photos line the piano. The most symbolic item in her home that symbolizes both the light and darkness of her life is a French sculpture on the coffee table called "The Storm."
Rather than be seen as a tragic figure defined by her loss, Anderson wants to live to honor her children. She is teaching three guided healing arts classes at the Plains Art Museum called The Art of Hope and Healing for individuals and families impacted by substance abuse. Anderson emphasized how grateful she is that the Plains is hosting these classes as part of an important part of community outreach. The classes aim to offer a safe and accepting environment in which people may create. Anderson emphasizes that everyone is welcomed, regardless of artistic experience and it is free to the public thanks to a grant from the Bush Foundation.
"You have to do something with that pain," Anderson said. "You have to try and create. When you make art, you're giving life to something where you've had death. You have to try and give hope, life, and light to your life otherwise you would just lay down and die. I think that's really important. I think creation and healing are the same sort of energy. It can help transform your pain, even if it's for a short time."
The program was a perfect way for Anderson to share her talents with the community, as she has been a teacher for 42 years, along with being an artist and creator. She left her job teaching at Woodrow Wilson five years ago to accept a job at the Plains Art Museum, which had always been her dream. Sixteen people created clay affirmation tiles for the first class in March.
Anderson was thrilled that the program reached a diverse group of people. Some were struggling with addiction and others were grieving family member's overdose deaths. She said she does a meaningful reading, allows people to share, and does a therapeutic activity that ties into the monthly theme. April's theme is "Peaceful Painting" and May's theme is "Mixed Media and Mindfulness."
Anderson says The Art of Hope and Healing is a holistic outreach program that also aims to reduce stigma around the issues her children struggled with. "Addiction and mental illness affects all of us," Anderson said. "One of my most important roles is to help educate the public, wherever I can, that these are diseases. There's nothing wrong with that person. They are so much more than any addiction or mental health issue."
Both Ashley and Lucas were open about their struggles: Ashley with depression and Lucas with addiction. Anderson said that both were sensitive, loving people. Anderson and her husband Jon were open about the causes of their deaths in their obituaries and did interviews with local media because they want to fight stigma just like Ashley and Lucas.
Ashley was not only a star athlete, she was also extremely driven. She scored on the 97th percentile for her test to be part of border patrol, a lifelong dream that she was not able to pursue because of her illness. Beneath her bright smile and charismatic personality, she was hurting and deeply hard on herself. Anderson said, "Ashley would reach out to somebody at her lowest times. She could help others, through it all. People really struggled with Ashley's death in the sense that she helped them and they wish they could have helped her."
After Ashley's death, Lucas often stayed up all night at the church playing piano where her funeral was held. He was inspired by the piano, deciding to return to school to become a music major. Music was his gift, while he was also charismatic and romantic - even named Mr. South at Fargo South High School. He was open about his difficulty with addiction and his family knew that he was using. His death still came as a shock amidst a tragic string of five overdoses in the area within a short time period.
"You can't prepare for a tragedy like this. It changes your life immeasurably," Anderson said. "It can be difficult to facilitate the class because my pain is so deep. Some people think what I have gone through is worse than their pain since I lost two children, but I think it's important to honor everyone's life experiences and pain. There is no winner in grief or substance abuse."
Anderson has a healing place for her grief at the family's cabin in Pelican Rapids where she has planted a memorial garden with two sugar maples, roses, and cilantro and tomatoes for Ashley - a salsa lover - and basil for Lucas - a pesto lover. She often makes art on the bench overlooking the garden while thinking of Lucas, who supported her art, and then walks on the road near the cabin because Ashley always encouraged her to exercise. She walks by a tree near the cabin that Lucas loved which inspired Anderson's painting for the upcoming peaceful painting class.
The special tree has two limbs embracing like arms with a space between their branches that looks like a heart. It evokes Anderson's reaching out to the community in tribute of the love for her two children, hoping to fill the hollow space carved out by pain with love and hope.