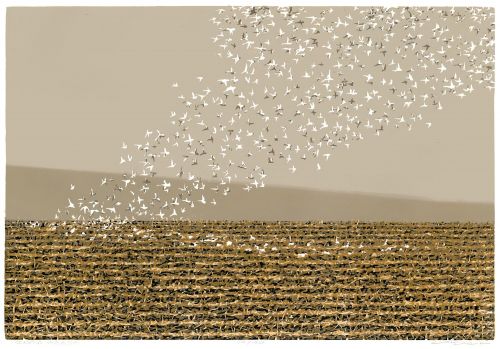 By Nataly Routledge
natalyroutledge@googlemail.com
"Snowgeese" for Charles Beck
By Timothy Murphy
The flock is whorled like a translucent shell
and intricate as the tubing of a horn,
its embouchure, the soft foot of a snail
lighting on sand, except the sand is corn,
chisel sloughed and left to build the soil
from which indebted farmers have been torn.
I catch one note—a wild, wayfaring cry
as snow geese splash into a glacial mere.
Framed by moraines under a nacreous sky,
they echo in the chambers of my ear.
How does an ear rival your artist's eye
that sees what I can only hope to hear?
Starting last weekend, a collection of Charles Beck's woodcuts went on display at the Rourke Art Museum in Moorhead, Minnesota. The series of woodcuts were in the ownership of the late poet Timothy Murphy, an avid fan of Beck. Both men were from Minnesota and were fond of the landscapes and cultures of the Midwest.
Beck studied at Concordia College and produced art inspired by his hometown Fergus Falls for decades. His art has been displayed at various points in time at the Rourke Art Museum since the 1960s. Sculptures, woodcuts, paintings—Beck would go out in his pickup truck with oil paints and then complete quick sketches of his surroundings.
Murphy grew up in Moorhead and went to Yale where he stood out for his artistic focus. He wrote poetry that was deeply rooted in the Midwest culture and pastimes. Eventually, he was inspired by the art of Beck as well, incorporating select woodcuts into his published poetry collections.
The museum will be displaying seven of Murphy's poems alongside Beck's woodcuts in the museum. Along with these displays, copies of Murphy's publication Set the Ploughshare Deep: A Prairie Memoir are on the shelf in the entryway of the museum. This publication uses one of Beck's woodcuts as cover art and several other pieces as illustrations scattered throughout the poems.
A total of 24 woodcuts from the Murphy collection are on display. "It was important to him that these images he collected continued to live together as a cohesive collection," commented Jonathan Rutter, the executive director of Rourke's Art Museum.
Beck's woodcuts focus primarily on color. The scenes are primarily depictions of Minnesota, taking the flat and humble landscapes and accentuating their beautiful hues. "He's definitely the foremost colorist in the annals of our regional history," Rutter said of Beck's attention to color.
In order to achieve the rich colors found in each art piece, Beck often used multiple woodcut blocks, making meticulous attention to detail a must.
If you are curious about more of Beck's work, upstairs in the museum several of Beck's bird sculptures are currently on display as well. Each bird is a local species he encountered in his time in nature. The shapes and textures of the birds are simplified, allowing the colors of the birds to be prioritized in a way that is often looked over in nature.
The scenes of Beck's woodcuts are ones that are familiar to those who have lived in the region for a while. Having the woodcuts and poems displayed at the Rourke Museum is a great tribute to the outdoor scenery that both Murphy and Beck drew years of inspiration from. Their muses were none other than their daily surroundings in the region that they held dear.
Other pieces of Beck's work are on display periodically at the museum. The current woodcut display will be available until February 10th. Copies of Murphy's poetry publications can be found at various Fargo Public Libraries.
IF YOU GO:
Artist + Muse: 24 woodcuts by Charles Beck from the Timothy Murphy Collection
Friday, January 18, 6:30 to 8 p.m.
The Rourke art gallery and museum, 521 Main Ave, Moorhead