​Local photographer, professor tries hand at digital work
Arts | May 27th, 2015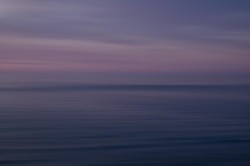 Meghan Duda presents "New Works" at ecce
By Tessa Beck
Photo courtesy of ecce galleryPositioned neatly on the clean walls of ecce gallery, Meghan Duda's 12 face-mounted plexi digital images have found their Fargo home from their Scandinavian roots.
The photos were taken at Sjællands Odde in Denmark – each session taking place at the same location and time of evening. Due to the consistency, the images become a study in color and light.
"I was just playing," Duda said. "I like that aspect of them. I have this practice that I think a lot about and put a lot of effort into … Then I go out and I make something like this where it's just playing, and it turns out to be really beautiful."
The collection and the space have a seamless relationship. Yet it is the subtle contrasting relationships within the series that become definitive to Duda's latest solo exhibition: the ambiance of the imagery combined with the modernist, sharp framing; the consistency between each photo, yet the experimental nature of the entire show; and the peaceful mood projected by the images, contrasted by the underlying sexiness in Duda's overall body of work. Each of these relationships help lay the foundation for the divergency that exists within the show.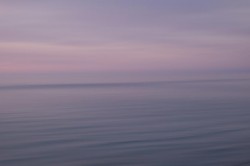 Duda received her undergraduate degree in architecture from Virginia Tech, and later received her MFA in mixed media with an emphasis in photography from the University of North Dakota. The variety in her studies lends a sculptural element to the work she currently produces.
Every show and individual piece is presented in a deliberate, distinctive way.
"I have to see things all the way through," Duda said. "There was a point where I was doing the traditional matting and framing … but it didn't feel complete to me. It needs to feel more like a piece as a whole.
"(Because of) my background in architecture, the sculptural aspect of the photography has always been really important to me. You can't escape anything you've learned in the past."
Duda's work plays into the duality of the object nature of her photographs. Because of this, materiality takes on a significant role.
"(It's) not just a strict piece of paper – a flat image behind a mat board. I've always been fascinated with trying to explore the three-dimensional space a photograph can contain," Duda said.
The Sjællands Odde series is the first digital photography work presented by Duda. She mentioned the tension of working to use the digital technology in an analog way.
"There's just something about the screen and what it does to an image. It's so crisp and perfect. They aren't analog photos, so they can't be presented in an analog way," Duda said.
She expressed satisfaction in the face-mounted plexi, and how it added a floating, three-dimensional quality to the photo.
After two years instructing in Minnesota State University Moorhead's media arts department, and five years of leading an architectural photography seminar at North Dakota State University, Duda has a grasp on the possibilities the medium of photography grants her and how she can expand upon it.
"For me it's really about the tool, and what the tool can produce … None of this is new, all of this has been done before," Duda said. "I don't know if I'm necessarily pushing the boundaries of photography, just exploring the boundaries."
The sense of movement and experimentation in this series ties the images back to Duda's style of working. However, this collection in many ways feels more lighthearted than her "Trailer Obscura" show.
"There's something easy to the digital. But that's OK, and not everything needs to be this struggle or painful. Not that the pinhole is painful, I enjoy that," Duda said. "What I find more ironic … is that people seem to be more attracted to this stuff than the stuff I put my heart and soul into."
The Sjællands Odde collection is important in establishing the consistencies in Duda's practice while simultaneously exploring how far she can push her process.
"It's funny because photography is about fixing a moment in time," she said. "I'm not interested in that -- I'm interested in seeing the span of time in one frame."
YOU SHOULD KNOW:
Meghan Duda's "New Works" series is on display at ecce gallery (216 Broadway) until June 21.