​Lost and Found at The Rourke's 55th Midwestern
Arts | June 12th, 2014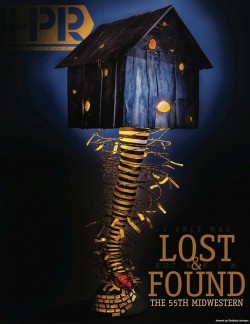 The Rourke Gallery was established June 18, 1960. This year, June 18 marks the 55th annual Midwestern Art Invitational at the Rourke Art Gallery in Moorhead and consequently renders the exhibition one of the longest consecutively running invitationals in the country. Since its inception, The Rourke has been a jewel in the crown of Fargo-Moorhead culture.
"The Rourke Art Gallery was a trailblazing visual arts organization in the community. It's hard to imagine now, with numerous professional art galleries in the area and coffee shops and restaurants hosting temporary shows, that the Rourke was basically the only game in town," says Tania Blanich, former executive director.
The Midwestern Invitational is a juried exhibition, meaning that a member of the art community is given the honor of distributing five awards (three placeholders and two honorable mentions) to participating artists who were invited by the Rourke to submit work. The exhibition also centralizes around a theme. This year, it's "Lost and Found."
Blanich says the theme is an offshoot of "Objects: Lost and Claimed," a brand new body of work on display at The Rourke by this year's jurors, brothers John Borge, a photographer, and Richard Borge, an illustrator. The exhibition coincides with The Midwestern and will run through July 13.
"We wanted something that would resonate with but not replicate Rich and John's exhibit and artistic practices," Blanich explains.
Borges' exhibition stemmed from their fascination with found objects. Rich often finds interesting objects on the streets near his home in Brooklyn and incorporates aspects of the objects within his illustrations.
"All artists are affected by found objects, whether it's finding a scene or whether it's something that's stumbled upon," John says.
Rich and John, who are now full-time artists, were initially invited to participate in The Midwestern Invitational since their college days.
"Jim [O'Rourke] was a lovely person and a huge supporter of the arts," Rich says. "I was thrilled to be invited to my first Midwestern exhibit back when I was in school. It was a nice way to kick off a career as an artist."
John and Rich met up with Tania last summer to discuss the upcoming exhibition. It was then that Tania suggested their exhibition tie in with The Midwestern.
Naturally, as jurors, the Borge brothers had quite the task at hand. John admits that the most interesting part of the process was the various interpretations of the theme; how over 90 artists took the theme, worked within it and expanded it.
Art enthusiasts can anticipate seeing emerging newcomers and familiar veterans, including Lisbon artist Yvonne Butzon, one of the longest running Midwestern contributors. Attendees can also expect to see a wide range of media, from mixed media, sculpture, found objects, prints and paintings.
Highlights may include Christina Johnson's Baba Yaga-esque mixed media assemblage "Yellow Brick Contradictions," the image featured on our cover. It has a great sense of whimsy with its direct "Wizard of Oz" homage. The viewer is greeted by an illuminated shack atop a single striped-stockinged leg. The piece has a wonderful sense of motion as the wreckage (from the book's infamous twister) spirals from beneath the structure leading your eye around the leg and drawing your attention to the legendary ruby red slippers. Johnson received the top award for the 2013 Midwestern Invitational.
Sherry Lee Short's colored pencil drawing "Coats" is masterfully crafted. Her attention to detail in both the drapery and the figures look effortless due to the sensitivity of her marks. Her limited cool color palette creates a sense of calm, while the juxtaposition of her subject matter creates a sense of intimacy creating the illusion that even your favorite jackets just might have a life of their own.
When asked if anything in particular caught Blanich's eye, she divulged, "Of course! But like any good art mother, I love all my children equally."
Blanich served as The Rourke's executive director for the past two-and-a-half years and has recently resigned. "It has been challenging but very rewarding to help the organization transition from being founder-led to becoming a more professionally-run institution," she says. "I'm immensely proud of the work we accomplished (by the way, I have had WONDERFUL staff who made it all possible). We've laid a strong foundation for The Rourke to move into its next iteration."
Blanich said one of her career highlights include taking down the fence in front of the museum: "(It) was a great moment of signaling that we wanted the Rourke to be a welcoming place to all in our community."
One of her favorite exhibitions was this past winter's "Minnesota: Inside & Out": "It was a terrific opportunity to showcase really impressive Minnesota art from the Rourke's permanent collection, some of which had never before been exhibited."Blanich says she will miss the creative exchange of ideas with Rourke staff and patrons, though she will remain involved with both the Rourke and the arts community in general.
The opening reception for the 55th Annual Midwestern Invitational Art Exhibition is Wednesday, June 18 from 5:30-8:30 p.m. with an awards presentation at 7:15. Refreshments will be provided by Sarello's and Happy Harry's, desserts by Nichole's Fine Pastry and caffeine by Dunn Brothers Coffee. Lest we not forget the Rourke's tradition of strawberries and champagne.
Be sure to stick to the theme of finding yourself at The Rourke and getting lost in a sea of great art and amazing company.
IF YOU GO
"Lost and Found" the Midwestern Art Invitational
Wed, June 18, 5:30-8:30 p.m., awards at 7:15
Reservations recommended by Friday, June, 13
.