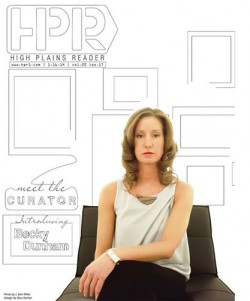 New Plains Art Museum curator Becky Dunham may have just moved to Fargo from Texas, but she sure hasn't minded her new home's extreme temperature drops.
"The weather, I love," she said while sipping on a warm beverage at Atomic Coffee downtown.
"It's really refreshing to be somewhere where there's a real winter and where there's a change of seasons, and you can see how that impacts the community and the culture and the lifestyle."
Dunham is someone who is familiar with different cultures and communities. She's lived all over the U.S., including North Carolina, Missouri and Florida, where she either studied art, taught college-level art history or worked in different museums.
"One lady, who was sort of mentor of mine, I'd asked her, 'Do you have any advice for me before my internship at the museum ended?' And she said, 'Yeah. Work in as many different types of museums as you can to figure out what's right for you.'"
So for the first decade of her career, Dunham found herself working at an assortment of museums, big and small, exposing herself to enormous amounts of outstanding contemporary and historic art.
However, it was while Dunham worked as assistant curator of Houston's Museum of Fine Arts that she realized what she really wanted — to work in an art community like Fargo.
"I wanted to work in a smaller museum that was in a smaller community. I wanted to get away from the harsh, hot and humid climate of Texas ... In addition, I also wanted to be someplace where there were several colleges or being close to a couple of institutions of higher learning."
"I started researching more about the community and realized it was the kind of the Holy Grail," Dunham said of Fargo.
While the community is certainly the right fit for her, so is the museum, particularly because of its permanent collection, which is strongly upheld by works on paper, her strongest area of expertise. She also has a lot of experience in working with contemporary, living artists, similar to those regularly featured in the museum.
"With this type of arts community, that's really important, that connection between the relationship between the museum and the local artists," Dunham said.
Museum director and CEO Colleen Sheehy noted Dunham as a go-getter: "I've been very impressed by Becky's tendency to just jump right in to her new community. She arrived in town the week of the FMVA Studio Crawl, and I think she visited almost every one of the artists — at least those in town."
Dunham stressed the importance of having a deep understanding and awareness of not only our professional local talent, but also our young emerging artists.
"I feel like in a town where there's a strong youth population, there's a generation of young people who are staying here and who are — instead of moving off at a certain point in their life — they are deciding to stay here and raise their families here," Dunham said.
In the few months she's been here, the curator has already had the opportunity to meet a number of young artists while helping interim curator Christian Gion coordinate the exhibition "My Generation," showcasing eight emerging Fargo/Midwestern artists.
For Dunham's first "from-the-ground-up" project as the Plains Art Museum curator, she's going after something big — the North Dakota oil boom.
"Every single day I've got someone calling me up saying, 'I've got another artist,'" Dunham said.
This exhibition will showcase different artists' reactions to what is going on in the western part of the state.
"So some of the responses have been positive, some of them more negative, some of them are just thought-provoking — just raising questions that just make you want to think about what is going on," Dunham said.
Because art can be such an effective medium of expressing disdain, discomfort, excitement, reality, fears and anticipation, this exhibition could be an extraordinary motivator for positive action and change.
Other upcoming notable exhibitions Dunham mentioned include a One Minute Film Festival, where parts of the museum will turn into giant screening rooms for 60-second artistic videos. Then for February, the museum is teaming up with Minneapolis' Northern Clay Center for an exhibition on contemporary ceramics, featuring some of the best ceramicists in the Midwest.
Though Dunham is used to moving from state to state, she said she is now ready to stay in one place, especially now that she's found her "Holy Grail."
"A lot of people have told me a lot of outsiders will come in and stay here for a few years and take off," Dunham said. "But I'm kind of hoping the opposite will happen — that I'll end up staying here for a long time. ... I really, really like the team that's at the museum and I can see us continuing together for a long time."