Mike Marth: Developed Work, New Series at ecce
by Tessa Beck | .(JavaScript must be enabled to view this email address) | Arts | October 15th, 2015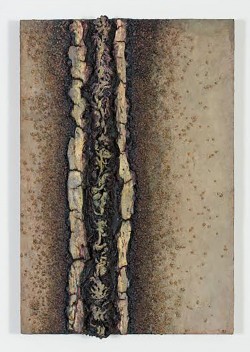 In his fifth solo show at ecce gallery, Mike Marth continues to push his unending approach to working and making for yet another series.
Like the previously shown, well-recognized work, Marth's newest collection offers an extension of the mixed media sculpture and reliefs that punctuate his entire body of work.
The latest series is set apart by the heavy emphasis on the combination of organic forms and objects with industrial materials. More than ever, Marth's varied found materials resemble singular, finite objects.
For example, the "Voodoo Tools" combine lilac roots, wood, furniture knobs and other mixed media objects.
"It was kind of one of the moments of insanity, or exploration… The first one I made looked like an animal heart, but it also had these intestinal extensions," Marth said. "It's such a cool, weird, strange form. There's some of that in this series."
The texture application on the work's surface is noticeably more aggressive, which resulted in a slight decrease in scale compared to past collections. Large-scale work with heavy textural elements can be cumbersome, and posed a limitation for Marth with what he could achieve materially.
The color choices are another definitive, and sometimes overlooked, element to his work.
"I like my color to be calming, pensive, maybe with a dash of melancholy, or mystery. I don't want to use color, or anything, for purely a decorative reason," Marth said. "I like the more neutral color range for the invitation to contemplate."
Marth's career is largely defined by the way in which he produces work on a continuum. Unlike artists who create on a show-to-show basis, Marth's studio practice is diligent and borderline constant.
Because of this, the shows encompass an entire year of work, and sometimes divide specific movements. Last year's show was largely characterized by the usage of birch bark, but because of the incessant production, the second half of the birch series was interrupted and left for the 2015 show.
Another result from this type of practice is the blurred lines between movements and series.
"The divisions clarify, or become apparent, in retrospect," Marth said. "It's not something that I consciously decide when I do something different."
The only conscious transition Marth made within the direction of his work occurred during the final stages of graduate school. He had been focusing on dark, city-scene oil paintings for his thesis show, and was ready for a different direction.
"I thought, my thesis show is done, I want to do something different. And I had just fallen in love with Giorgio Morandi's work… so I decided to do still lifes for awhile."
Marth described Morandi's work as "poetic," and the decision to focus on still life imagery has informed the work that has evolved since. Transitioning from painting, to physical renderings through assemblages and sculpture.
In moving forward, Marth plans to continue as usual. When asked what he hoped viewers would take from the current collection, he answered in true Marth fashion,
"I gave a really snarky answer to this in an interview one time… I hope they take some of my work home with them."
IF YOU GO:
WHAT: Mike Marth, "New Works"
WHERE: ecce gallery, 216 Broadway N
WHEN: Now – Nov. 1
ADDITIONAL INFO: eccegallery.com