​Model by day, artist by night
Arts | May 8th, 2014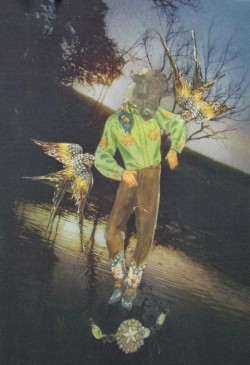 Sabrina Hornung presents "Trail Dust and Sentiment"
Art model, photographer, pin-up girl, burlesque dancer and all-around artist extraordinaire Sabrina Hornung will have her first solo show, "Trail Dust and Sentiment," at the Plains Art Museum starting this Thursday, May 15.
North Dakota born and bred, Hornung translates the vision of her rural surroundings to the vision of her vintage- and folk-minded intellect. What becomes of her photography is something beyond either classic or modern. It's very DIY. It's collage. It's hip, yet old-fashioned. It's character based.
It's also very home-style processed: "I take a picture and I make a collage on top of it. And then have a transparency made and then paint on it with acrylic and spray paint," Hornung said.
"It has kind of a weird surreal quality, but those are all kind of plays on regionalisms and colloquialisms."
One of her pieces, My Tumbleweed Sweetheart, is based off a tale she read in a North Dakota-based book "White Gumbo" by Dorothy de St. Clement. Apparently, back in the day, some North Dakotans would tie name-and-addressed ribbons to tumbleweed, hoping it would arrive at the feet of their future lover or soul mate.
A now elderly cowboy from her childhood inspires another piece, Mr. and Mrs. Finch. Hornung also uses subjects like her sister and boyfriend in her artwork. And her subjects are usually engulfed in out-of-the-ordinary colors, accessories or environments.
To add to her exhibition's North Dakota-folk feel, Hornung chose to frame her pieces using local reclaimed wood.
"By having the local materials, it really complements (the art) quite well," Hornung said. "I used a lot of ephemeral illustrations from pre 1950s and all that … and plus it's nice that reclaimed wood is all the rage right now."
Not that Hornung always goes after "the rage." The other medium she works with is cyanotypes (typically used for blueprints), which date back to the Victorian era.
"They are just a monochromatic print and I just use water and sunlight to develop them and then I embellish it with watercolor," she said.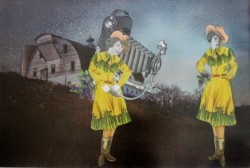 Alternative processing methods and folk art are two things Hornung is naturally attracted to. It's part of the reason she can take such peculiar images and shape them to look beautiful and make sense to the eye.
"Folk art – there's not really any pretension in it," Hornung said. "People create it because they have the desire to do so and it's just utilizing the materials that you have available."
Aside from being an art photographer, Hornung also models for college art classes, which was part of her inspiration for wanting to write a weekly art column for the High Plains Reader.
"Modeling for classes, there is so much student work -- and there's so much awesome work," Hornung said. "And they don't market themselves. They are putting together their resumes and they don't have any press points or anything like that."
Giving students, and all artists, positive acknowledgment for their work may help them decide to stay in North Dakota and continue creating more art, Hornung said. So ever since last November, she has been regularly interviewing artists and reviewing art, local and regional. Plains Art Spring Gala, Lake Agazzi's Home Is Where the Art Is, NDSU's Baccalaureate Candidates are just a few subjects she's covered.
Hornung's opening at the Plains will be one of the finest opportunities to see and appreciate her work. The artist's reception will run from 5:30-7 p.m. in conjunction with local photographer/retired Minnesota State University Moorhead professor Wayne Gudmundson's art opening for 47º North: Daybreaks at Bad Medicine Lake.
IF YOU GO:
Sabrina Hornung's "Trail Dust and Sentiment" opening
Opening: Thurs, May 15, 5:30-7 p.m.Runs through: Sept. 7, 2014
Plains Art Museum, 704 1st Ave N, Fargo
plainart.org