​More than signs: Chris Orth's neon art and brand illumination
Arts | June 29th, 2016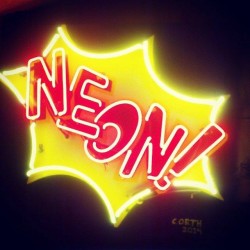 Fargo native, and neon artist Chris Orth recently unveiled a "beacon" outdoor neon art piece on the exterior of the Rourke Art Museum in Moorhead. Chris creates neon art for businesses and individuals. A self-described "neonist," Orth is passionate about his work and asserts that neon is not only a sign medium.
He is a graduate of the neon technology program at MSCTC Detroit Lakes. Before beginning his seven years of work at Indigo Signs in Fargo, he worked in Eau Claire, Wisconsin with neon, in Fargo with stained glass, and at the Plains Art Museum. He also took classes in the Entrepreneurship Program at Minnesota State University Moorhead.
Chris describes his career thus far as being split between "artisanship and precision work."
"Trying to sell my own work and my own designs is new to me," asserts Chris. He also describes himself as discovering neon art despite not being that interested in drawing or other art in grade school and high school: "I picked up my interest in design and neon over the years working in the sign industry."
Chris stresses that he is one of the younger neon artists working today -- most have been doing it for thirty years. He wants the trade "to live on."
He has been inspired by other neon artists. Matt Brasel has a number of art pieces at The Rourke that feature neon, including the "Proud Parent," a six foot tall statue of a peacock on a nest featuring an assortment of neon plumage. The other is Joel Hegerle, who Chris describes as, "a local legend in his own right." "It was these two locals and their encouragement that really made me decide to go for it."
Chris was involved in the project to create a neon beacon for the Rourke Art Museum in Moorhead. The beacon debuted on June 18, and is very visible as you cross the Main Avenue Bridge from Fargo to Moorhead. Chris, however, primarily focuses on interior neon pieces.
Chris says that neon as the "go to" sign medium has decreased dramatically as LED technology is often replacing neon in signs, as well as neon being such a handmade, time-consuming, and fragile medium.
In the artistic neon work Chris does, he does not call it signs – he prefers to call what he does "brand illumination" and "decorative lighting design." To explain the phrase brand illumination, Chris says, "there are 100 ways to display a logo, but the decision to use neon actually represents (or should I say illuminates?) the business's brand as much as its logo. People don't always recognize the difference between the business's logo and brand - but there is a very big, very real, distinction. The logo is a picture, the brand is how the business makes (or tries to make) the customer FEEL. If I can make a neon logo that helps the business make a real impression on their patrons, I think I've succeeded in illuminating the brand. A sign can inform expectations and their overall experience."
Chris recommends looking at his work at Junkyard Brewery, Moorhead, as an example of brand illumination. He is also interested in working with people who want to use creative lighting design in their homes.
Chris talks about his burgeoning neon sign company, Fireline Neon: "I started thinking about starting my own neon company last December, and made it official in March. The business itself is very much a part-time gig, which helps keep a steady workload when things slow down in the summer. Over time I expect to rely on it more and more as there is less neon in the region in need of service."
"Getting into the neon business is no small endeavor," explains Chris: "It takes years to learn the craft, and even after a decade of doing this I'm still learning every day. Apart from the experience, there is also the matter of needing to set up the shop. I currently use three different torches to bend the glass (a 12 burner cross-fire for tight bends and welds, 16" ribbon burner for sweeping curves, and a 'tipping' hand-torch for connecting to the tube processing station), though I am working on putting together a shop with at least five (adding an additional hand torch and a second ribbon burner)...temperature control and air exchange are also very important."
Chris continues to describe the process, saying it is "like setting up a science lab": "Once the glass is bent you need to process the tube. Processing requires a glass manifold, vacuum pump, and a high voltage transformer. The transformer 'bombards' the tubes with electricity which gets them quite hot and the vacuum pump sucks out the impurities. The glass manifold is used to control the amount of gas (neon or argon) which is added to the tube after processing."
Chris is thankful for his ability to be able to work with Indigo: "it has been great because it has given me time to accumulate the equipment I want rather than just grabbing what is available and making do. If I'm going to do this, I'm not going to have any patience for anything less than the best."
Chris looks forward to doing more of his own design and vision: "For a long time I saw what I do with neon as a product which I provided per someone else's specifications. If somebody brought me a pattern I'd follow it, and if someone else brought me a broken tube, I'd remake it. The goal of Fireline is add my design skills to the craft."
You can contact Chris via email to set up an appointment to discuss a neon creation.
YOU SHOULD KNOW
Facebook: https://www.facebook.com/firelineneon
Instagram: https://www.instagram.com/fireline_neon/
Email: firelineneon@gmail.com