​New murals at International Market Plaza promote unity and diversity
by Tessa Torgeson | .(JavaScript must be enabled to view this email address) | Arts | May 10th, 2017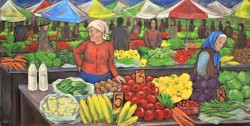 A drab strip on Main Avenue in Fargo will soon be brightened by murals on the International Market Plaza, reflecting the growing diversity of Fargo. Created by local artists and a youth mural painting group at the Plains Art Museum, the murals will be installed at a reception this Saturday afternoon.
"We think that visual art is important for the aesthetics and identity of our city. And what is represented in our art should reflect the identities of people experiencing it. With a growing number of cultures represented in Fargo Moorhead, it is important to show that through art -- because it is a physical representation of the change in the culture of the city," Sky Purdin said.
Purdin is Program Director of the Immigrant Development Center (IDC), a non-profit focused on assisting New Americans gain economic independence through microloans, entrepreneurial training and business plans.
In 2016, the IDC opened the International Market Plaza as a community space featuring ethnic foods, gift shops, and beauty products. "The International Market Plaza gives immigrants in our community the opportunity to pursue their passions and attain a better quality of life through their businesses," IDC Website states.
The murals reflect the values and diversity of the International Market Plaza, focusing on cultural diversity and ethnic identity. Community art was part of IDC Director Fowzia Adde's vision for the Plaza.
Adde is a local activist who is passionate about cultural preservation, sharing diversity, and helping new Americans be self-sufficient. As a Somalian refugee herself and multilingual entrepreneur, Adde has been instrumental in the development and growth of the IDC and the Plaza.
Adde worked with IDC intern Lillian Cotter to spearhead the project, collaborating with The Arts Partnership and The Consensus Council. Scheels Home and Hardware donated paint to the project as well.
Artists have been working on the 4 by 8 foot wooden panels that will be affixed to the concrete walls of the Plaza. This will allow for rotating murals in the future. The murals feature a unique spectrum of artistic inspirations and styles from local artists, along with ten youths who were involved with the project.
The murals are being installed in a divisive time when we need unity more than ever. Purdin said people's responses to the murals have been "overwhelming positive. We so often hear negative stories about either the immigrant community or the response to them," Skye Purdin said. "Projects like this are at the heart of what makes Fargo a great place to live."
All are welcome to attend, and this is a child-friendly event. Refreshments and food will be served by Madina's Cuisine and Indian Palace.
IF YOU GO
Mural Reception at International Market Plaza
Saturday, May 13, 2-4pm
1345 Main Ave, Fargo