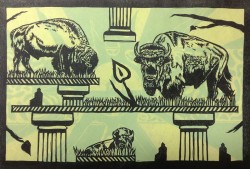 I've been spending a fair share of my Tuesday and Thursday afternoons in the Minnesota State University Moorhead art department, not as a student, but as an art model for Andrew Stark's figure drawing class. Nearly two months ago, Stark was expressing how overwhelmed he was with having an upcoming show at both The Hotel Donaldson and ecce art gallery. Plus, he was moving and staying quite busy with the ultimate job -- being a dad to his 10-month-old son, Liam.
Stark asked me if I had any pieces that I had ready to display. Fortunately for me, I had been experimenting with cyanotypes and I had a few pieces that I was excited to show. Along with me, Stark asked his good friend Cameron Peterson to show his prints at The HoDo as well.
Stark and Peterson first met through Zhimin Guan's painting class at MSUM.
"I was not always drawn to printing. I did originally set out to be a painter and that is where I met Andy, through the instruction of Zhimin Guan. Then I started taking printmaking. It was clear when Zhimmy would be frustrated with me and say; Why can't you paint like you print? I think that the process of printing slows me down enough to really evaluate the aesthetic of what I am producing."
Peterson's studio is called Fun House Press, located in the Spirit Room. Here he works with his partner Annette Dubord.They have a medium-sized etching press, and this is where the printmaking magic happens. He will often have a bag of tools and necessary materials to work on cutting linoleum blocks (for printmaking) wherever it is convenient. The two have full-time jobs so fitting in time to make new work can be a challenge.
"The story of an artist -- we work to work," Peterson adds.
"The recent work I have been doing with the animals and columns is a play on what nature thinks is good and what humans think is important. The inspiration for the pieces I put in the show at Hotel Donaldson would be 'Old and New' on one hand I am doing something with an old friend and on the other I am doing something with a new friend."
Stark wasn't always drawn to painting either: "I didn't pick up a paintbrush until college. I began as a graphic design major but quickly found I wasn't technically proficient and I desired a more tangible, direct contact with the media and materials. I switched to Illustration and was encouraged to take as many drawing and painting classes as I could. My mentors, Carl Oltvedt and Zhimi Guan were just so integral and influential at this time. They were these wonderful positive forces in my life that pushed my creativity, encouraged experimentation and exposed me to so many great artists. Once I started painting, I just fell in love with everything about it. The material, the texture, the whole process from beginning to end was so illuminating, and challenging, frustrating and meditative. I spent hours in the library looking and reading about as many different styles, artists, as I could and how they dealt with the struggle of Painting."
Stark has taught at MSUM for three years. In this time, he has taught foundation design, basic drawing and figure drawing.
"I encourage all the artists I meet in class to be disciplined, explore all media and technique, find their voice and not be afraid to fail over and over again," he said. "Letting go, loosening up and immersing yourself in art history."
IF YOU GO:
What: Andrew Stark's Figurative Mementos Where: ecce art gallery, 216 BroadwayWhen: Reception: Fri, Dec. 6, 7-9 p.m.Info: andystarkpainting.com
What: Works of Stark, Peterson and Hornung @ HoDoWhere: HoDo Restaurant, 101 Broadway, FargoInfo: hoteldonaldson.com
thealabasterdisaster@gmail.com