​Painting parties with a twist
by Stephanie Christianson | .(JavaScript must be enabled to view this email address) | Arts | November 19th, 2014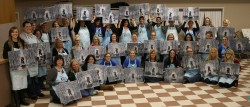 The paint-and-sip experience has finally hit Fargo-Moorhead. Creatively Uncorked hosts social painting parties at local and private venues.
Owner Shanna Cramer came up with the idea of Creatively Uncorked after seeing a picture on the Internet of a similar event. She knew instantly this was her dream job.
"I have a background in art, I have been painting since I was 12 and I went to school for it," Cramer said. "I got sidetracked along the way by life and kids, so then I just got back to it this last December. I started painting again and [felt], just like that, 'I have to do this.'"
The painting parties are held at various venues around town, most featuring a bar, to create a fun, relaxing environment. The parties give people a chance to socialize and enjoy a drink with friends or coworkers while painting a piece of art to be proud of.
"While it's meant to be a fun night out with friends, it turns into an art lesson," Cramer said.
Creatively Uncorked also offers special events and private parties. For the private parties you pick the venue, choose any painting from its art gallery and invite at least 10 friends. Private events are great for bachelorette parties, birthday parties, baby showers, girls' night out and team-building functions for companies or groups.
The special events feature unique painting options such as Paint-Your-Pet, Date Night Couples paintings, Mimosa Sunday and Creatively Kids.
Creatively Uncorked recently held an event at Sundog Marketing and Technology for one of Sundog's member engagement get-togethers.
"They make it easy for beginners, like myself, to follow along and create a painting I could have never done on my own," said Ashley Daanen, an intern at Sundog. "The overall experience and atmosphere was my favorite part; it is unlike any get-together I have been to before."
Cramer and the Creatively Uncorked team paint every unique piece of artwork in its gallery. New paintings are added weekly. Cramer said the events are perfect for people with a lot of art experience or no experience at all.
Each event will feature one painting. The instructor of the class will guide the group step-by-step through the painting, and by the end of the class everyone will have a similar piece of artwork to take home.
Creatively Uncorked is completely mobile so it can hold events outside of Fargo, including Grand Forks, Thompson, Kindred, Perham, Fergus Falls and other surrounding areas. The Creatively Uncorked team has two mobile groups and is currently working on a third, allowing them to hold multiple events per day. Cramer's goal is to schedule 14 events each week.
For all parties, Creatively Uncorked provides paint brushes, paints, canvases, setup, cleanup, and artistic demonstration.
"It's just plain fun," Cramer said. "I think a lot of them are surprised they go home with something that turns out nice."
To choose an event and reserve a spot, go to the Creatively Uncorked website at creativelyuncorked.com and check out the calendar for upcoming events. Each event ranges from two to three hours.
YOU SHOULD KNOW:
creativelyuncorked.com