Kelsy Hewitt's ​Passion for Fashion
Arts | June 5th, 2014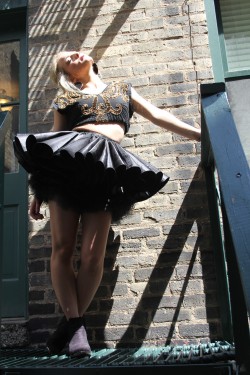 Kelsy Hewitt has been fascinated with the idea of clothing design since the age of five. She remembers being scolded for cutting and altering her own clothing and pouring over fashion magazines to scope out the latest trends and eventually draw up her own designs. So it was no wonder she found herself at the Fashion Institute of Design and Merchandising for Fashion Design in Los Angeles shortly after high school. Here she completed a two-year program in a year and a half and soon found herself back in Fargo to be closer to her family.
"My next plan was to finish up my general education credits at NDSU and move to New York to get my degree in Theatrical Costume Design," Hewitt says. "But I met Cindy Roholt who then introduced me to Rooth Varland, the head of the Theatre Department at NDSU who is one of the only union costume designers in our region. I showed her my portfolio and she thought it would be great for me to join the theater department and get my B.F.A in Theatrical Costume design."
The designer says it was one of the best decisions she's ever made.
"I have had so many opportunities in Fargo, both in theater and design and I have been so happy to be in such an artistic community," Hewitt says.
Hewitt is currently a student in the B.F.A design and technology program at NDSU emphasizing in theatrical costume design. Some of her local credits include designing costumes for NDSU's "9 to 5: The Musical," "Shakespeare's Love's Labour's Lost" and, most recently, "Sweeney Todd."
Hewitt also designed one of the highest bidding pieces at Bras on Broadway last fall at the Hotel Donaldson, bringing in $1,100, all of which was donated to regional breast cancer charities. The piece was inspired by a dream she had after watching "Titanic." Early 20th century fashion is one of her favorite time periods for design due to each garment's silhouette and rich detail.
"After going through a program in fashion design I found that designing one piece for an entire population did not fulfill my creative need for design. Now, costume design allows me to tell a story with the garment. One-of-a-kind pieces create an individual look that goes with each character throughout the story and can tell the date and time along with setting and mood of each character," Hewitt says.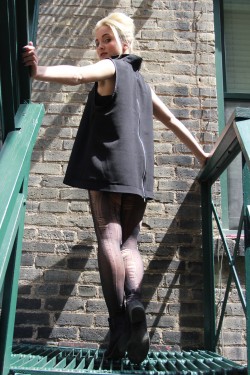 This summer Hewiit will work at The American Players Theatre in Spring Green, Wis. She is also working on her capstone project "The Little Shop of Horrors" here in Fargo-Moorhead.
"I hope to design costumes as well as hair and makeup to create an entire look and show what I can really do. It's fun to be working on another period show, especially one that is set in the early 1960s before the mod period and after the 1950s poodle skirts. It's challenging to get the correct look. We are looking for a more 'real' effect with the show showing the dark side of skid row," she added.
Hewitt also just participated in NDSU's spring FABO (Fashion and Business Organization) Fashion Show.
"I was inspired by current trends and the circus, from a fashion standpoint," Hewitt says. "After being in costume design for two years I have been able to open my creativity outlet and let my mind wander.
"I found an image on Jak & Jil (a trend/street fashion blog) that had this incredible circle skirt with tucks to create more of a tapered look around the hips and was incredibly inspired by that. From there, I showed Cindy the picture and she said all I had to do was make circles; there are about nine circles in the skirt, which created a ton of volume.
"Then I added a horsehair braid around the hem which allowed more stiffness. I did the same thing to the edge of the bro-tank which allowed more of an A-line silhouette, which created more of the trapeze look I was going for.
"The cool thing about the bro-tank was that when I was building it, I would try it on and find that the tank looked very 1960s mod on me. I ended up being able to have the garment modeled twice in the fashion show which created a unisex bro-tank look."
As far as current spring trends that interest Hewitt, the crop top certainly has been catching her eye.
"I love the crop top trend when done in a classy way; high-waisted pants or a high-waisted skirt with tights always looks great on almost any body type," she said.
Hewitt and her model Justine Pulec were kind enough to participate in an exclusive HPR photo shoot to showcase and celebrate the elaborate craftsmanship of her pieces.