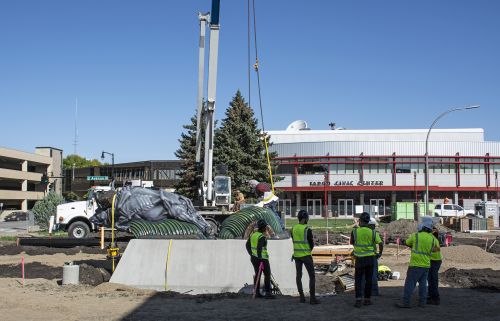 by Kris Gruber
perriex1@gmail.com
High Plains Reader spoke to Plains Art Museum staff Sarah Anstett, Development and Communications Coordinator, and Savannah Schultz, Executive and Development Assistant, about their inaugural event, Pop Up on the Plains.
HIGH PLAINS READER: What was the initial idea or thought process behind Pop Up on the Plains?
Sarah Anstett, Savannah Schultz: Pop up on the Plains was inspired by an organizational desire to activate our young professional and student demographic by activating our open gallery space on Thursday evenings. Our goal is to let those who cannot visit the Museum during our regular hours, attend late on Thursdays and give them a reason to come by. Beautiful art spaces are important, but why not add delicious food and drinks to the mix? And our Sodbuster presentation will illustrate some of the work Plains Art Museum does that positively impacts the entire community! Museums across the country host late night events for this demographic, and we think Fargo-Moorhead will respond well to this event.
HPR: Can you give us an overview of the scheduled activities? It sounds like a great combination of food, music and learning about an iconic piece of local history!
SA,SS: This will be our "pilot" event for Pop Up on the Plains. Every event will have food (this month from Suna's Egyptian Eatery) and drinks, but the highlighted activity will vary depending on the month. For example, as we get closer to our Spring Gala we might have some interactive art-making that goes with this year's theme.
HPR: The Sodbuster statue is such an interesting part of downtown culture. Can you give us a hint at what the presentation will entail?
SA,SS: Our Registrar, Steve Jacobs, will be presenting on Sodbuster. He, along with other museum staff members, were part of facilitating its restoration as well as the reinstallation of the piece at City Hall. We also have some items in our collection pertaining to Sodbuster and Luis Jiminez (the artist) that will provide some great history and context for the sculpture.
HPR: Are there any upcoming events that you would like people to know about?
SA,SS: In addition to establishing Pop up on the Plains as a monthly event, We have The Chili Bowl/Giving Hearts Day coming up on February 13th from 11am to 2pm – tickets are just $15 for all the chili you can eat as well as a ceramic bowl made by a regional artist. Unglued Craft Fest will be in the museum on February 21 5pm-9pm (which is a ticketed preview event) and February 22 9am-4pm, which is free to all, our next Art & Business Breakfast: Art and Technology on March 11 from 7:30am to 9am, and we can't forget our annual Spring Gala which will be on Saturday May 2, at 7:00 pm.
IF YOU GO:
Pop Up on the Plains
Plains Art Museum
Thursday January 30, 5pm-8pm
Admission is free
Food, beer and wine available for purchase.