​Post punk
Arts | August 12th, 2015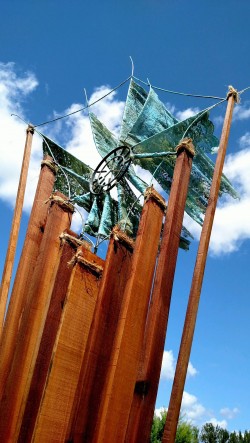 When Mara Morken Fogarty's stepfather and regional artist Lynn Fundingsland installed a carved cedar post in her front yard, she had an epiphany.
"I looked at it and I loved it so much that I realized that this was the perfect medium for the sculpture garden of my dreams," she said.
The simplicity of the post was the main inspiration for Sticksgarden, a small sculpture installation and adaptation of Moorhead's planter adoption program. It adds a bit of much-needed green space to the city, features sculptures from 11 local artists and is a tribute to Moorhead itself.
Morken Fogarty hand selected the artists.
"No one made any money off of this," she said. "This had to be something they would do for Moorhead because they believe in the town."
Moorhead mayor Del Rae Williams added, "I love the new Sticksgarden and I know the community does too. The artists that gave of their time and talents made a very special place in our community."
Sticksgarden is on Sixth Street and Main Avenue, between M&H and Ace Hardware. Each artist had a unique interpretation of Moorhead and Minnesota in general. Artists involved with Sticksgarden include Mara Morken Fogarty, Barb Dusty Urness, Carrie Lee Wendt, Dwight Mickelson, Grady Carlson, Jeff Knight, Larry Larson, Dave Sauvageau, Lynn Fundingsland, Mackenzie Leigh Kouba, Su Legatt and Vanessa Morken.
Barb Urness's piece was inspired by split-rail fences lining Minnesota farmyards. She incorporates steel rods as a poignant reminder of industrialization of our region, which has had positive and negative effects.
Mackenzie Kouba's expressive style translates just as well in 3D as it does in 2D. Her piece "Mourning Glory" is a beautiful, haunting and nearly totem-esque depiction of a loon. Not only is it beautifully stained and shaped, upon closer inspection, one may notice carved faces within its body.
Dwight Mickelson's dynamic deconstructed "Peace Catcher" not only captures the spirit of the wind in the area but it also reminds us of the Rourke legacy. The centerpiece of Mickelson's piece features a burner from the stove of the Rourke house.
Morken Fogarty spearheaded fundraising efforts for the sake of public art. It's a part of the mayor's Arts Task Force, which will now be the formal Arts and Culture Commission of the City of Moorhead. She approached local businesses, individual donors and larger foundations in the area.
"If there was ever a question that Moorhead wanted public art, we raised $15,000 in two weeks for it," Morken Fogarty said. "That settled that argument for everybody."
The Rourke Gallery Museum will also have an opening celebration for the installation of Sticksgarden next Saturday.
IF YOU GO:
Sticksgarden Opening Reception
Sat, Aug. 22, 7 p.m.
The Rourke Gallery Museum, 521 Main Avenue, Moorhead