​Postcards from the Enchanted Highway
Arts | July 9th, 2015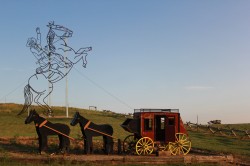 A man with a vision puts his hometown on the map with the world's largest salvaged metal sculptures
Regent, N.D., is nestled in the beautiful hills, buttes, cut banks and valleys of the southwest corner of North Dakota. It is a quiet community with strong agricultural ties, and it is notorious for being a hunter's paradise. It once gained the moniker Wonder City. According to the city's website, Regent is "a town founded in 1910 on the solid steel of railroad lines that forged a community teaming with pride and a strong work ethic."
Solid steel and a strong work ethic seem to be a common theme for the small city, but these days, Regent is gaining a reputation for the solid steel making up the world's largest salvaged metal sculptures nearby. Created by local artist Gary Greff, the sculptures line a stretch of road known as the Enchanted Highway.
Greff left the area when he was a teenager, and he eventually went on to become a school principal for 15 to 16 years in various spots throughout the Midwest. He eventually moved back to his hometown to help out his family, and he noticed that his hometown was dwindling.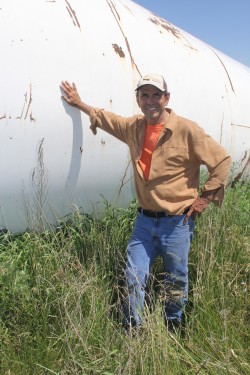 Upon returning home Greff thought to himself, "What can I do to help Regent stay alive?" Greff's first idea was to develop a diced "tearless onion" product, but market research took time. Serendipitously, the stretch of road that connected Regent to I-94 was paved that year. Along this stretch of road, a local farmer made a small metal sculpture of a man holding up a hay bale.
"It dawned on me that (welding) was what small Midwestern farmers are good at," Greff said. "Let's use what they are good at to our advantage."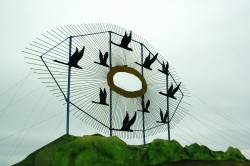 At 110 feet tall and 154 feet wide and weighing 157,659 pounds, Greff's sculpture "Geese in Flight" made a Guinness World Record for being the world's largest salvaged metal sculpture. The statue depicts a V of Canada Geese flying off into the sunset. Building materials consist of used pipes and tanks from the oil fields. The largest goose boasts a 30-foot wingspan.
"I thought no one would stop for normal-sized sculptures, but they just might stop for the world's largest," Greff said.
The Enchanted Highway has also received press from People Magazine, The Wall Street Journal, Life Magazine, "The Craig Ferguson Show," USA Today, Minnesota Public Radio and Prairie Public. FX even featured the Enchanted Highway for an "Original Short Documentary" and trailer teaser for the Emmy-winning TV show "Fargo."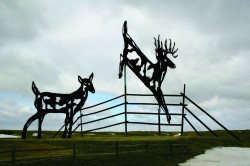 Greff acquires most of his materials from the scrap yard. In order to manipulate the oil well tanks, he cuts the ends off, cuts the tank down the middle and then flattens it with a tractor in a pasture on the outskirts of Regent. He works primarily during the winter months because then he can give his projects his full attention. Greff spends the summer months maintaining the sculpture sites and running the Enchanted Castle, his hotel, bar and steakhouse housed in Regent's former high school.
Not only is the subject matter of regional interest but the building materials are of regional significance. The regionalism, community ties and utilitarian materials all contribute to why the sculptures of the Enchanted Highway are considered folk art. In fact, Greff is a self-taught artist.
"The only art background I have is elementary," Greff said. "I never laid a bead of weld in my life until I started (The Enchanted Highway) ... When I started this project, farmers around the area had to teach me how to weld. Up until then I never wanted to learn how to weld or do anything that farmers do. My dad was a farmer and I never planned on farming."
Each of the sculptures on the highway has its own personality and style. Greff starts by sketching his design onto graph paper, and then transferring his design onto one to two-foot squares of butcher paper. With these he fills the floor of the gym at the Enchanted Castle, and then transfers his design to metal.
"Then I hope that it looks like it is supposed to look at this point," Greff said. "If it doesn't look like it's supposed to look I leave my options open and call it modern art."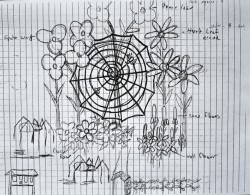 For his next installation Greff is designing a 70 by 70-foot spiderweb built with three-quarter-inch cables. It will be suspended from a colorful array of prairie flowers. The spiders will be built from salvaged cement truck mixers. The inspiration? String art.
Each sculpture costs between $30,000 to $50,000 and takes between four to six years to complete. Besides receiving a Bush Grant Fellowship in 2003, Greff has done the majority of his fundraising on his own through the proceeds of his hotel, gift shop and grants. However, for this next installation, he'll have a little help from some new friends.
At the beginning of the year Greff attended a North Dakota tourism conference where he met Greg Tehven, leader of the Fargo non-profit Emerging Prairie, which is a resource for local start-ups. Greff thought highly of Tehven's presentation and introduced himself. Tehven then invited Greff to Misfit Con, a two-day idea-exchanging conference that was held in Fargo this past May. This lead to talk of a Kickstarter crowd-funding campaign to assist in funding Greff's next sculpture along the Enchanted Highway.
"(At Misfit Con) Gary Greff gave a presentation about his hometown of Regent, North Dakota, and his vision for the Enchanted Highway," said Jackson Ridl, who was in charge of building the Kickstarter. "After his presentation everyone in the room felt that Gary's story needed to be shared … There was a man in a small community fighting to save his home, and he is doing that by creating one of the largest folk art installations in the world. That's something special."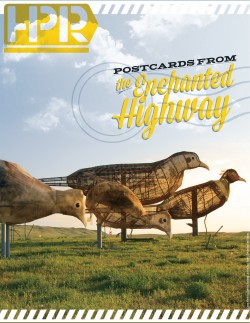 The goal is to raise $15,000 by 10:57 a.m. on Friday, August 7. The money will go toward building the new structure for the Enchanted Highway. Any person can donate any amount, as long it's at least $1.
With every Kickstarter campaign there are incentives to donate.
"As far as incentives go, I think the most impactful part for me is that this is a public art installation with the purpose of saving a community," Ridl said. "I love art and I love superheroes, and with this project it is basically getting the best of both. But other incentives could be having an opportunity to be a part of North Dakota folklore,helping this small community by bringing in more visitors, or helping make North Dakota home of more of the world's largest scrap metal sculptures."
Incentives to donate include digital sketches signed by Gary Greff, photo packs with images shot by Fargo-based photographer Jesse Hoorelbeke, souvenirs from Gary's gift shop in Regent and even a night's stay at the Enchanted Castle.
"I didn't have any welding or art experience, or have a dime to my name," Greff said. "And I am living proof that if you put your mind toward it, you can do anything."
Click here to donate to the Enchanted Highway Kickstarter campaign
IF YOU GO:
The Enchanted Highway
I-94, Exit 72, Regent, ND
http://ow.ly/Pltcf