Roll Out
by Sabrina Hornung | .(JavaScript must be enabled to view this email address) | Arts | October 1st, 2015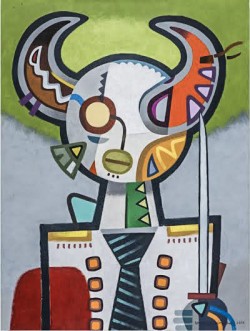 Star Wallowing Bull's solo exhibition "Transformer" hits the Plains
Star Wallowing Bull has been drawing robots since he could pick up a pencil. Some things never change -- other than his medium of choice and the walls his art has hung upon. "I've been drawing transformers all my life," says Wallowing Bull. In fact a few of his childhood drawings, including his attempt at illustrating a transformer comic book (at age 11), grace a wall of the Plains Art Museum along with the colorful drawings and paintings he has become known for.
Wallowing Bull gained recognition with his colorful, highly detailed colored pencil drawings. He incorporates his own personal narrative along with Native American imagery and pop cultural images. Upon close inspection one will notice headdresses and Ojibwe floral patterns alongside Pac-man and Star Wars imagery within the intricate compositions.
Wallowing Bull's second solo exhibition at the Plains, "Transformer," will feature 20 paintings and colored pencil drawings, 10 years after his first major solo exhibition at the same facility titled "Between Two Cultures."
In 2005 Wallowing Bull's piece "New Age Fancy Dancer" marked a turning point in his art. The piece featured a colorful mechanized abstract figure. Thus his first signature transformer made an appearance.
Wallowing Bull has always been a fan of the 1980s toys and cartoon show featuring the alien robots in disguise, and even cited the character Shockwave as his favorite. Shockwave even served as the model for the figure in his piece "Peace Dancer." Wallowing Bull admits to being partial to the Autobots (the protagonists in the animated series), joking, "I need to draw more Decepticons (the antagonists) -- my Autobots need to fight someone. I should probably start a new series."
Another recurring theme in Wallowing Bull's work is the iconic Red Owl symbol. Inspired by Warhol's "Campbell's Soup Cans," Wallowing Bull wanted his own visual pop signature. He stumbled upon a photo of a young Star standing in front of a Red Owl store in his old neighborhood in Minneapolis and the rest is history.
2015 has been a busy year for Wallowing Bull. At the end of 2014 he was awarded a Native Arts Cultural Foundation Fellowship, participated in an exhibition at IAIA'S Museum of Contemporary Native Arts in Santa Fe, and was featured in a group exhibition at the Minneapolis Art Institute spotlighting contemporary Native American artists from across the nation. His painting "High Plains Jingle Dancer" was also featured on the cover of this year's Plains Art Gala's exhibition catalog.
Wallowing Bull is a self-taught artist, though he has had mentors such as his father Frank Big Bear and Grand Forks-born 20th century pop art godfather James Rosenquist. His father drew with him as far back as he could remember and even signed Star's name to his drawings before he could print. Wallowing Bull met Rosenquist in 2005 and maintained contact with him ever since.
"He (Rosenquist) is very critical of my work and will tell me flat out if he doesn't like it," Wallowing Bull says. "I took it hard at first and then I realized that not everyone would like my work."
According to Wallowing Bull the most sound advice that he received from Rosenquist was to work hard, paint fast and to keep his work original.
Along with the opening of "Transformer," "Picasso: Passion for Clay, Ceramics from the Rosenbaum Collection" will also be opening. The exhibition features 40 clay pieces that transformed ceramics from a utilitarian craft to the higher echelons of fine art. The pieces were created by Picasso at Suzanne and George Ramié's Madoura Pottery Studio in southern France between 1947-1971.
The openings also serve as a celebration for the Plains Art Museum's 40th Anniversary celebration. The celebration will feature music from Michael Pink and his band and allow guests to participate in an interactive light art installation.
IF YOU GO:
Star Wallowing Bull Opening Reception
Plains Art Museum
704 1st Ave N, Fargo
Oct. 3, 6 p.m. - 10 p.m.