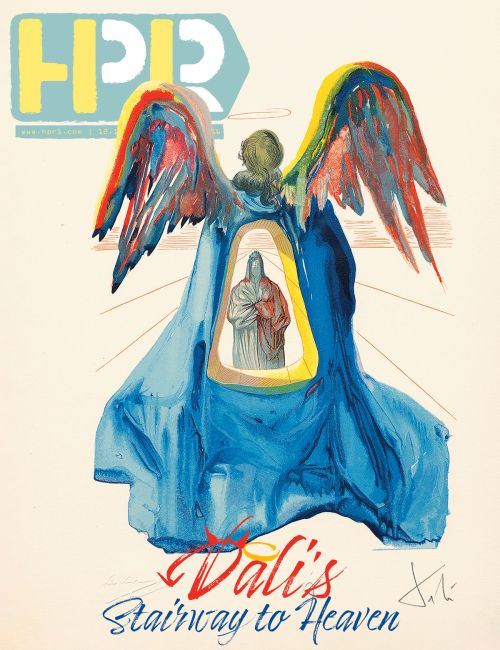 "Surrealism permeates--there's a legacy there with contemporary art where they're still trying to capture or convey something that can't quite be fully understood without the existence of that thing that you can't fully describe with words so I would say Surrealism still permeates our current artmaking climate today." Says Plains Art Museum Executive Director Andy Maus, "That legacy belongs to Dali and company. It permeates street art, and pop art in some ways, not pop art in the 20th century but contemporary pop art. I'd say that sense of mystery and that feeling you get with a great surrealist piece is still something that is trying to be captured by some artists anyway."
Surrealism is a 20th-century avant-garde art movement that was not only a love letter to the unconscious but was inspired by philosophy and dream landscapes. It served as a multidisciplinary art movement that included film, theatre, literature, and visual art.
Spanish born Salvador Dali was a master of the movement and maybe one of the most recognized artists of the 20th century. His iconic mustache has permeated pop culture perhaps as much as the wilted timepieces in his instantly recognizable painting "The persistence of memory." He was an incredibly prolific artist dabbling in the arts of film, animation, and was even known to illustrate up to 100 books in his lifetime ranging from the Bible to "Alice in Wonderland."
As of December 19, the Plains Art Museum will be presenting "Salvador Dali's stairway to heaven," the largest Salvador Dali exhibition North Dakota has ever seen with 143 of his rarely seen works on paper (watercolors and prints), curated by world-renowned curator David Rubin and made possible courtesy of the Park West Foundation. The exhibition runs through May 20, 2020.
The exhibition illustrates two very different points of Dali's career. "Comte de
Lautréamont's Les Chants de Maldoror" ("The Songs of Maldoror," originally published in
1868-69) illustrated by Dali in the 1930s and Dante Alighieri's "The Divine Comedy" (originally published 1320) illustrated by Dali in the 1960s. Both works had similar surrealist themes but the earlier works were more chaotic with more concise attention to detail and mark making whereas the later works were more fluid and included watercolor works.
It's interesting to note that Dali's works on paper were not as well-received as his paintings… but why? "Printmaking has never achieved the same recognition that paintings have, here we have a printmaking studio. We LOVE prints and works on paper. It's one of our strengths so we really don't see the hierarchy in the same way. Historically, throughout the 20th century, there was this irrational hierarchy of art forms and works on paper were seen as less."Maus went on to say, "I think that's why you see this in museums. That's really starting to change now, it's a great time to start looking at Dali's illustrations. To me, it adds a really interesting element because then you have the story--the literary works and then his interpretation as it relates to those literary works. So it's not as pure necessarily as his paintings but there's another layer to it if you know the text."
How did an exhibition of this magnitude come to North Dakota? Tasha Kubesh, Associate Curator of Collections and Exhibitions explained, "There are curatorial resources online with traveling exhibitions and I noticed it listed, so I mentioned it to Andy and the opportunity just jumped out to me, luckily we were able to obtain the last slot in their schedule so if we wouldn't have called in that day we might not have been able to receive it."
Maus added, "It helps to have the accreditation that we have to be able to host exhibitions like this so they can trust that it's going to a place with high operating standards too so I'd say a recently acquired reaccreditation probably helped to secure the spot."
The work of Dali has a special place in the hearts of both Maus and Kubesh, "Andy and I both have that in common that Salvador Dali was the first person that really made us interested in art." Kubesh said.
"Part of the reason I was attracted to him was that I had never seen artwork that was so full of ideas, but the ideas didn't make any sense. Because they're irrational like dreams are irrational, most dreams are irrational, right? So for me, some of the other surrealists like Salvador Dali, that was the first time where I had seen work that was like that--it was like philosophy where it was like a circular conversation." Maus said.
Kubesh added, "For me, it's as simple as art is about creativity, and I think that Dali really pushed the boundaries of the creativity that we see and I'm not sure if anybody has surpassed him."
On January 16, the Plains will be hosting a Winter Paella party complete with surreal desserts and refreshments. Paella is the national Spanish dish and is made with rice and seafood. On January 23 film enthusiasts will appreciate a night of surrealist film during a "Film and Surrealism" seminar followed by a session of "Philosophy for all" with Richard Gilmore. On April 16 the Plains will host an "Exquisite Corpse" party, and no it's not as disturbing as it sounds. It's a take on a surrealist drawing exercise in which multiple artists work together to draw a figure. Artists will also try their hand at "automatic drawing" and collage.
Andy and Tasha were even willing to let the cat out of the bag as far as the Plains Art Gala's theme for 2020, he assured us that there were going to be "surreal elements to the gala--it's going to be a weird gala for sure."