​Sarcasm and humor cover walls of Plains Art Museum
Arts | July 29th, 2015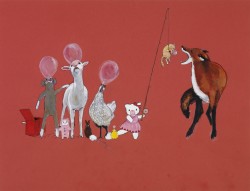 St. Paul-based artist combines wit and whimsy to add social commentary to the walls of local museum
The playful surface of Julie Buffalohead's "Coyote Dreams" show at the Plains Art Museum covers only a fraction of the multi-faceted expression that occurs within the work.
Based in St. Paul, Minn., Buffalohead has consistently shown work both regionally and nationally since her first show at the Weisman Art Museum in 1999. Buffalohead received her undergraduate degree from Minneapolis College of Art and Design, and her Master's in Fine Arts from Cornell University.
With a whimsical and ever-changing approach, Buffalohead is not pigeonholed by drawing and painting – rather, she explores the possibilities existing in sculpture and printmaking.
When asked how she would define her media usage Buffalohead said,
"[It's] hard to say. I think when I was in college I was more of a painter and drawer… over the years I've experimented with a lot of different things, and I think that now I'd call myself an artist."
Buffalohead credited her Native American culture and artists such as Kiki Smith as influences.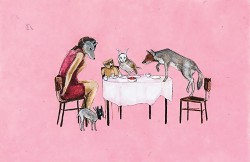 "Coyote Dreams" features oil paintings from earlier movements in her career and is supplemented with more recent drawings and acrylic paper pieces. The work is smartly curated in a way that allows the viewer to gain a better understanding of the timeline of Buffalohead's progression.
During her undergraduate studies, Buffalohead was focused more intently on large-scale, visceral oil paintings. Somewhat heavier in content, the oil pieces are more outwardly expressive, and they are heavily influenced by Diebenkorn and other figurative artists.
Buffalohead noted the stylistic shift in the paper pieces and credited her pregnancy as a factor. In avoidance of the toxic chemicals from oil paint, she continued to produce work for shows by exploring the possibilities of acrylic, watercolor and gouache.
"My work might end up changing again – it's just kind of a practical thing for me," said Buffalohead, "but also visually, I was attracted to simple forms and that was happening with the works on paper."
The paper pieces, which encompass the bulk of the exhibition, feature mischievous animals or masked humans in a horizon-less scene. The work layers a whimsical, fairytale-like surface over a sarcastic or even caustic undertone.
"When I was pregnant I started working with that sort of idea about including things that are fairytale or childlike," said Buffalohead. "I incorporated it with my Native American culture. We have a lot of stories in our culture, and a lot of those stories are about animals. I sort of mixed the two."
The richness found in the work is Buffalohead's nuanced ability to combine witty social commentary with light humor.
"That's the message I try to give – there's a lot of things that are whimsical and funny… but there's also a lot of things that have an undercurrent," said Buffalohead. "I was trying to mix it up with things that I really thought about life – that not everything is a fairytale, and bad things happen. Things are not perfect."
Socio-political commentary is not uncommon in visual art, and Buffalohead has created her own approach to incorporating it into her practice.
"I know a lot of artists who take these political things, and kind of hit you over the head with it – it's more abrupt in nature. I like to present my take with a bit more humor. Sometimes you can't tell if it's being sarcastic or if it's being funny – whatever it is, I like to add a little edge," said Buffalohead.
The most obvious example of this execution can be found in "Christina Fallin on a Stick," a piece referencing the backlash the B-lister received from her cultural appropriation of Native American headdresses on Instagram.
One of the most anomalous elements of Buffalohead's work is the direct application of herself into the work. Autobiographical elements in visual art are inevitable, but including an actual masked figure representing her connection to the scene is less common.
"A lot of times putting myself in the work is cathartic – it's a way to express different points of view in one piece," said Buffalohead. "Making art is a release. My hope is that people will identify with what those feelings are like."
Buffalohead offered an explanation to the decision-making process behind the horizon-less foreground and bright backgrounds found in the paper pieces.
"Some of the work (is) on a special paper called 'lokta' – a paper from Nepal. It's almost an object in itself," said Buffalohead. "…I feel bad about putting more art on top of it, so sometimes I just try to emphasize the naturalness of the paper.
"Other times I concentrate more heavily on the figure and sort of the relationship you have when you're storytelling. A lot of times I don't always fill the space."
In addition to the Plains exhibition, Buffalohead has a current show at the Contemporary Museum of Native American Art in Santa Fe, N.M., through the month of August. Buffalohead is also represented by Bockley Gallery in Minneapolis.
When producing shows, Buffalohead mentioned the specific expectations attached to her already-existing work. She mentioned a break in shows thereafter that will allow her to be more experimental in her practice moving forward.
She highlighted the current building and gathering process of materials that will eventually lead in a potentially new direction.
"I've been doing a lot with printmaking lately," said Buffalohead. "I've been interested in doing more with sculpture and printmaking… I haven't gone in one direction or the other yet."
IF YOU GO
"Julie Buffalohead: Coyote Dreams"
Plains Art Museum, 704 1st Ave. N., Fargo
Now – August 29, 2015
Free for students, youth, educators, museum members. Adults: $7.50; seniors: $5