​Shane Balkowitsch: Sizing up humanity through antiquated craft
Arts | July 19th, 2017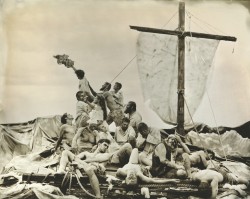 Shane Balkowitsch was nervous. He squatted under an inky shroud, gazing ahead above the rim of his eyeglasses. In front of him, hoisted on a modern tripod, was his accordion camera with its intense red bellows. Only steps away unfolded a 19th century sea scene of travail and strife, of a deathly woe and a fervid vitality.
Or at least its reenactment. Volunteers – clothed in shoddy garbs and smeared in dramatic makeup – clamored on a wooden make-do barge in the open prairie. Gathered via a Facebook post, they staged The Raft of the Medusa, the famed 1819 oil painting that captures the calamitous 13-day voyage of nearly 150 castaway sailors, only 15 of whom reached safety after the wreck of their French frigate.
"There was something about the endurance of these people. There was something about the will to live," said Balkowtisch, who had turned the ordeal into a community-wide, eight-month-long photographic project.
That day the work and commitment of 40 volunteers -- including his brother, Chad, son, Greyson, and daughter, Abby -- was nearing a close worthy of the historic subject – a wet plate titled Capsizing of Humanity. An image of pure silver on a black piece of glass that defies decay.
"The only thing that matters to me is to get the shot," said Balkowitsch. "It doesn't matter what I have to do to get that shot, I am going to get that shot no matter what, because I cannot let these people down."
Based in Bismarck, North Dakota, Balkowitsch is not an ordinary photographer. He is an ambrotypist, one of around 1500 artists in the world, who practice wet plate photography, which, despite being one of the earliest cinematic endeavors, produces astoundingly high-resolution images.
A registered nurse, who manages Balkowitsch Enterprises, the multi-million family business of retailing medical supplies online, Balkowitsch discovered the wet plate process in 2012. At the time, he had a motorcycle to fix and had befriended Paul D'Orleans, owner of a vintage bike website and wet plate photographer. Balkowitsch stumbled upon a Facebook picture of D'Orleans making a wet plate.
It was a fluke that revealed a talent Balkowitsch did not suspect he possessed. Looking at D'Orleans' photo, he did not grasp the process but marveled at the result. After talking to D'Orleans and researching wet plate photography online, Balkowitsch set out to teach himself the art.
"That is how a non-photographer found his love and his passion, because I do not know anything else," said Balkowitsch. "I still to this very day do not seek out books or knowledge. I just evolve through trial and error."
He needed to start from scratch. Get a camera, lenses, glass, the chemicals. Learn how to mix bromide salt and collodion (a solution that was once used for bandages); how to pour the concoction on a glass plate; how to submerge the coated glass in a bath of silver nitrate to prompt photosensitivity; how to expose, develop and fix an image in a dark box. And, crucially, how to keep a plate moist.
"It is called a wet plate for a reason," said Balkowitsch. "If that plate dries at any time, you lose the image. So, once you pour these chemicals onto the glass plate and get that process started, you have to go through all the steps or you will lose the image."
It took Balkowitsch 45 days of studying wet plates before he created his inaugural portrait of his brother, Chad. It materialized on the glass from the first try, a feat that has slipped many.
"It was rather remarkable," said Balkowitsch, who does not own a digital camera. His medical background, replete with chemicals and measurements, helped.
Since then, in his windowless studio in the back of his warehouse, Balkowitsch has captured close to 2500 wet plates – mostly portraits that require subjects to remain motionless for whole 10 seconds, or 600 times longer than for a casual phone snap.
"Wet plate is such a beautiful process and it is not easy but that is the point, said Balkowitsch. "If you think about it romantically – and that is the only way I think about this process – with the long exposure, I am not actually taking a picture of people, I am actually taking a movie of them. It is a 10-second long movie. I am capturing every heartbeat, every breath, every subtle movement. So, it is actually a still movie and that is the way I look at it."
A few of Balkowitsch's still movies relay the tales of Native Americans, forming the ongoing Northern Plains Native Americans: A Modern Wet Plate Perspective project. The very first portrait in the series depicts Ernie LaPointe, the great grandson of Sitting Bull, with his arms folded and head raised toward the horizon. So far, word of mouth has spawned over 100 wet plates (the goal is a thousand) and forged friendships that led Balkowitsch to Standing Rock during the Dakota Access Pipeline protests. He was the sole photographer allowed on the site.
"It was really important to document the troubles that they had and to help my friends," Balkowitsch said. He chronicled the demonstrations but also made some artistic plates, like "Death by Oil," which shows Native American flute player Darren Thompson with an oil-smeared noose around his neck.
Despite the occasional outdoors shoot, Balkowitsch focuses his work in the studio, where he spends Friday afternoons. Soon, though, he is to relocate to a larger, brighter atelier in his backyard and take off the entire day. With specialty greenhouse glass that permits some 97 percent of UV rays, Balkowitsch's new space is to be the first natural-light wet plate studio in the United States in over 130 years.
"When you come for your portrait, you will just come in and sit underneath a wall of glass and a skylight of glass," said Balkowitsch, "it is exactly how all those photographs of Abraham Lincoln were taken.
Back in June, despite the leaden sky, the drizzle and the wind, Balkowitsch honed the Capsizing of Humanity wet plate, a re-creation of a historic tragedy and a commentary on today's affairs.
"All kinds of crazy stuff is going on in the world right now," said Balkowitsch. "I think it is an artist's role to challenge people and to make people think. We need to start paying attention to how we treat each other."
The plate is also a testament to modern, communal artistry that gathers carpenters and actors and makeup artists and photographers, among others. Balkowitsch wants to channel it into large-scale wet-plate projects once a year. "Nobody else is doing this, not around here, at least," he said.
Like Balkowitsch's previous community project, The Murderers' Gulch, a blown-out print of Capsizing of Humanity is to grace downtown Bismarck. Like many of his works, it is to enter the archives of the State Historical Society of North Dakota.
"I do not need a big art exhibit on my work 300 years from now," Balkowitsch said. "At the Historical Society, they are going to look at my plate and turn it over and see my name and say my name out loud and they [are going to] say the other people's names out loud. What is really cool about this, all of us will be alive again for just a couple of seconds. We will live on."