​Shedding light: The art of Austin Marts
by Sabrina Hornung | .(JavaScript must be enabled to view this email address) | Arts | November 12th, 2014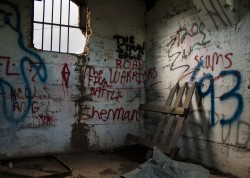 For a photographer, light can be a best friend or worst enemy. Minnesota State University Moorhead student Austin Marts has been exploring this concept and has been studying how to control and effectively use light or, as Marts says, "use light intentionally." His first exhibition at the Moorhead Atomic Coffee consists of 10 photographs using both digital prints and darkroom processes.
With this body of work, not only is he exploring light, he is also exploring a few different alternative photography processes. One includes pictorial-inspired distressed negative prints in which Marts burns and scratches the negative to achieve a rather surreal effect. He admits that in the process the negative disintegrated, but he was lucky enough to get a few good prints from it.
The subject matter in this exhibition consists of everyday objects. "There's something beautiful about the mundane," Austin said. For one piece he literally jumped inside of a dumpster behind the MSUM art department with camera in hand. The image that stemmed from that experience had a near architectural quality to it, with such an inviting warmth it may make one contemplate how on earth Oscar could have ever been such a grouch.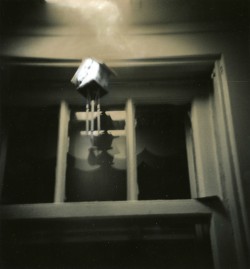 Austin stumbled upon the location of "Jailhouse, Whitetail MT" last winter while on a fishing trip with his dad. He admitted they weren't really catching anything so naturally he decided to explore with his camera. He set out exploring the old false front buildings in Whitetail until he found the long abandoned jail. Austin enjoys photographing abandoned spaces but admitted that many locations he encounters go unphotographed. "There are times I leave the camera in the car. Some moments are so personal I just need that time for myself," he said.
For his exhibition Austin also included three bromide stained images. Bromide staining is a darkroom process that adds a purplish sepia toned nature to gelatin silver prints. This effect worked out perfectly with Austin's exploration of light in that the highlighted areas showed a beautiful sense of luminosity. The last process Austin explored was a double exposure of a medium format negative.
"When I told my dad I was an art student he was pretty concerned, but he took it a lot better than my mom did," Austin said. "But my grandma said she knew it all along."
IF YOU GO:
Light! Photographs by Austin Marts
Atomic Coffee, 805 30th Ave S, Moorhead
on display till Nov. 30