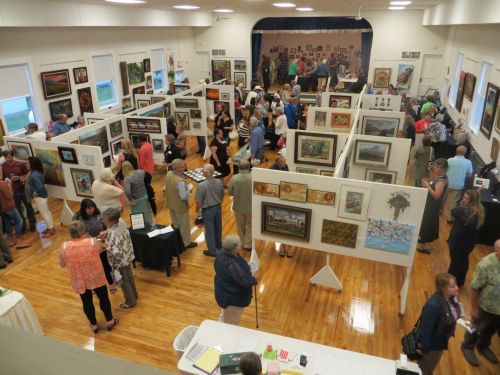 "Our whole idea was to make sure that everyone had some kind of exposure to the arts, which in a small town in North Dakota, you don't always get that, you have to go to Grand Forks or Fargo, where the big cities are. We just went with the idea that people in a small community -- Nelson County -- we consider that a community, really does have an interest just as much as anybody else does. To make it available to them without having to travel is pretty much a big key to that whole thing. Making sure that everybody has a chance to see what's going on," Deb Hensrud, President of the Nelson Arts Council (NCAC), said.
Started in 1993, the NCAC is celebrating its 25th year and Henrud has been on the board since the beginning. In fact she's been on the board since before there was a board.
"Our group pretty much came about on a whim from Brenda Bjorlie," Hensrud said."She moved back to the Pekin area with her husband who was originally from Pekin and she had it in her head that we were going to have some kind of an art program or art show.
"I think we basically started out just thinking we were going to do an art show and it just kept on going. The next year we had another one. People were so interested that we just kept on going and now we are here 25 years later. It's amazing from where we started from."
Interestingly enough Nelson County has a little over 2,000 residents and the home base of the NCAC is nestled in the small town of Pekin, housing nearly 100 residents. The NCAC hosts the annual The Pekin Days Art Show, one of the most highly anticipated art events in the state. The event is known to draw over 1,000 people to the small town one weekend out of the year. This year events will take place June 21-24.
We couldn't help but ask how a town of less than 100 prepares for a swarm of 1,000? Hensrud replied, "They just pull it together, the town works so well together and we do as much on our part as we can!"
Events include a call to entry for their annual juried show in which they open their doors and wall space to artists from all walks of life and experience.
"We just want people to have the opportunity to see it and the artists to display their work, no matter if it's their first show or twentieth art show that they've been in," Hensrud said. "We want them to have that opportunity."
It is a multidisciplinary exhibition known to feature an average of 200 pieces. Hensrud estimates that around a quarter of the art exhibited comes from artists in the area. The art is housed in the fully renovated former community gymnasium. Along with the art lining the gallery walls there is also a table of art that is $25 or less. This may include smaller or unframed pieces and provides an excellent opportunity to start a collection of regional art.
In addition to cash awards by category determined by a number of purchase award sponsors who have first dibs on the art for sale. After they make their selections a small number of tickets have been sold for the second string of serious art buyers. From there it's completely free and open to the public.
The weekend will also include live music acts, a community breakfast on Sunday, a barbecue on Saturday, and art vendors in the park. There will be games for the kids as well as a chalk art contest. In previous years participants would draw on the sidewalk. This year participants will be given a two-by-two foot chalkboard and will be judged by the resident artist. There will be a bronze pouring demonstration as well as a glass blowing demo from Jon Offutt.
The NCAC is also known for their outreach at area schools. They provide a space for the students to exhibit their artwork from up to six area schools as well as for students that are homeschooled.
"When they have an art program, we want to show the general public what kind of talent is out there," Hensrud said.
The organization has even sponsored and supported high school one act plays via a dinner theatre event.
In addition to preparing for the annual Pekin Days Art Show the NCAC is also preparing for their six day summer art camp at Stump Lake. The camp encompasses both the visual arts and theatre arts.
"To make sure it's available to all students we try to keep the cost very low," Hensrud said. "We have a lot of people willing to donate scholarships for kids who can't afford to do it."
On the final day of camp the students will showcase their final performances and art show. Normally the number of students at art camp is limited to 80 attendees but they have had as many as 93 students enrolled.
You Should Know:
Show is open to the public from June 21-24
Hours: Thurs.- Sat. 10 a.m. to 7 p.m.
Pekin, North Dakota
Sunday 10 a.m. to 4 p.m.